Founders Fund, a non-traditional investment group, has raised an institutional fund in the amount of $220 million. The new fund, Founders Fund II, will allow this team of four managing partners, who themselves are founders and entrepreneurs, to leverage their individual expertise and deliver their unique business model, which puts the entrepreneurs first. Founders Fund has developed a comprehensive package designed to create near perfect alignment of interests between founders and their investors.
Founders Fund II will be invested in approximately 15-20 innovative early-stage start-up companies. This is the first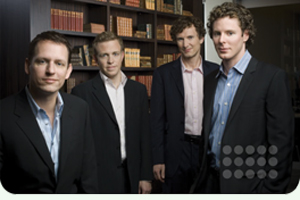 institutional money raised for the Founders Fund, representing a significant increase over the original fund of $50 million, which was raised from personal investments by the managing partners and select outside investors.
San Francisco based Founders Fund launched in 2005 with a $50 million venture fund. They've had two liquidity events since then, and a number of other very high profile participations like Facebook, Powerset, Ooma, Quantcast, Slide, Geni and Causes.
"We believe entrepreneurs are looking for people like themselves, people who also have taken ideas and made them a reality. This second fund allows us to invest in areas for which we have deep insight, personal experience and passion for seeing the companies succeed," said Luke Nosek, a Founders Fund managing partner. "Our collective experience starting companies and funding innovative start-ups positions the Founders Fund as a unique, valuable resource at the early investment stage."
The Founders Fund will continue to offer Series FF stock, which is being adopted across the industry adding to the unique approach to funding entrepreneurs. The stock is offered to start-up founders who can convert Series FF stock to preferred stock during subsequent rounds of funding. This allows Series FF stock holders to sell a portion of their stock and aligns their interests with their investors.
"The traditional venture capital model is broken," said Sean Parker, a Founders Fund managing partner. "By offering tools like the Series FF stock, we are helping create a new model of investment and alignment of interests, confirming our commitment to the founders of our companies. This fund is truly for founders by founders."
A couple of investments have been made out of the new fund, they say, but have not yet been disclosed.
The four managing partners have all started their own companies and between them have seen the process from inception to start up to IPO.
"Founders Fund was started to make a difference for companies looking for funding to execute on their big ideas. We believe the alignment of interests with our portfolio companies is the next step in the evolution of collaborative investments," said Ken Howery, a Founders Fund managing partner. "Founders Fund II will give us the opportunity to continue to invest in the people and ideas that are truly bringing innovation to the Internet industry."
Peter Thiel, one of four managing partners for The Founders Fund and an early backer and board member of the social network Facebook said, "This is one of the most innovative venture teams ever assembled. Our unique skill set, expertise and perspective support our shared desire to build and invest in great companies from the ground up."
Parker says he learned a powerful lesson about the importance of taking time to build a business from observing the trajectories of some of the valley's most successful businesses. What would have happened if the founders had sold those companies before fine-tuning them? PayPal started out as an encryption product that beamed money between mobile devices before hitting on the online payment business that it ultimately sold to eBay for $1.5 billion. Google didn't strike Internet ore until the paid search market had time to fully develop.
"Largely because we were all founders ourselves, we're inherently more interested in helping new entrepreneurs develop into successful leaders than we are in getting rich," Parker said. "As someone who has started and run a few companies myself, my primary interest is in helping creative people build companies and run those companies over the long-term. I also happen to believe that this is the best way to create value for my limited partners, and by extension, for myself."
However, some institutional investors were skeptical of the partners and passed on the opportunity to put in money. Parker confirmed that the fund-raising process turned out to be more time consuming than the firm had expected. But he also said limited partners had invested because their model — namely, a venture firm run by founders with experience — was needed in the industry. The firm originally sought to raise $150 million, but ended up raising $220 million.
More about The Founders Fund
Based in San Francisco, Calif. and founded in 2005, Founders Fund is a group of four proven entrepreneurs with a shared vision: to change the way venture investments are made. Founders Fund seeks to provide the capital, insights and support required to build a company from the ground up and sustain successful enterprises with a non-traditional, founder-focused approach. Their current portfolio includes Facebook, Geni, Powerset, Ooma, Quantcast, Slide and others.
The Managing Partners
Peter Thiel
Peter's experience with venture finance began in the 1990s, when he ran Thiel Capital Management, a Menlo Park-based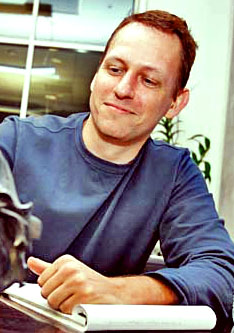 hedge fund that also made private equity investments. In 1998, Peter co-founded PayPal and served as its Chairman and CEO until the company's sale to eBay in October 2002 for $1.5 billion. Peter's experience in finance includes managing a successful hedge fund, trading derivatives at CS Financial Products, and practicing securities law at Sullivan & Cromwell. Peter sits on the Board of Directors of the Pacific Research Institute and on the Board of Visitors of Stanford Law School. Peter received his BA in Philosophy and his JD from Stanford.
Peter Thiel is a 39-year-old maverick money manager who in the past four years has turned his $60 million payout from the sale of the PayPal online payment service he co-founded into a growing financial fiefdom. He runs Clarium Capital Management LLC, one of the nation's most successful and daring hedge funds with $3 billion in assets, and The Founders Fund, a tiny but increasingly influential venture capital firm with a laser-beam focus on consumer Internet startups.
In late 2004, Peter Thiel made a $500,000 angel investment in Facebook. Microsoft recently purchased 1.6 percent of the company for $240 million, which values Facebook at roughly $15 billion and Thiel's stake at roughly $1 billion.
Ken Howery
Ken is a co-founder of PayPal and served as the company's first CFO. While at PayPal, Ken helped raise over $200 million in private financing, worked on the company's public offerings, and assisted in the company's $1.5 billion sale to eBay. Ken has also been a member of the research and trading teams at Clarium Capital Management, a global macro hedge fund based in San Francisco with over $3 billion under management, and at Thiel Capital Management, a multistrategy investment fund, where Ken made venture investments beginning in 1998. Ken received a BA in Economics from Stanford.
Luke Nosek
Luke Nosek is a co-founder of PayPal and served as the company's Vice President of Marketing and Strategy. While at PayPal, Luke oversaw the company's marketing efforts at launch, growing the user base to 1 million customers in the first six months. Luke also created "Instant Transfer," PayPal's most profitable product. Prior to PayPal, Luke was an evangelist at Netscape. Luke has also co-founded two other consumer Internet companies, including the web's first advertising network, and has made a number of venture investments since 2000. Luke received a B.S. in Computer Science from the University of Illinois, Urbana-Champaign.
Sean Parker
Sean Parker is the co-founder and Chairman of "Project Agape," a new network that aims to enable large-scale political and social activism on the Internet. Previously, Sean was the co-founder of the category defining Web ventures Napster, Plaxo, and Facebook. At Napster, Sean helped to design the Napster client software and led the company's initial financing and strategy. Under Sean's leadership, Napster became the fastest adopted client software application in history. Following Napster, Sean co-founded and served as President of Plaxo, where he pioneered the viral engineering techniques used to deploy Plaxo's flagship smart address book product, ultimately acquiring more than 15 million users. In 2004, Sean left Plaxo to become the founding President of Facebook, one of the most rapidly growing sites on the Internet today. Sean sits on the boards of several private companies.
More
http://www.foundersfund.com/
http://www.sfgate.com/cgi-bin/article.cgi?file=/c/a/2006/12/13/MNGECMUMRE1.DTL
http://www.techcrunch.com/2007/12/17/founders-fund-closes-220-million-second-fund/
http://www.businesswire.com/news/google/20071217006220/en
http://en.wikipedia.org/wiki/Peter_Thiel
http://www.latimes.com/business/investing/la-fi-founders18dec18,1,6840237.story?coll=la-headlines-business-invest&ctrack=2&cset=true
http://venturebeat.com/2007/12/18/founders-fund-raises-new-fund-aims-for-more-vc-disruption/