As the end of the year approaches us we would like to briefly sum up some of the web's biggest acquisition deals for the 2007, as we know them. 
All deals will logically be ranked by their sizes and less weight will be put on the time the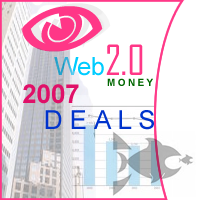 deal happened through out the year. Deals from all IT industry sectors are considered and put in the list, from Web and Internet to the Mobile industry as well. The size's criterion for a deal to make the list is to be arguably no less than $100M unless the deal is symbolic in one way or another or either of the companies involved was popular enough at the time the deal took place. Otherwise we think all deals are important, at least for its founders and investors.
Under no doubt the year we will remember with the number of high-profile advertising company acquisitions for large-scale companies like DoubleClick, aQuantive, RightMedia, 24/7 Real Media, among others. Putting all acquisition deals aside, one particular funding deal deserves to be mentioned too Facebook raised $240 million from Microsoft in return of just 1.6% of its equity. The Honk Kong Billionaire Li Ka-shing later joined the club of high-caliber investors in Facebook by putting down $60M for unknown equity position.  
Other remarkable funding deals include: Alibaba.com raised $1.3 Billion from its IPO; Kayak raised $196 Million; Demand Media took $100 Million in Series C; Zillow totaled $87 Million in venture capital funding; Joost announced $45 million funding from Sequoia, Index, CBS & Viacom, among others. 
Yet another noteworthy deal is the Automattic (wordpress.org) turning down a $200 Million Acquisition Offer. 
And the 2007 Web 2.0 Money winner is… Navteq for its deal with Nokia for $8B. Apparently Microsoft has this year lost the crown of being named the deepest pocket buyer.
Nokia Buys Navteq For $8 Billion, Bets Big On Location-Based Services
Nokia (NOK), the Finnish mobile phone giant with nearly a third of the global handset market, has decided to bet big on location based services (LBS), and is buying Chicago-based digital map company NAVTEQ (NVT) for $8.1 billion. That works out to about $78 a share. This is one of Nokia's largest purchases to date — the Finnish mobile giant has a mixed track record when it comes to acquisitions. This is also the second megabillion dollar buyout in the maps (LBS) space.
SAP Germany makes its biggest deal ever – acquires Business Objects for 4.8B EURO (around ~$6.8 billion)
SAP, the world's largest maker of business software, has agreed to acquire Business Objects SA for €4.8 billion euros, which was around ~$6.8 billion at the time the acquisition deal was announced. The deal is amongst the largest for 2007 alongside with Oracle's Hyperion deal for over $3.3B and the Nokia's Navteq for over $8B. [more]
Microsoft to buy Web ad firm aQuantive for $6 Billion
Microsoft Corp. acquired aQuantive Inc. for about $6 billion, or $66.50 a share, an 85 percent premium to the online advertising company's closing price at the time the deal was publicly announced. Shares of aQuantive shot to $63.95 in pre-opening trade, following news of the deal. The all-cash deal tops a dramatic consolidation spree across the online advertising market sparked when Google Inc. agreed to buy DoubleClick for $3.1 billion.
Oracle to buy Hyperion in $3.3 Billion cash deal
Oracle Corp. has acquired business intelligence software vendor Hyperion Solutions Corp. for $3.3 billion in cash. Oracle has agreed to pay $52 per share for Hyperion, or about $3.3 billion, a premium of 21% over Hyperion's closing share price at the time of the deal. Oracle said it will combine Hyperion's software with its own business intelligence (BI) and analytics tools to offer customers a broad range of performance management capabilities, including planning, budgeting and operational analytics.
Cisco Buys WebEx for $3.2 Billion
Cisco has agreed to acquire WebEx for $3.2 billion in cash. In 2006, WebEx generated nearly $50 million in profit on $380 million in revenue. They have $300 million or so in cash on hand, so the net deal value is $2.9 billion.
DoubleClick Acquired by Google For $3.1 Billion In Cash
Google reached an agreement to acquire DoubleClick, the online advertising company, from two private equity firms for $3.1 billion in cash, the companies announced, an amount that was almost double the $1.65 billion in stock that Google paid for YouTube late last year. In the last month for this year the US Federal Trade Commission has granted its approval for Google to purchase DoubleClick.
TomTom Bought Tele Atlas for $2.5 Billion
It took $2.5 Billion dollars for TomTom to buy mapping software company TeleAtlas, this will set the stage for TomTom to be big rival of Garmin across Atlantic. Tele Atlas went public in 2000 on the Frankfurt Stock Exchange, and last year, it bought another mapping firm, New Hampshire-based GDT.
Naspers acquires yet another European company – Tradus for roughly $1.8 Billion
Simply put a fallen dot com star with eBay ambitious, once worth more than 2B British pound (around $4B) and collapsed down to £62M at the end of 2000 is now being basically said rescued by the South African media company Naspers that is spending money at breakneck pace. The offered price is £946M (more than $1.8B) based on just £60M annual revenues. [more]
HP acquired Opsware For $1.6 Billion
HP has acquired IT Automation company Opsware for $1.6 billion. Whilst any acquisition of this size is interesting in itself, the back story to Opsware is even more so; Opsware was originally LoudCloud, a Web 1.0 company that took $350 million in funding during the Web 1.0 boom.
AOL acquired TradeDoubler for $900 Million
AOL has acquired Sweden-based TradeDoubler, a performance marketing company, for €695 million in cash, which was about US$900 million at the time the deal took place.
Microsoft acquired Tellme Networks for reportedly $800 Million
Microsoft Corp. has announced it will acquire Tellme Networks, Inc., a leading provider of voice services for everyday life, including nationwide directory assistance, enterprise customer service and voice-enabled mobile search. Although the price remains undisclosed, it is estimated to be upwards of $800 million.
Disney acquires Club Penguin for up to $700 Million
Club Penguin, a social network/virtual world that has been on the market for some time, was acquired by The Walt Disney Company. An earlier deal with Sony fell apart over the Club Penguin's policy of donating a substantial portion of profits to charity. The company, which launched in October 2005, has 700,000 current paid subscribers and 12 million activated users, primarily in the U.S. and Canada.The WSJ says the purchase price is $350 million in cash. Disney could pay up to another $350 million if certain performance targets are reached over the next couple of years, until 2009.
Yahoo acquired RightMedia for $680 Million in cash and stock
Yahoo has acquired the 80% of advertising network RightMedia that it doesn't already own for $680 million in cash and Yahoo stock. Yahoo previously bought 20% of the company in a $45 million Series B round of funding announced in October 2006. The company has raised over $50 million to date.
WPP Acquires 24/7 Real Media for $649 Million
Online advertising services firm 24/7 Real Media was acquired by the WPP group for $649 million. The old time internet advertising firm had its origins serving ads for Yahoo! and Netscape in 1994 and was formerly founded the following year as Real Media. After numerous acquisitions it took its current name and grew to have 20 offices in 12 countries, serving over 200 billion advertising impressions every month.
Google bought the web security company Postini for $625M
Google has acquired e-mail security company Postini for $625 million, a move intended to attract more large businesses to Google Apps. More than 1,000 small businesses and universities currently use Google Apps, but 'there has been a significant amount of interest from large businesses,' Dave Girouard, vice president and general manager of Google Enterprise, said in a Monday teleconference.
EchoStar Acquires Sling Media for $380 Million
EchoStar Communications Corporation, the parent company for DISH Network, has announced its agreement to acquire Sling Media, creator of the Sling suite, which lets you do things like control your television shows at any time, from their computers or mobile phones, or record and watch TV on your PC or Windows-based mobile phone. The acquisition is for $380 million.
ValueClick acquired comparison shopping operator MeziMedia for up to $352 Million
ValueClick has acquired MeziMedia for up to $352 million, in a deal consisting of $100 million in upfront in cash, with an additional sum of up to $252 million to be paid depending on MeziMedia's revenue and earnings performance through to 2009.
Yahoo Acquires Zimbra For $350 Million in Cash
Yahoo has acquired the open source online/offline office suite Zimbra. The price: $350 million, in cash, confirmed. Zimbra gained wide exposure at the 2005 Web 2.0 Conference. Recently they has also launched an offline functionality.
Business.com Sells for $350 Million
Business.com has closed another chapter in its long journey from a $7.5 million domain name bought on a hope and a prayer, selling to RH Donnelley for $350 million (WSJ reporting up to $360 million). RH Donnelley beat out Dow Jones and the New York Times during the bidding.
AOL acquired online advertising company Quigo for $350 Million
AOL announced plans to buy Quigo and its services for matching ads to the content of Web pages. The acquisition follows AOL's September purchase of Tacoda, a leader in behavioral-targeting technology, and comes as AOL tries to boost its online advertising revenue to offset declines in Internet access subscriptions.
eBay bought StubHub For $310 Million
eBay has acquired the San Francisco-based StubHub for $285 million plus the cash on StubHub's books, which is about $25 million.
Yahoo! Agreed to acquire BlueLithium for approximately $300 Million in cash
Yahoo! Inc. has entered into a definitive agreement to acquire BlueLithium, one of the largest and fastest growing online global ad networks that offers an array of direct response products and capabilities for advertisers and publishers. Under the terms of the agreement, Yahoo! will acquire BlueLithium for approximately $300 million in cash.
CBS to buy social network Last.fm for $280 Million
CBS is known to have paid $280 million for the Last.fm site, which caters to music fans. CBS Corp bought the popular social networking website organized around musical tastes for $280 million, combining a traditional broadcast giant with an early leader in online radio. Last.fm, claims more than 15 million monthly users, including more than 4 million in the U.S.
AOL Acquired Tacoda, a behavior targeting advertising company for reportedly $275 Million
AOL has announced the acquisition of New York-based Tacoda earlier this year, a behavior targeting advertising company that was founded in 2001. The deal size, which we haven't had confirmed, is likely far smaller than Microsoft's $6 billion for aQuantive , Yahoo's $680 million for RightMedia , or Google's $3.1 billion for DoubleClick. The price might be low enough that it isn't being disclosed at all.Jack Myers Media Business Report has confirmed the $275 million price tag
MySpace to acquire Photobucket For $250 Million
MySpace has acquired Photobucket for $250 million in cash. There is also an earn-out for up to an additional $50 million. Oddly enough MySapce has dropped Photobucket off its social networking platform. The dispute that led to the Photobucket videos being blocked on MySpace letter also led to acquisition discussions, and the block was removed. They have hired Lehman Brothers to help sell the company. They were looking for $300 million or more, but may have had few bidders other than MySpace.
Hitwise Acquired by Experian for $240M
Hitwise, the company that performs analysis of log files from 25 million worldwide ISP accounts to provide relative market share graphs for web properties, has been acquired by Experian for $240 million.
$200+ Million for Fandango
Comcast paid $200 million or perhaps a bit more. Fandango revenue is said to be in the $50m/year range, split roughly evenly between ticket sales and advertising. Wachovia Securities analyst Jeff Wlodarczak estimated the multiple-system operator paid $200 million for Fandango, whose backers include seven of the 10 largest U.S. movie exhibitors.
Intuit Acquires Homestead for $170 Million
Small business website creation service Homestead, started out in the web 1.0 era, announced tonight that it has been acquired by Intuit for $170m. In addition to Intuit's personal and small business accounting software, and the company's partnership with Google to integrate services like Maps listing and AdSense buys, Intuit customers will now presumably be able to put up websites quickly and easily with Homestead. [more]
Naspers Acquired Polish based IM Company Gadu Gadu (chit-chat) for reportedly $155 Million
South Africa's biggest media group Naspers Ltd offered to buy all outstanding shares in Polish Internet firm Gadu Gadu S.A. ( GADU.WA ), a Polish IM service, for 23.50 zlotys ($8.77) per share. The current majority shareholder of Gadu Gadu has agreed to tender its 55% shareholding in the public tender offer. The price is $155M. [more] 
Studivz, a Germany Facebook clone, went for $132 Million
German Facebook clone Studivz has been sold to one of its investors, Georg von Holtzbrinck GmbH, a German publishing group, for €100 million (about $132 million). Other investors of Studivz include the Samwer brothers, founders of ringtone company Jamba (sold for €270M) and Alando (sold to eBay for €43M in 1999).
Feedburner goes to Google for $100 Million
Feedburner was acquired by Google for around $100 million. The deal is all cash and mostly upfront, according to sources, although the founders will be locked in for a couple of years.
Answers.com has purchased Dictionary.com for reportedly $100 Million
Question and answer reference site Answers.com has acquired Dictionary.com's parent company, Lexico Publishing, for $100 million in cash. Lexico can really serve all your lexical needs because it also owns Thesaurus.com and Reference.com.
Yahoo Acquires Rivals for $100 Million
Yahoo has acquired college sports site Rivals.com, reported the Associated Press in a story earlier this year. The price is not being disclosed, although the rumor is that the deal was closed for around $100 million. Rumors of talks first surfaced in April 2007.
UGO Acquired By Hearst for reportedly $100 Million
Hearst has acquired New-York based UGO. Forbes reported the price should be around $100 million. UGO is a popular new media site that was founded in 1997 and, according to Forbes, is generating around $30 million/year in revenue. UGO media is yet another web 1.0 veteran and survivor.
Fotolog Acquired by Hi Media, French Ad Network for $90 Million
 
New York-based Fotolog been acquired by Hi Media, a Paris-based interactive media company for roughly $90 million – a combination of cash and stock, according to well-placed sources. 
Online Backup Startup Mozy Acquired By EMC For $76 Million
Online storage startup Mozy, headquartered in Utah, has been acquired by EMC Corporation, a public storage company with a nearly $40 billion market cap. EMC paid $76 million for the company, according to two sources close to the deal.
eBay Acquiring StumbleUpon for $75 Million
The startup StumbleUpon has been rumored to be in acquisition discussions since at least last November (2006). The small company had reportedly talks with Google, AOL and eBay as potential suitors. At the end of the day the start-up got acquired by eBay. The price was $75 million, which is symbolic with the fact the site had only 1.5m unique visitors per month at the time the deal took place. The company was rumored to be cash-positive.
General Atlantic Has Acquired Domain Name Pioneer Network Solutions
General Atlantic has acquired Network Solutions from Najafi Companies. Network Solutions was founded decades ago in 1973 and had a monopoly on domain name registration for years which led Verisign to pay billions to buy it. Najafi Companies purchased NS from VeriSign in November 2003 for just $100M. No financial terms were disclosed for the deal and no price tag is publicly available, although we believe it is way over $100M, but NS made our list due to its mythical role for the Internet's development. That deal is symbolic for the Internet. 
MSNBC made its first acquisition in its 11-year history, acquired Newsvine
In a recent deal the citizen journalism startup Newsvine has been acquired by MSNBC, the Microsoft/NBC joint venture, for an undisclosed sum. Newsvine will continue operating independently, just as it has been since launching in March of 2006. The acquired company also indicated there would be little change in the features of the site.  We think the price tag for the Newsvine is anywhere in the $50/$75M range, but this is not confirmed. [more]
Google to buy Adscape for $23 Million
After some rumors of a deal earlier this year, Google has expanded its advertising reach by moving into video game advertising with their $23 million acquisition of Adscape.
Disney buys Chinese mobile content provider Enorbus for around $20 Million
Disney has bought Chinese mobile gaming company Enorbus , for around $20 million, MocoNews.net has learned. Financial backers in the company included Carlyle and Qualcomm Ventures.
BBC Worldwide Acquires Lonely Planet
BBC Worldwide, the international arm of BBC, has acquired Lonely Planet, the Australia-based travel information group. The amount of the deal was not disclosed, but Lonely Planet founders Tony and Maureen Wheeler get to keep a 25% share in the company. We truly believe this deal is in the $100M range, but since no confirmation was found on Web and therefore we cannot put a price tag for the sake of the list. Even though a global brand their site is getting just 4M unique visitors per month.
AOL Acquires ADTECH AG
AOL has acquired a controlling interest in ADTECH AG, a leading international online ad-serving company based in Frankfurt, Germany. The acquisition provides AOL with an advanced ad-serving platform that includes an array of ad management and delivery applications enabling website publishers to manage traffic and report on their online advertising campaigns. No details about the acquisition price were found on Web but we would suspect a large-scale deal and rank it very high. 
Amazon Acquires dpreview.com
Amazon have announced the acquisition of the digital camera information and review site dpreview.com. UK based dpreview.com was founded in 1998 by Phil Askey as a site that publishes "unbiased reviews and original content regarding the latest in digital cameras. Dpreview.com has in excess of 7 million unique viewers monthly. The value of the deal was not disclosed but we believe the purchase price should be in the $100M range (not confirmed).
HP Acquired Tabblo
HP announced the acquisition of Cambridge, Massachusetts based Photo printing site Tabblo this morning. The price was not disclosed.
eBay Gets Stake in Turkish Auction Market
eBay announced yesterday that it has acquired a minority stake in Turkish-based GittiGidiyor.com, an online marketplace structured in a similar manner to eBay. GittiGidiyor reportedly has more than 400,000 listings and 17 million users, which is a considerable percentage of the Turkish population. With the stake in GittiGidiyor, eBay now has the opportunity to enter the Turkish market via a system that's already similar to theirs in functionality and purpose. Istanbul-based GittiGidiyor.com was founded in 2000. GittiGidiyor is Turkish for Going, Going, Gone. Terms of the deals were not found publicly available. Looking at the size of the Turkish site and the buying habits and history of eBay, the price should be considerably high, at least for the region.
Microsoft Acquiring ScreenTonic for Mobile Ad Platform
Microsoft is acquiring ScreenTonic, a local-based ads delivery platform for mobile devices, for an undisclosed amount. Paris-based ScreenTonic was founded in 2001, and has created the Stamp platform to deliver text or banner links on portals, text message ads and mobile web page ads, that vary depending on the recipients' geographical location in a so called geo-targeting approach. 
~~~