Something really interesting is going on with Glam Media. To make a long story short Glam is basically a controversial site that runs both a network of its own web sites as well as runs ads on a network of third party sites geared towards women online and has just recently raised a massive amount of funding – $85M.  The total funding for the company is already $114M. You may say yet another ad network site on Web and you might be right in part. However there was something really interesting with Glam – they were perhaps the only ad network out there that was guaranteeing ad revenues for their publishers, mainly lifestyle web sites oriented towards women. Let's put it that way Glam's business model was to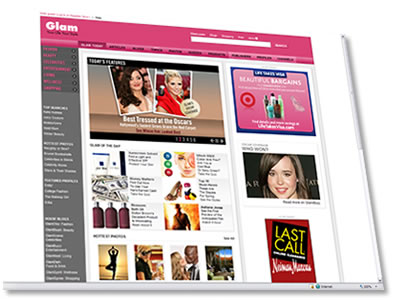 guarantee some minimum flat pay outs to its publishers. Today, we have read on web, this practice seems to be changing – Glam is no longer going to pay for the entire ad inventory available at its participating web publishers that way effectively cutting off their revenues by 60% up to 80%.
Public information is that Glam pockets about 40 to 50 percent of the revenues it gets from advertising on its partner sites, giving the rest back to the publishing partner. What is remarkable is that Glam pays nothing to produce the content on those publisher sites, meaning it is milking those sites for a full 40 to 50 percent of their worth — merely for providing them with advertising technology.
Nonetheless the company has shown a tremendous increase of its traffic compared to the year before. ComScore reports that worldwide uniques across all sites that Glam sells advertising for had nearly 47 million unique visitors and 1.1 billion page views. Glam Network says it has over 200,000 quality articles across the sites involved.
So one starts to wonder here is this a well thought strategy for Glam to attract lots of publishers by initially paying big bucks and once it achieved its goals (to raise massive amount of funding) to cut those publishers off its network by simply no longer paying them what it has initially been promised. It is no secret that Glam Media succeeded in raising those over $100M in funding money due to its huge reach of over 40M uniques per month across various women web sites and blogs. Once the task was accomplished Glam is no longer in need from those small blogs that perhaps represent a large portion of those 44M uniques per month or is simply changing the policy in order to survive. We have put their business model under some doubts the last time we covered their massive round of funding and then we have written that in today's hugely competitive environment ad networks are working in everything boils down to who pays more the web publishers. Glam claims it pays most to its web publishers, but it is hard to believe how Glam can out pay Google when they had just $21M in revenues last year while Google's payout was almost $4B to its web publishers for 2007. Let's put it that way who earns more from the ad networks is who is going to be capable enough to pay more to the web publishers. So it seems we were basically right. Glam is discontinuing their practice of guaranteed ad revenues for its publishers. 
However, the big question here is for how long those web publishers are going to stay with Glam Media and what will happen to Glam if they leave?
Here is what Glam has replied on Techrunch.
As GM of the Glam Publisher Network, my team's #1 priority is to ensure the success of our publishers and to help them secure high-CPM brand advertising. Unlike most other networks we do not compromise on our rate card and as a result, our partners benefit from high CPM brand advertising. When we're unable to deliver a paid ad, we have traditionally run a Glam house ad (i.e. a current house ad announces our upcoming Glam Network blogger awards). Publishers have requested more choice for the impressions that our house ads would normally fill. This default ad technology simply replaces the Glam house ads with a host of options. This is similar to standard network 'default' technology that's been in general use for years.
I want to acknowledge that Glam is successful because of our publisher partners. As a company, our focus is on convincing the brands to engage in new ways with a media landscape made up of independent premium publishers with passionate audiences. We welcome the ongoing dialogue.
More about Glam Media
Glam Media's distributed media network model is revolutionizing the very definition of what a media company is in the 21st Century.  With 44 million global unique monthly visitors (comScore MediaMetrix), Glam Media provides a compelling mix of fresh, original content created in-house with a carefully curated Glam Publishing Network of more than 450 popular and influential lifestyle websites, blogs and magazines. For premium national brand advertisers, Glam Media offers an unprecedented array of targeted options that are singularly attractive to both upscale and aspirational consumers.
About the founder
Samir Arora, Founder, Chairman, and CEO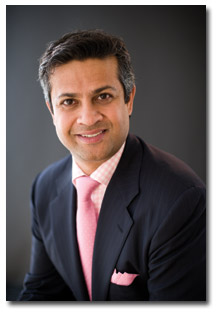 Samir Arora founded lifestyle hub Glam Media to create a better way for brand advertisers to connect with their audiences on the Web. A tech-industry veteran, Arora was previously the chairman of Emode/Tickle, Inc, which was later sold to Monster in June 2004. Prior to that, Arora was chairman and CEO of NetObjects, Inc. where he drove the creation of the first web site building product NetObjects Fusion. Arora also currently serves as chairman of Information Capital LLC, a venture capital fund based in Woodside, Calif., that invests in leading-edge "big idea companies" in consumer publishing, media, and technology.
Other team members include:
Fernando Ruarte
Co-founder, CTO and VP, Engineering
Scott Schiller
EVP, Sales, Women's Markets
John Trimble
EVP, New Markets Sales
Carl Portale
VP and Publishing Director
Joe Lagani
VP and GM, Glam Living
Karin Marke
VP, Sales, Western Region
Jack Rotolo
VP, Sales, Eastern Region
Bernard Desarnauts
VP, Products and Marketing
Scott Swanson
VP and GM, Glam Media Publisher Network
Raj Narayan
Co-founder and Architect
Dianna Mullins
Co-Founder, VP Glam Publisher Network & Ad Operations
Ralf Hirt,
VP, International
Jennifer Salant
VP, Business Development
Ernie Cicogna
Co-Founder and CFO
Major competitors include iVillage, AOL Women, CondeNet, Elle.com, auFeminin.com, Womensforum.com, SINA Women, QQ.com Women, BabyCenter Network, among others.
More
https://web2innovations.com/money/2008/02/25/glam-media-raises-a-massive-round-of-funding-85m/
http://www.glam.com/
http://www.glammedia.com
http://www.glammedia.com/about_glam/news/2008/02/25/glam-media-raises-85-million-in-private-strategic-financing/
http://www.techcrunch.com/2008/03/29/glam-makes-big-cuts-in-publisher-payments-up-to-80-drop-in-revenue
http://www.techcrunch.com/2008/02/24/glam-closes-massive-d-round/
http://online.wsj.com/article/SB120390178731489459.html
http://www.docstoc.com/docs/412152/Glam-Media-Teaser-August-2007
http://www.techcrunch.com/2007/08/12/is-glam-a-sham/
http://www.techcrunch.com/2007/11/13/more-misplaced-glam-exhuberance/
http://www.crunchbase.com/company/glammedia
http://en.wikipedia.org/wiki/Glam_Media,_Inc.
http://venturebeat.com/2008/02/24/womans-network-glam-raises-846-million-at-half-a-billion-valuation-adconian-raises-80m/
http://www.glammedia.com/about_glam/our_story/competitive_landscape.php
http://news.speeple.com/business2.com/2007/08/13/bubble-watch-glam-media-shops-around-a-200-million-private-placement.htm
http://valleywag.com/360436/glam-media-raises-84-million-far-short-of-its-200-million-goal
http://valleywag.com/tech/online-advertising/glam-media-not-looking-so-beautiful-288964.php
http://venturebeat.com/2008/02/20/trends-secretive-new-york-bank-allen-co-gets-into-silicon-valley-media-tech/
http://www.foliomag.com/2008/glam-media-gets-85m-private-equity-financing
http://samirarora.com/html/bio.html