We have read tons of stories and points of views about the potential deal between Microsoft and Yahoo over the past weeks. We guess all people did. Everything seems already being said about the deal. Yet, something interesting popped up in the news today. It turns out that Microsoft is the big loser from the situation with Yahoo's acquisition because it has lost 13% of its market capitalization since it has announced its bid to buy Yahoo almost a month ago.
After Microsoft's stock has fallen 13% since its offer for Yahoo, the Microsoft's offer price seems to have also been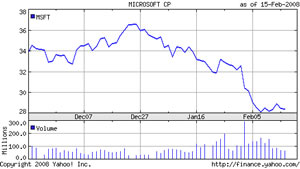 reduced to $29 – $41.7B as of today. Yahoo shares, by contrast, closed at $29.66 on the NASDAQ on Friday, indicating that investors' expectations are for Microsoft to raise its bid.
While the software giant's founder and chairman has taken a back seat to CEO Steve Ballmer in the Yahoo bid, Gates wasted no time in tempering expectations if Microsoft failed in its effort to buy Yahoo.
Chairman Bill Gates said yesterday that they are not planning to raise the bid for Yahoo and called the current offer "very fair." Instead Bill Gates said they are having plans to invest heavily — and they said they can afford it — in anything but web search to compete against Google, with or without Yahoo. Just like what we have always been thinking — it is all about Microsoft vs. Google and Yahoo was only an instrument — Gates's statement reconfirms it: "Google is the only company with "critical mass" in Web search."
Yet, he admits that they'd get there faster if the great engineering work that Yahoo has done and the great engineers there were part of the common effort
"There is nothing new in terms of the process. We've sent our letter and we've reinforced that we consider that it's a very fair offer," said Gates, who remains the public face of Microsoft, even though he plans to switch to a part-time role at the company in June to focus on his philanthropic work.
What will happen with the stock prices of both companies if a deal does not go thru? We think both companies will get punished by the public market and have their stock prices reduced. Yahoo's hit is expected to be stronger. 
More
http://finance.yahoo.com/q?s=MSFT
http://finance.yahoo.com/q?s=yhoo
http://uk.reuters.com/article/technology-media-telco-SP/idUKN1819990520080219
http://news.zdnet.com/2100-9588_22-6231021.html
http://mashable.com/2008/02/18/bill-gates-were-not-raising-the-yahoo-bid/
https://web2innovations.com/money/2008/02/01/yes-we-were-right-yahoo-was-seriously-undervalued-microsoft-offers-446b-for-the-company-a-62-premium-over-their-value-from-yesterday/
https://web2innovations.com/money/2008/02/02/is-google-going-to-be-the-winner-from-the-microsoft-yahoo-deal/
https://web2innovations.com/money/2008/02/04/google%e2%80%99s-chief-legal-officer-vs-microsoft%e2%80%99s-general-counsel/
https://web2innovations.com/money/2008/02/08/one-after-another-the-potential-competitive-bidders-for-yahoo-drop-off-is-yahoo-going-to-surrender-to-microsoft/
https://web2innovations.com/money/2008/02/09/end-of-speculations-yahoo-rejected-microsoft%e2%80%99s-offer/
https://web2innovations.com/money/2008/02/11/yahoo%e2%80%99s-official-response-to-microsoft%e2%80%99s-offer-no/
https://web2innovations.com/money/2008/02/12/and-here-is-what-microsoft-has-to-tell-yahoo/
http://biz.yahoo.com/prnews/080211/aqm241.html
http://finance.yahoo.com/q?d=t&s=msft
http://money.cnn.com/2008/02/09/magazines/fortune/yahoo_rejects_bid_report.fortune/?postversion=2008020914
http://www.ft.com/cms/s/0/fffc1006-d5e8-11dc-bbb2-0000779fd2ac.html?nclick_check=1
http://blogs.barrons.com/techtraderdaily/2008/02/05/yahoo-the-five-scenario-analysis/
http://www.techcrunch.com/2008/02/08/yahoo-board-to-determine-fate-of-company-today/
http://www.techmeme.com/080201/p78#a080201p78
http://www.mercurynews.com/ci_8149194
http://www.businessweek.com/technology/content/feb2008/tc2008021_885192.htm?chan=rss_topStories_ssi_5
http://www.washingtonpost.com/wp-dyn/content/article/2008/02/02/AR2008020200568.html
http://www.sfgate.com/cgi-bin/article.cgi?f=/c/a/2008/02/02/MN8OUQGNB.DTL&type=tech
http://kara.allthingsd.com/20080201/microsoft-to-yahoo-two-days-to-respond-or-else/
http://www.alleyinsider.com/2008/02/hold-everything-we-may-get-another-yhoo-bidder.html
http://www.techcrunch.com/2008/02/01/what-would-a-combined-microsoft-yahoo-look-like/
http://www.techcrunch.com/2008/02/01/ballmers-internal-e-mail-to-the-troops-explaining-the-yahoo-acquisition/
http://www.techcrunch.com/2008/02/02/news-corp-scrambles-to-bid-for-yahoo/
http://www.alleyinsider.com/2008/02/microsoft-yahoo-combined-financials.html
http://www.informationweek.com/news/showArticle.jhtml?articleID=206107168
http://mashable.com/2008/02/10/yahoo-aol-merger/
http://www.techcrunch.com/2008/02/10/wait-yahoo-and-aol-i-was-looking-forward-to-something-moreintelligent/
http://www.techcrunch.com/2008/02/09/microsofts-80-billion-and-growing-yahoo-headache/
https://web2innovations.com/money/2008/02/09/end-of-speculations-yahoo-rejected-microsoft%e2%80%99s-offer