A couple of months ago MyBuys raised $10 Million in Series B funding aimed to help online merchants sell more by utilizing behavioral targeting techniques. The company

provides software to ecommerce stores that allows them to serve up ads and products based on your behavior – for example, tracking what you search for and showing related items during a future visit. Lightspeed participated in this latest round, which was led by Palomar Ventures.
"The funding further validates MyBuys' unmatched targeting ability using our proprietary, patent pending technology," said Robert E. Cell, CEO of MyBuys. "This investment will enable us to significantly increase our market momentum."
MyBuys, which introduced MyBuys 3.0 earlier this year, delivers the industry's first 1:1 behavioral recommendation service that targets consumers both while they are shopping and in follow up emails. MyBuys presents products a consumer is truly interested in buying, which enables online retailers to achieve extraordinary 300% higher revenue per customer interaction.
"As pressure grows to maintain high growth rates in ecommerce, MyBuys' service will become a competitive requirement for online retailers," said Amanda Reed, partner at Palomar Ventures. "With this financing, MyBuys will have an opportunity to further its ability to provide the greatest revenue lift for online retailers."
"With its innovative approach to targeting and optimization, MyBuys offers the most effective solution to this burgeoning market," said Peter Nieh, partner at Lightspeed Venture Partners. "MyBuys can significantly improve the profitability of online merchants by enabling them to more fully monetize the website traffic that they have spent substantial dollars to generate."
These services are used by online retailers to show you potentially interesting merchandise, by tracking what you have already been looking at or buying before. If you do a lot of online shopping for designer jeans, a service like MyBuys may recommend especially popular or discounted designer jeans to you.
The company makes money by receiving a cut of revenue from the retailer when users purchase suggested products.
Mybuys is already being used in retail sites such as camera site Ritz Interactive, urban style site Karmaloop, and fabric site Hancock Fabrics. The company also said it builds behavioral profiles on each consumer.
More about MyBuys
MyBuys is a 1:1 behavioral recommendation service for online merchants. MyBuys builds deep behavioral profiles on each consumer resulting in the highest converting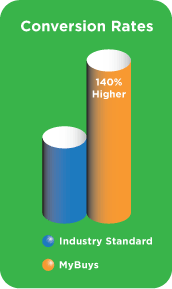 recommendations. By reaching consumers on a client's web site, through email, and in RSS feeds, retailers realize more repeat visits, increased conversions, and larger order sizes. MyBuys generates revenues at 300% the rate of traditional marketing programs, with no upfront costs and a pay for performance model, so customers realize immediate results with no risk.
MyBuys 1:1 behavioral product recommendation service is a truly comprehensive service proven to deliver real results such as:
• Increasing conversion rates with relevant, personal recommendations
• Re-activating former customers by targeting their interests
• Increasing basket size through relevant, personal cross sells and up sells
• Recovering lost sales due to shopping cart abandonment or items out of stock
• Increasing overall lifetime customer value by driving your customers to your site more often to make more purchases
MyBuys is based in Redwood City, California and is managed by Robert Cell (CEO), Mark Weiler (VP of Engineering), and Paul Rosenblum (VP of Marketing).
Management team
Robert Cell
Chief Executive Officer
Robert Cell is an expert in retail, advertising, and consumer products. Most recently,

Robert was Chief Executive Officer of AdSpace Networks, where he led the company through rapid growth and strategic restructuring to focus on becoming a mall advertising network while also growing, and subsequently, divesting its CoolSign video merchandising enterprise business. Under his leadership as Chief Operating Officer at Blue Martini Software, a pioneer in e-commerce solutions, the market capitalization tripled, license revenue doubled, and net results increased by $40M. Prior to Blue Martini, Robert served as the Vice President of Corporate Development for Kellogg Company and as General Manager for its Lender's Bagel Division. In addition to leading Kellogg's external growth and acquisitions, he led the turnaround of the Lender's Bagel Division, tripled its value, and divested the unit for nearly $300M. Preceding his tenure with the Kellogg Company, he was Managing Director and co-founder of Deloitte and Touche LLP's Midwest Corporate Finance practice responsible for advising the region's clients on acquisitions and joint ventures. Robert holds an MBA with High Distinction and a BSE from the University of Michigan. 
 
Paul Rosenblum
Vice President of Products and Strategy
Paul Rosenblum has over 20 years of experience defining the strategic direction of successful products for the retail industry. Prior to MyBuys, Paul was Entrepreneur in Residence at Redpoint Ventures. Earlier, he was responsible for product strategy at Pay By Touch, the leading biometric payment system for retailers. Previously, he served as Vice President of Marketing at Movaris, where he repositioned the company as an early leader in Sarbanes-Oxley compliance systems for Fortune 1000 companies. As Vice President of Product Marketing at Blue Martini Software, he was responsible for defining retail eMerchandising. Prior to that, he was Senior Director of Product Marketing at Siebel Systems where he was responsible for the definition of Siebel's flagship sales effectiveness products and launched Siebel's first vertical market solutions. Paul holds an SB in Electrical Engineering and Computer Science from the Massachusetts Institute of Technology.
Lisa Joy Rosner
Vice President of Marketing
Lisa Joy Rosner has over 16 years of experience launching, rebranding, and driving revenue for high-tech companies in Silicon Valley. Lisa joined the MyBuys team from BroadVision Inc., an early innovator of personalized e-commerce solutions. During her four-year tenure as Vice President, Worldwide Marketing, she re-launched the company, introduced three new products into the global market, and was part of the team that returned the company to profitability. Previously, as Vice President, Marketing, at DecisionPoint Applications, a financial performance management software provider, she transformed the company brand, aligned sales and marketing processes and added industry-leading companies to the customer base. Prior to that, Lisa launched Market-Touch Corporation where she pioneered and evangelized a new category in CRM – Sales Effectiveness. She has also served in senior business development, marketing and education management roles at Brio Technology, SGI, and Oracle Corporation. Lisa graduated Summa Cum Laude from the University of Maryland with a BA in English Literature. 
Mark Weiler
Vice President of Engineering
Mark Weiler provides the technical and visionary leadership to MyBuys Engineering team. He brings over 16 years of experience in building high quality solutions in the areas of Web Applications, Enterprise Applications, Infrastructure, and Systems software. Most recently, Mark was Vice President Engineering at NorthStar Systems Inc., where he was part of the founding team and was responsible for first 8 versions of the company's leading Wealth Management and Asset Management solutions. Prior to joining NorthStar, he managed the teams responsible for building B2B connectors and EAI adapters for Extricity (acquired by Peregrine) whose Alliance B2B product line was used to automate supply chains including RosettaNet processes for several major electronics vendors. Before Extricity/Peregrine, he developed a number of products at Microsoft, notably Exchange Server, MAPI, and LAN Manager and he was a key member of the Exchange X.400 Message Transfer Agent on the first four releases of Exchange Server. Mark holds a Bachelors degree in Computer Science and Engineering from the University of California, Santa Barbara. 
 
Len Eschweiler
Vice President, Sales
Len Eschweiler has over 13 years of sales leadership experience in the e-commerce sector. Prior to joining MyBuys, he was an early team member of MarketLive, an industry leading e-commerce platform and solutions provider where he served as Vice President, Sales and Marketing, and most recently headed up European expansion efforts as Vice President of Strategy, Europe. Previously, he was Director of Sales and Marketing for IMS-Net, a start-up focused on serving the needs of commodity trading via an Internet based trading marketplace. Before entering the software arena, he founded one of the first online music distribution sites for unsigned artists. Len studied computer science at Colorado State University and holds a BS in Finance with a minor in Music from Sonoma State University. 
Shaun Schooley
Vice President, Client Success
Shaun Schooley is charged with ensuring MyBuys clients receive the most efficient deployment and the highest performing implementation of the MyBuys service. He brings over 20 years of senior management experience in marketing. Most recently, he was Vice President of Strategic Marketing at Naehas, a web-based marketing solution to create customized and personalized web pages, where he maintained major client relationships and led follow-up programs for Fortune 500 firms. Prior to Naehas, Shaun spent over 19 years in financial services and technology marketing with companies such as Charles Schwab, Amazon.com, and Wells Fargo. Shaun is a frequent industry speaker at 1:1 marketing events sponsored by the DMA, U.S. Postal Service, and the National Center for Database Marketers. He holds several patents in electronic payment technologies and he holds an undergraduate degree from Hastings College and an MBA from Arizona State University.
More about Lightspeed Venture Partners
Lightspeed Venture Partners is a technology-focused venture capital firm that manages $1.3 billion of capital commitments. We closed Lightspeed VII, a $480 million fund, at the

end of 2005. Over the past two decades, our partners have invested in more than 120 companies, many of which have gone on to become leaders in their respective industries. Our team invests in the U.S. and internationally from offices in Menlo Park, China, India, and Israel.
We are proud to have partnered with many exceptional management teams. Our investment professionals have contributed domain expertise and operational experience to help build high-growth, market-leading companies such as Blue Nile (NILE), Brocade (BRCD), Ciena (CIEN), DoubleClick (DCLK), Informatica (INFA), Kiva Software (acquired by AOL), Openwave (OPWV), Quantum Effect Devices (acquired by PMCS), Sirocco (acquired by SCMR), and Waveset (acquired by SUNW). Some of our recent exits include the top-performing tech IPO of 2006, Riverbed Technology (RVBD), and the top enterprise software acquisition of 2006, Virsa Systems (acquired by SAP).
Lightspeed is known to be all about ecommerce. We are only seeing the "tip of the iceberg" in e-commerce, the firm's top blogger Jeremy Liew wrote in June — he thinks there will be "many more" e-commerce companies that grow to make more than $500 million in revenue by using behavioral targeting and other methods of matching purchasers with products they're most likely to buy.
More about Palomar Ventures
Palomar Ventures was launched in 1999 by veteran venture capitalists to focus on early stage information technology companies that demonstrate the potential for exceptional

growth and market leadership. The founding principle of Palomar is teamwork; we work closely with our portfolio companies to assist them in achieving their objectives. The partners at Palomar have contributed their strategic insight, network of corporate relationships, and recruiting skills to assist in building nearly 50 public companies.
Palomar Ventures is currently investing Palomar III, a $225 million fund, bringing total capital under management to over $500 million. A typical investment involves $2 million to $5 million in capital, and we prefer to act as a lead or co-lead investor early in the process of value formation. We believe that beginning early with a company is the best way to utilize our experience in building value rapidly by focusing the company on a small number of key milestones.
The market
Behavioral advertising and behavioral targeting are both lately becoming yet another hot area in the online marketing space, with Tacoda recently acquired by AOL for an estimated amount of $200-300 million. Start ups are trying to analyze every move you do online and try to hook you up with the right ads, products and services. MyBuys is making no exception it tracks user behavior to help online retailers make better recommendations.
Competition in the field is staggering and some of the names include StyleFeeder relying on community recommendations and raised $1M so far, Wunderloop, Baynote, Matchmine, which also raised $10M recently and not last Aggregate Knowledge, which once used to be a hot start-up in the Silicon Valley.
The demand among online retailers for better behavioral tracking is so high right now that MyBuys and its startup competitors are all able to gather this "low hanging fruit" –Lightspeed Venture Partner's Peter Nieh explains further.
The market shakeout in behavioral targeting will resemble search engines startup in the 1990's, Nieh, a Lightspeed Venture Partner, thinks: Many companies were able to search the web, but Google ended up doing it way better than the others, and captured the largest portion of the market.
More
http://www.mybuys.com/
http://www.marketwire.com/mw/release.do?id=778293&sourceType=1
http://mashable.com/2007/10/08/mybuys-funding/
http://www.pehub.com/article/articledetail.php?articlepostid=8085 (requires subscription)
http://venturebeat.com/2007/10/08/mybuys-behavioral-targeting-for-online-retailers-raises-10-million/
http://pulse2.com/2007/10/08/mybuys-raises-10-million-series-b/
http://www.bizjournals.com/sanjose/stories/2007/10/08/daily7.html?ana=from_rss
http://www.lightspeedvp.com/
http://www.palomarventures.com/