Bebo, the global social network strong enough in UK and among the first in US, has quietly been up for sale for quite some time shopped around by the secretive investment firm Allen & Co. A number of potential acquires passed on a deal for Bebo, including News Corp., Microsoft and Google, sources tell. Yahoo is also rumored to may have also taken a long look. Until now when AOL has publicly announced they had acquired bebo.com for $850M in a deal all in cash off only $20M in revenues for 2007. AOL and Bebo have been in talks since September 2007. It is also publicly known fact that Bebo was looking for a price over $1B.
Launched in the middle of 2005 Bebo had quickly grown to millions of visitors per month and today stands at over 40M

registered users as per company's claims. Bebo has raised only (taking into consideration their exit number) $15M from Balderton Capital, which represents a very nice exit for the venture capitalists.  Competitors include MySpace, Facebook, Friendster, Piczo, Google's Orkut, Flickr, and literally an endless army of social networking sites around the globe. Bebo has offices in the UK, San Francisco and Austin, TX with over 100 employees.
A quick look into the numbers reveals that AOL paid roughly $22 per registered user in Bebo's acquisition. comScore reports for 22M unique visitors per month to bebo.com, which values each unique visitor at $39. Quantcast reports for less than 2M American visitors per month to bebo's site but since the site appears to be not quantified we should not take these numbers for the correct ones.
Richard MacManus from RWW does not think this will make much headway for either company and calls it that way "Ultimately we're talking about two middle of the road Web brands". The Wall St Journal's Kara Swisher has analyzed the deal and thinks in first place the numbers are not so big but sees that AOL is getting very attractive social-networking service and a very experienced exec who has been running it. According to the several sources, she quotes, who were privy to Bebo's financials, for example, Bebo's revenues for 2006 were only $7 million with $3 million in EBITDA. In 2007, the results are still small, with $20 million in revenues and $5 million in EBITDA. Using 2007 results, that means Time Warner's (TWZ) AOL paid a handsome 42.5 times revenues and an incredible 160 times EBITDA.
Current President Joanna Shields (in the middle) is said will continue to run Bebo and will report to AOL President Ron Grant (in right) while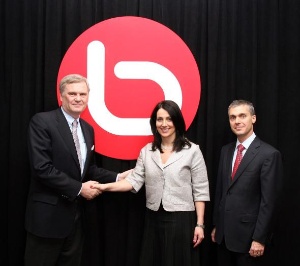 the founders Michael Birch and Xochi Birch will shortly be leaving the startup, apparently.
Since its inception, Bebo has established a radical new vision for online media and engagement marketing, combining community, self-expression and entertainment, enabling its members to consume, create, discover, curate and share digital content in entirely new ways.  Bebo global users have high engagement levels spending an average of 33 minutes a day on the site. Its groundbreaking Open Media platform ushered in a new way for Bebo users to experience content online, while giving global media companies like MTV, CBS, BBC and more than 400 others, a new way to promote, distribute and monetize their programming. "Engagement Marketing," is Bebo's initiative for brands to build long-term relationships with their target audience.  Today, brands from Apple to Nike use Bebo as a platform to establish ongoing conversations with consumers. Bebo pioneered the blending of Web-native original content with interactivity in the social networking environment by co-producing "KateModern," the most successful TV show on the Web, now in its second season, followed by the soon to be premiered "Sophia's Diary," and the upcoming "Gap Year." In December 2007, Bebo opened its platform to external application developers becoming the first social network to embrace both Facebook and OpenSocial APIs. (a confusing signal, as up till then everyone had assumed that OpenSocial and Facebook platform were direct competitors.) To date, more than 1500 applications have joined the network.
Together with its AIM and ICQ personal communications network, the acquisition will give AOL a premier position in the fast growing world of social media with a network of approximately 80 million unique users.
With a total membership of more than 40 million worldwide, Bebo is a global social media network which combines community, self-expression and entertainment to enable its users to consume, create, discover and share content. Bebo is one of the leading social networks in the UK, and is ranked number one in Ireland and New Zealand, and number three in the U.S. in terms of engagement. Its users are heavily engaged and view an average of 78 pages per usage day.
The deal comes just one week after AOL's launch of Open AIM 2.0, an initiative that allows the developer community greater freedom to access the AIM network and integrate AIM into its sites and applications, and the announcement by Apple of a downloadable AIM application for the iPhone.
"Bebo is the perfect complement to AOL's personal communications network and puts us in a leading position in social media," said Randy Falco, Chairman and CEO, AOL. "What drew us to Bebo was its substantial and fast-growing worldwide user-base, its vision of a truly social web, and the monetization opportunities that leverage Platform-A across our combined global audience. This positions us to offer advertisers even greater reach and marketers significant insights into the desires and needs of consumers."
"AOL understands the shifting dynamics of the Web and has clearly demonstrated its commitment to leveraging the ever-increasing power of social networks," said Bebo President, Joanna Shields. "With one and the same vision in this area, it was a natural progression for Bebo to join AOL, and we look forward to working together to continue to expand the online social experience globally."
"Bebo's dynamic management team recognizes that the Internet is less about destination and more about connecting people, culture and lifestyles," said Ron Grant, President and COO, AOL.  "This acquisition supports our key objectives – accelerating the growth, engagement and monetization of one of the world's most engaged online communities." 
Analyst eMarketer predicts that by 2011, $4.1 billion will be spent worldwide for social network advertising – a dramatic increase from the $480 million spent in 2006.  In 2008 alone, global ad spend in the social networking arena is expected to increase 75% year over year, amounting to $2.1 billion.
In recent months, AOL has moved aggressively to bolster its position in areas critical to its emergence as a leading advertising-supported Web media and marketing company. Building on its number one position in third party display with Advertising.com, AOL has spent nearly $1 billion on online advertising acquisitions, including market leaders like ADTECH, buy.at, Lightningcast, Quigo, TACODA and Third Screen Media to create Platform-A. Platform-A is the top display ad serving network focused on helping marketers build brands that perform online.* In Web content, AOL's revitalized network of sites has experienced five months of consecutive page view growth and key categories like Music, Television, Moviefone, TMZ, Money & Finance, News, Living and Body are all in the top four in their respective categories.
As part of its international growth plans, AOL has launched 17 international web sites over the last year and has plans to expand to 30 countries outside the U.S. by the end of 2008. In addition, AOL teamed up with HP last September to include localized versions of the AOL.com portal and other AOL services as the default setting on HP computers shipped in the United States and around the world. Bebo, which has announced plans to launch in five countries this year, will be featured prominently in AOL's international expansion efforts after the deal is closed.
AOL was advised by Banc of America Securities LLC and Deutsche Bank Securities Inc. Bebo was advised by Allen & Co.
The deal is said to be subject to U.S. and EU antitrust regulations before it effectively closes.
More about AOL
A Global Ad-Supported Web Services Company
AOL is a leading global advertising-supported Web company, with the most comprehensive display advertising network in the U.S., a substantial worldwide audience, and a suite of popular Web brands and products.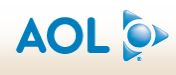 The company's strategy focuses on increasing the scale and sophistication of its advertising platform and growing the size and engagement of its global online audience through leading products and programming.
Core Statistics
109 million – Average domestic monthly unique visitors to the AOL network of Web properties during the quarter ending December 31, 2007, according to comScore Media Metrix.
49.2 billion – Domestic page views for the AOL network of Web properties during the quarter ending December 31, 2007, according to comScore Media Metrix.
150 – Average monthly page views per unique visitor to the AOL network of Web properties, during the quarter ending December 31, 2007.
 A sophisticated advertising network
AOL offers advertisers access to the broadest display advertising network in the U.S. and some of the most sophisticated tools available to target and measure online advertising campaigns through AOL's Platform-A business group. Platform-A consists of Advertising.com, which operates the largest third-party display networks; behavioral targeting leader TACODA; Third Screen Media, which operates one of the largest mobile media networks; market leading video ad serving platform Lightningcast; Quigo, which offers advertisers the ability to target ads based on the content of Web pages; and ADTECH's global ad serving platform.
In addition, Platform-A Marketing Solutions provides large brand customers with coordinated access to the full Platform-A product suite, enabling advertisers and agencies to more easily harness the full power of digital media.
Industry-leading products and programs
AOL's network of Web properties is one of the top three in the United States, attracting an average of 109 million unique visitors each month during the quarter ending December 31, 2007, according to comScore Media Metrix, and many are leaders in their categories.
MapQuest, for example, is the leading U.S. provider of online maps and directions; AIM is the No. 1 messaging service in the U.S.; and TMZ, developed in partnership with Warner Bros.' Telepictures Productions, is the No. 1 domestic entertainment news site on the Web. Other popular destinations include Black Voices, a premiere site for the African-American community, and AOL Latino, a leading bilingual portal for U.S. Hispanics.
In the past year, AOL has relaunched all its major programming channels, including News, Sports, Money & Finance, Living, and launched several new sites, including Switched.com, PopEater, Stylelist, DIYLife and Green Daily.
AOL also has been upgrading its product suite, including the new AOL.com home page, improved AOL Mail, the new AOL Desktop, Safety and Security and Parental Control tools, and the new Winamp player. In addition, AOL has launched breakthrough products such as BlueString, which lets users easily store and share their pictures and movies, and myAOL, which lets users easily customize their homepage.
AOL's Truveo video search tool, the leading video search engine, continues to expand its reach. During 2007, Truveo's index of searchable videos grew 20-fold to more than 100 million. Truveo tracks more than 500,000 new videos uploaded to the Web each day. Queries across the Truveo video search network increased 20 fold during 2007. Unique monthly visitors across the sites powered by Truveo exceeded 50 million. Truveo has also launched localized versions of its video search product in 16 countries.
Expanding worldwide
As part of its aggressive international growth plans, AOL launched portals in Austria, The Netherlands, India, Italy, Spain, Sweden, Switzerland, Poland and Belgium. In addition, AOL teamed up with HP – a leading PC maker in the U.S. – to include localized versions of the AOL.com portal and other AOL services as the default setting on HP computers shipped in the United States and more than two-dozen countries worldwide.
AOL continues to operate one of the largest Internet subscription businesses in the United States, with 10 million domestic subscribers at the end of the third quarter of 2007.
Meanwhile AOL seems to be looking for a buyer for … itself.
More
http://www.bebo.com/
http://developer.bebo.com
http://aol.com/
http://corp.aol.com/press_releases/2008/03/aol-acquire-global-social-media-network-bebo
http://developer.bebo.com/blog/index.php/2008/03/13/company-and-platform-newsjs-and-pre-load-sql-coming-soon/
http://www.techcrunch.com/2008/03/13/aol-buys-bebo-for-750-million/
http://mashable.com/2008/03/13/aol-bought-bebo/
http://www.readwriteweb.com/archives/aol_acquires_bebo.php
http://kara.allthingsd.com/20080313/bebo-by-the-not-so-big-numbers/
http://www.techmeme.com/080313/p77#a080313p77
http://www.techcrunch.com/2008/03/14/aol-on-a-bender-kickapps-may-be-next-acquisition/
http://www.techcrunch.com/2008/02/12/bebo-1-billion-acquisition-definitely-happened/
http://kara.allthingsd.com/20080314/is-kickapps-next-to-board-aols-gravy-train/
http://www.rev2.org/2007/07/31/bebo-an-in-depth-look/
http://www.lastpodcast.net/2008/03/13/thursday-night-thoughts/
http://www.crunchbase.com/company/bebo
http://www.centernetworks.com/bebo-aol-live-call
http://www.quantcast.com/bebo.com
https://web2innovations.com/money/2008/03/12/aol-is-offered-up-for-sale/