In a recent conference call Amazon has announced that it has reached over $131M in sales during the fourth-quarter of 2007 from its Web Services, which much or less means more than $500M in revenues for the entire fiscal 2008 for Amazon coming solely from its Web Services. When compared to the $5.7B for the same quarter coming in from its core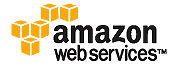 business activates that amount looks tiny and small, but it is symbolic for the major transition undertaken at Amazon to shift the focus from simply an online retailer to a broader Internet company and mostly an innovator in the web space. We are also sure that the margins are surely greater in the web services field for Amazon than the profits derived from its traditional retail business. Standing alone the Amazon Web Services' revenues are certainly huge and newsworthy. Amazon Web Services turn out to be a very successful strategy for Bezos' globe-spanning empire to drive sales and profits up. The company claims as well there are over 60,000 different customers across the various Amazon Web Services.
What is also interesting and noteworthy from the information that recently became publicly available online is the fact that the biggest users of Amazon Web Services are not the army of web 2.0 start-ups but large-scale corporations from the banking and the pharmaceutical sectors.
More about Amazon Web Services
Amazon Web Services provides developers with direct access to Amazon's robust technology platform. Build on Amazon's suite of web services to enable and enhance your applications. We innovate for you, so that you can innovate for your customers.
Amazon WS include Amazon Elastic Compute Cloud, Amazon SimpleDB, Amazon Simple Storage Service and Amazon Simple Queue Service.
Amazon Elastic Compute Cloud (Amazon EC2) – Beta
Amazon Elastic Compute Cloud (Amazon EC2) is a web service that provides resizable compute capacity in the cloud. It is designed to make web-scale computing easier for developers. Amazon EC2's simple web service interface allows you to obtain and configure capacity with minimal friction. It provides you with complete control of your computing resources and lets you run on Amazon's proven computing environment. Amazon EC2 reduces the time required to obtain and boot new server instances to minutes, allowing you to quickly scale capacity, both up and down, as your computing requirements change. Amazon EC2 changes the economics of computing by allowing you to pay only for capacity that you actually use.  Amazon EC2 provides developers the tools to build failure resilient applications and isolate themselves from common failure scenarios.
Amazon SimpleDB™- Limited Beta
Amazon SimpleDB is a web service for running queries on structured data in real time. This service works in close conjunction with Amazon Simple Storage Service (Amazon S3) and Amazon Elastic Compute Cloud (Amazon EC2), collectively providing the ability to store, process and query data sets in the cloud. These services are designed to make web-scale computing easier and more cost-effective for developers. Traditionally, this type of functionality has been accomplished with a clustered relational database that requires a sizable upfront investment, brings more complexity than is typically needed, and often requires a DBA to maintain and administer. In contrast, Amazon SimpleDB is easy to use and provides the core functionality of a database – real-time lookup and simple querying of structured data – without the operational complexity.  Amazon SimpleDB requires no schema, automatically indexes your data and provides a simple API for storage and access.  This eliminates the administrative burden of data modeling, index maintenance, and performance tuning. Developers gain access to this functionality within Amazon's proven computing environment, are able to scale instantly, and pay only for what they use.
Amazon Simple Storage Service (Amazon S3)
Amazon S3 is storage for the Internet. It is designed to make web-scale computing easier for developers. Amazon S3 provides a simple web services interface that can be used to store and retrieve any amount of data, at any time, from anywhere on the web. It gives any developer access to the same highly scalable, reliable, fast, inexpensive data storage infrastructure that Amazon uses to run its own global network of web sites. The service aims to maximize benefits of scale and to pass those benefits on to developers.
Amazon Simple Queue Service (Amazon SQS)
Amazon Simple Queue Service (Amazon SQS) offers a reliable, highly scalable, hosted queue for storing messages as they travel between computers. By using Amazon SQS, developers can simply move data between distributed components of their applications that perform different tasks, without losing messages or requiring each component to be always available. Amazon SQS makes it easy to build an automated workflow, working in close conjunction with the Amazon Elastic Compute Cloud (Amazon EC2) and the other AWS infrastructure web services. Amazon SQS works by exposing Amazon's web-scale messaging infrastructure as a web service. Any computer on the Internet can add or read messages without any installed software or special firewall configurations. Components of applications using Amazon SQS can run independently, and do not need to be on the same network, developed with the same technologies, or running at the same time.
There are many other companies in the sector and among others are Nirvanix (recently received funding from European Founders Fund) and RackSpace's Mosso.
More
http://www.amazon.com/gp/browse.html?node=3435361
http://www.wired.com/techbiz/it/magazine/16-05/mf_amazon
http://www.techcrunch.com/2008/04/21/who-are-the-biggest-users-of-amazon-web-services-its-not-startups/
http://aws.amazon.com/ec2
http://aws.amazon.com/s3
http://www.amazon.com/SimpleDB-AWS-Service-Pricing/b?ie=UTF8&node=342335011
http://www.amazon.com/Simple-Queue-Service-home-page/b?ie=UTF8&node=13584001
http://www.techcrunch.com/2008/01/30/amazon-earnings-call-details-web-services-use-up-more-bandwidth-than-amazoncom-the-kindle-is-a-hit/
http://www.techcrunch.com/2006/03/14/amazon-grid-storage-web-service-launches/
http://www.techcrunch.com/2006/03/14/amazon-grid-storage-web-service-launches/
http://www.techcrunch.com/2007/12/14/amazon-takes-on-oracle-and-ibm-with-simple-db-beta/
http://www.fabianschonholz.com/2008/03/11/a-hybrid-solution/
http://open.nytimes.com/2007/11/01/self-service-prorated-super-computing-fun/
http://www.nirvanix.com/
https://www.mosso.com/