In what is believed to be a big leap for the relatively small social networking site called Imeem they announced today a licensing agreement allowing its users to listen free to the music of Vivendi SA's Universal Music Group.
Universal Music, the world's largest record company, has opened a new chapter in the industry's experiment with

advertising-supported music by backing Imeem. Imeem now boasts deals with all four major record companies, including Sony BMG Music Entertainment, Warner Music Group and EMI Group, all of which have already inked deals with the social network.
It's a sharp turnaround from earlier this year, when none of the majors were willing to sign on to imeem's new ad-supported interactive service. In fact, Warner sued Imeem, arguing that by allowing its members to upload and share MP3s of Warner music, it was infringing on its copyrights.
After months of negotiations, the companies have concluded a deal in which Imeem will have full access to Universal's catalogue, making it the first social networking site to reach licensing agreements with each of the four big record labels.
Imeem has received attention from music executives because it has quickly built an audience of 19 million monthly visitors, up from the 16 million they reported in May 2007.
Despite these claims and the deal itself, Imeem's traffic seems to have fallen off since earlier this year, from a peak of 5 million visitors in April to 2.37 million in November according to Compete.com. Quantcast is showing even worse numbers – only 2.4 Million American visitors. The traffic curve there is permanently falling down over the past 6 months.
Imeem is an online community where artists, fans & friends can promote their content, share their tastes, and discover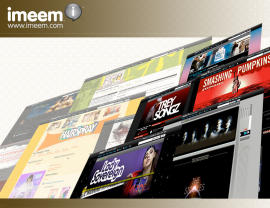 new blogs, photos, music and video. Here are some of the things you can do on imeem:
Discover
-Enjoy the latest videos, music, photos, or blogs posted on imeem.
-Stay up-to-date with your personal network of fans and friends with "What's New" notifications.
-Get in-depth stats for all your content and track their popularity.
Interact
-Tag, comment, rate, and share any of your friends' cool (or embarrassing) content.
-Create or join groups for your favorite band, event, topic, and more!
-Start discussions with other imeem users and make new friends.
 
Share
-Embed your media on other pages (such as your blog, Bebo, etc.).
-Recommend stuff to your friends or add it to your "Favorites" list.
-Easily add media to your Del.icio.us, WordPress, Blogger, or Typepad.
Imeem is hoping to make money from advertisers, a portion of which will be shared with its music partners. It has signed up Puma, Nike and Microsoft among others, though it does not disclose revenues.
As part of the deal, Universal is said to have received an upfront payment worth more than $20 million, as well as an equity stake in Imeem. Universal will also receive a small payment each time one of its songs is streamed on the site of Imeem. A person familiar with the discussions said that the pay out Universal is about to receive is an equivalent to a fraction of a cent in addition to receiving a share of advertising revenue associated with a given song, that is, ads running near where a song is accessed. Most licensing deals with services that combine free music with advertising tend to offer labels only a share of revenue.
Imeem isn't the first ad-supported music service to gain the support of all four major labels. Universal, Sony BMG, Warner and EMI have also been making their music available to ad-supported music downloading service Ruckus. Ruckus had an early advantage over other services in securing the majors' cooperation because it targeted colleges and universities, where illegal music downloading is a particularly serious problem and is basically not possible.
In a statement, Universal Chairman Doug Morris called Imeem "innovative," and praised Imeem for "ensuring that our artists are fairly compensated for the use of their works."
According to eMarketer, spending on advertising on social networks will rise from $900 million this year to more than $2.5 billion in 2011.
Imeem is based in San Francisco and takes its name from "meme" – a term coined to describe the ideas that communities, adopt, and express. Dalton Caldwell is the CEO of the company and the co-founded together with Jan Jannink. The company used to be in Palo Alto and is known to have launched in 2004. Known investors in the company are Morgenthaler (Series A founding) and Sequoia Capital, the venture capital fund that supported Google and YouTube.
Via
[ http://www.ft.com/cms/s/0/ff0a7e34-a6c3-11dc-b1f5-0000779fd2ac.html ]
[ http://online.wsj.com/article/SB119725218005518932.html?mod=googlenews_wsj ]
[ http://www.informationweek.com/news/showArticle.jhtml?articleID=204800459 ]
[ http://www.forbes.com/business/2007/12/10/imeem-universal-music-biz-media-cx_lh_1210bizimeem.html ]
[ http://www.news.com/8301-13577_3-9831163-36.html ]
[ http://www.emarketer.com/Article.aspx?id=1004896 ]
[ http://mashable.com/2007/12/10/imeem-universal/ ]
[ http://www.techcrunch.com/2007/12/09/imeem-pens-a-deal-with-universal-music-now-has-all-the-majors/ ]
[ http://www.quantcast.com/imeem.com ]
[ http://www.crunchbase.com/company/imeem ]
[ http://imeemblog.imeem.com/ ]
[ http://lifehacker.com/software/social-networking/not-just-another-social+networking-site-208719.php ]
[ http://www.demo.com/demonstrators/demo2005/54152.php ]
[ http://bits.blogs.nytimes.com/2007/10/29/imeem-pioneers-free-music-with-ads/ ]
[ http://www.morgenthaler.com/content/Ventures/Articles/Articles%20documents/imeem%20in%20venturewire.pdf ]