The 4 years old Yelp, which is a local review site, has already reached a hefty popularity on Web. Today we have read online the site claims to have more than 8M unique visitors per month, which can already be called a hugely popular site and all that achieved within 4 years only. Pretty impressive one may say. But the company seems to have raised tons of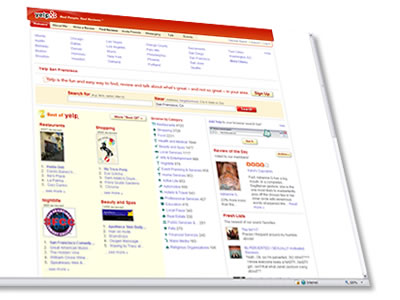 money in 4 rounds totaling $31M to date. The pre-money valuation was rumored to be in the $200M range, which for a site with almost 10M uniques per month is becoming an industry standard already. The revenues, also rumored, are said to be in the $10M range per year, which was widely criticized on different tech blogs as not enough taking into consideration the site's already massive reach. Well, we are not quite agreeing with those critics. Take for example Digg and Technorati, both sites are hugely popular and their revenues are not quite impressive either and are perhaps in the Yelp's annual range. Not even to mention WordPress.org's case and their strong NO to a $200M buyout deal last year on little to no revenues, as far as we know. We would guess that just like Digg and Technorati, Yelp will also try to shop itself around and their investors are in fact looking for an acquisition deal with hefty exit price tag rather then building a self-sufficient company taking into consideration the very favorable time for web 2.0 companies in the Valley. Yet, we think $10M per year off 8M unique visitors per month is pretty well done job in monetizing their traffic, for now. 
Their forth round of funding is said to be in the $15M range and led by DAG Ventures. Yelp says that they will be using the money to expand geographically, add onto their sales team, and establish an office in NYC. With this latest round, DAG joins previous investors Max Levchin who put $1 million back in the summer of 2004, Bessemer Venture Partners with their $5 million round closed in 2005, and Benchmark Capital ($10 million, Q4 2006). The company's total funding is now $31M. If the rumored pre-money valuation is correct then DAG Ventures seems to have bought only 7.5% for its money.
The company is based in San Francisco and was founded back in 2004 from former PayPal early employees.
Yelp claims they are relying on "word of mouth marketing" but from what we have seen their site is heavily search engine optimized with several million of indexed pages at Google, which is well done and good after all, but you should refrain from claiming you are all about word of mouth marketing. We have no access to their Google Analytics files where the traffic sources are visible, but we are pretty sure a vast majority of their 8M uniques per month is coming from Google and some of the other top search engines. 
Other critics of the company's strategy say that a viable approach to building a company like Yelp would be to prove that your business model works in the cities that you initially target and then replicate that model elsewhere once you have your validation. If you cannot establish a profitable business model in the cities you initially target, expanding your sales force, adding additional offices and replicating your unsuccessful model elsewhere are not viable solutions for developing your company.
The local space is very crowded area as it seems. Yelp's competition includes companies like InsiderPages (acquired by Citysearch), Viewpoints, YellowBot, Google Local, Yahoo Local, JudysBook.com, Rummble, LocoGopher.com, Zvents, Upcoming, Qype, Tipped, GenieTown, YellowPages.com, among others.
More about Yelp
Yelp is the fun and easy way to find, review and talk about what's great (and not so great) in your world. You already know that asking friends is the best way to find restaurants, dentists, hairstylists, and anything local. Yelp makes it fast and easy by collecting and organizing your friends' recommendations in one convenient place.
Yelp is the ultimate city guide that taps into the community's voice and reveals honest and current insights on local businesses and services on everything from martinis to mechanics. Yelp is just real people, writing real reviews, and that's the real deal. Yelp is a fun and engaging place for passionate and opinionated influencers to share the experiences they've had with local businesses and services. Yelp is the definitive local guide in the San Francisco Bay Area and a force to be reckoned with in Chicago, New York, Boston, Los Angeles and Seattle. But really, we're everywhere. From Austin to Madison and everywhere in between, reviews are coming in from all over the country!
Yelp is word of mouth marketing – amplified. Savvy local marketers now have a great channel to effectively target local consumers. Since July 2004, co-founders Jeremy Stoppelman (CEO) and Russel Simmons (CTO) and their Yelp crew have been striving to make life better for people who love to patronize great local businesses. Discovering accurate information on local establishments has never been this entertaining. Writing reviews has never been this fun, easy and addictive!
The Yelp Management Team
Jeremy Stoppelman


Co-founder and Chief Executive Officer
Jeremy co-founded Yelp Inc. in July 2004 with former colleague and friend Russel Simmons.
Prior to Yelp, Jeremy was the VP of engineering at PayPal. He left PayPal in the summer of 2003 to attend the Harvard Business School. Upon completing his first year at HBS, Jeremy joined an incubator started by Max Levchin (co-founder of PayPal) for a summer internship. It was there that he was reunited with his old colleague Russel Simmons and the two teamed up to create a vibrant community around local information. Jeremy holds a B.S. in computer engineering from the University of Illinois.
Russel Simmons
Co-founder and Chief Technology Officer
Russ co-founded Yelp Inc. in July 2004 with former colleague and friend Jeremy Stoppelman.
Prior to Yelp, Russ was one of the early employees and the lead software architect at PayPal. He led a team of top engineers on critical projects related to security, scalability, stability, and internationalization as the company scaled rapidly. Following his time at PayPal, Russ joined Max Levchin's (co-founder of PayPal) incubator, where he teamed up with Jeremy. Russ holds a B.S. in computer science from the University of Illinois.
Geoff Donaker
Chief Operating Officer
Geoff joined the team in November 2005.
Prior to Yelp, Geoff spent five years building Web communities at eBay, most recently as director of international category management and previously as director of collectibles. His previous experience includes business development and marketing management roles at Excite@Home, Voter.com, Classifieds2000 and Mercer Management Consulting. Geoff has a B.S. in mechanical engineering from Stanford University.
More
http://yelp.com/
http://blog.yelp.com/
http://jeremy.yelp.com/
http://www.google.com/search?q=site%3Ayelp.com
http://www.techcrunch.com/2008/02/26/yelp-raises-15-million-fourth-round-valuation-200-million/
http://www.drama20show.com/2008/02/27/yelp-raises-more-money-for-business-stuff-and-parties/
http://valleywag.com/tech/jeremy-stoppelman/the-hard-life-of-a-web-founder-244590.php
http://valleywag.com/tech/party-report/party-correspondent-confronts-ghosts-of-yelp-parties-past-331048.php
http://www.timeout.com/chicago/articles/features/25797/amateur-hour
http://www.npr.org/templates/story/story.php?storyId=18349445
http://money.cnn.com/2008/01/23/smbusiness/manage_online_reputation.fsb/index.htm?postversion=2008012409
http://www.washingtonpost.com/wp-dyn/content/article/2007/08/14/AR2007081401782.html
http://publications.mediapost.com/index.cfm?fuseaction=Articles.showArticleHomePage&art_aid=64844
http://startup.wsj.com/ecommerce/ecommerce/20070719-richmond.html
http://www.informationweek.com/news/showArticle.jhtml?articleID=199100332
http://online.wsj.com/article/SB117272184209823054-search.html?KEYWORDS=yelp&COLLECTION=wsjie/6month
http://venturebeat.com/2006/10/04/local-review-site-yelp-raises-10-million-from-benchmark/
http://www.techcrunch.com/2007/09/25/garageseek-rates-mechanics-but-yelp-will-kill-this-category-too/
http://gesterling.wordpress.com/2008/02/27/yelp-raises-15-million-in-round-four/
http://bub.blicio.us/?p=732
http://www.crunchbase.com/company/yelp
http://joeduck.com/2008/02/27/yelps-new-funding-round/
http://www.alleyinsider.com/2008/2/yelp_raising_more_money_opening_ny_office
http://en.wikipedia.org/wiki/Yelp%2C_Inc.