MyPunchBowl, the event planning site that has joined the new crowd of Evite rivals, has recently been angel funded.

According to some sources like VentureBeat and Mashable, the exact amount of funding has not been disclosed, but it's less than $1 million, and is enough to keep the team in development for another year, at least.
MyPunchBowl is known to have had a pretty good year, with several developments and feature upgrades to its event-planning service. More niche templates have been added to its collection, and they released their new Facebook application called "Party Animal."
Partnerships with traditional media companies like the Boston Globe could also help to establish MyPunchBowl as a viable option for planning your next event.
In technological aspect they've been building out tools for each step of planning a party: finding supplies, inviting friends, setting a date, and the after party. MyPunchbowl has also made setting a date that much easier through the help of an algorithm that recommends the best date for your party. Connecting party organizers with suppliers in an algorithmic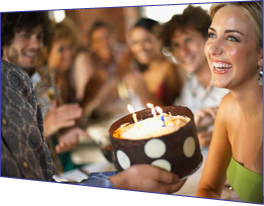 approach (supplies on-demand, recommendations in context of the party, individuals, events, at the right time and place etc.) could be a viable business model in our understanding and this is where the site is planning to make money from, see below comments.
More about Punchbowl Software
At Punchbowl Software, we believe that planning an event or party should be enjoyable and easy.
For the host, there are typically lots of pieces to organize: picking a date, sending invitations, choosing catering and entertainment, purchasing party supplies, and renting party equipment just to name a few. It can be a time-consuming process, and it usually isn't much fun.
To solve this problem, we've created MyPunchbowl, a new web application for event and party planning. MyPunchbowl provides software for every stage of planning. With MyPunchbowl.com you'll actually enjoy planning while saving time.
"They are the developers of one of the hottest websites in America and around the world. These are the folks that are at the vanguard of web development" – one reads at CNBC. 
For now, MyPunchbowl is avoiding monetizing the site through display ads. Instead, it plans to open partnerships with vendors, helping users secure any party supplies they need. To make money, the site is working on opening more relationships with vendors. A guest asked to bring the turkey to a Thanksgiving event, for example, might receive a targeted offering from Butterball.
According to Quantcast the site's reach is less than 12,000 American visitors per month and compared to Evite.com's 7 million uniques / mo MyPunchbowl looks like it has way too much to do in order to be called even close competitor to Evite, despite the press attention it gained over the past year http://corp.mypunchbowl.com/news.php. 
The company was founded by software and user interface experts who are fanatics about simplicity and ease of use. As they say "they were frustrated with the current tools, and knew there had to be a better way". The funding came from Intel Capital and eCoast Angels.
As far as we know MyPunchBowl's competitor Planypus has recently been funded as well.
Other competitors include Skobee or Renkoo although they have differentiated themselves by helping plan the casual outings for drinks or dinner. Socializr is taking a social networking approach.
The company's founder is Matt Douglas. Douglas, whose principal offices are based in the Boston Metrowest technology

center (Natick, MA), has three employees for now. Formerly of Adobe Systems and Bose Corporation, Matt Douglas has 12+ years in product management and marketing with expertise in software product development. At Adobe, Matt was responsible for Adobe Premiere where he grew revenue from $15M to $50M in four years. At Bose, he was a senior manager in the professional division where he led a hardware and software product team. Matt has a degree in music from the University of Rochester and an M.B.A. from UNC Chapel Hill. Matt's favorite reason to party is Groundhog Day–he and his wife held their 11th annual Groundhog Day party in 2007.
Otherwise Punchbowl Software is a privately held Delaware Corporation.
The competition in the event planning sector looks intensive, but the vast majority of the startups being active in the arena have chosen specific niches, and will be trying to secure their own markets without invading each other's territory.
More
[ http://www.mypunchbowl.com/ ]
[ http://corp.mypunchbowl.com/ ]
[ http://venturebeat.com/2007/01/15/mypunchbowl-joins-growing-list-of-evite-rivals/ ]
[ http://mashable.com/2007/10/02/mypunchbowl-funded/ ]
[ http://venturebeat.com/2007/10/02/mypunchbowl-lands-seed-funding-for-online-invitations/ ]
[ http://www.quantcast.com/mypunchbowl.com ]
[ http://www.quantcast.com/evite.com ]
[ http://www.techcrunch.com/2007/05/21/mypunchbowl-the-algorithm-schedules-your-event/ ]
[ http://www.boston.com/business/technology/articles/2007/07/22/will_boston_ever_catch_up/?p1=MEWell_Pos5 ]