Mint.com, the site that helps you find better interest rates on bank accounts, credit cards, and other financial products. But here is the interesting part. The site officially launched in September 18, 2007, after nearly two years of development and significant private beta testing, and in just a few weeks, after being announced winner on TechCrunch40, the site took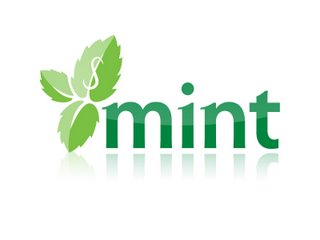 seriously off. In just 18 days, the company said, they had reached more than $2 billion worth of people's personal financial accounts, and identified more than $40 million in potential savings for those members. In a moment Mint ended up having a new member every five seconds. It turned out that people really will do anything to save a buck. There were more than 50,000 accounts opened up. And logically the investors jumped in. Total funding in no time reached $5.5M for Mint Software.
Today we have read over Internet that Mint is about to announce its third round of funding today – $12.1 million from new investor Benchmark Capital and all previous investors, including Shasta Ventures, Sherpalo Ventures, Felicis Ventures, Hite Capital and First Round Capital. The company has now raised a total of $17 million, most of it since October of 2007. Benchmark's Bob Kagle is joining the Mint board.
CEO Aaron Patzer says the company is adding 10,000 new users per week, has organized over $10 billion in purchasing activity and has identified around $100 million in savings opportunities for users.
The company makes money via lead generations, and Patzer says users are clicking on presented opportunities 12-15% of the time. That all sound very good and promising but it also raises some concerns and the Mint's independence different online users are already asking about. Mint is being accused already that they may be selling out trying to get deals with banks to connect to their system.
When's the last time you went to an ATM that let you take out $1.50, $2.00 or any amount under $20. Then it seems odd that Mint can't distinguish and break out your ATM fees so you can see how much I spend. I don't spend $101.50 on ATM fees, I spent $1.50. There are several very obvious things Mint could help with, but don't.
From the banks perspective they make a lot of money from ATM fees which costs them next nothing providing huge margins. So are they interested in cooperating with a service that makes points out that you are getting fleeced in ATM fees? It is being said there are more examples like this, one gets lousy interest on his/her savings – however somehow the only bank switch recommendations one gets are from CITI bank to … CITI Bank. Never a recommendation to switch to WAMU for example which would save the user $9.50/month in checking, and $20-30/month in ATM fees.
Some users raise the point that Mint might be too much in bed with the banks to be anything other than an overview.
Techcrunch has reported it has a source that told them venture capitalists were clamoring to get a piece of this deal, but the question here is does Mint really need that much money or it is all about the fact that VCs want to be in regardless what Mint's real needs might be. 
More about Mint
Mint is the freshest, most intelligent way for you to manage your money online. Not only is Mint free, it saves you money. While existing personal finance software packages require hours to set up, a passion for accounting (is that possible?) and hours of weekly maintenance, Mint is virtually effortless.
With Mint, you can be fully up and running in less than five minutes. After that, revolutionary, patent pending Mint technology does the rest, with virtually no more work required. It automatically pulls together your bank, credit union and credit card data, and provides up-to-date and amazingly accurate views of your financial life – from the big picture to specific details, in a friendly and intuitive way.
In addition, Mint goes beyond visibility and analysis; providing personalized money-saving and money-making suggestions. Mint provides users an average of $1,000 in savings opportunities during their first session. Plus, Mint is proactive— alerting you when you are overbudget, have a low balance, need to pay a bill, and more.
Mint is safe and secure: we never know your identity and we provide bank level data security.
How Mint works
Mint is a modern, powerful, easy and secure web-based solution for managing your finances. And it's free. You register anonymously using any valid email address, and then add the log-in information for the online bank, credit union and credit card accounts you want to consolidate in Mint.
Mint connects to over 3,500 US financial institutions. Your account information is updated each night. Mint automatically categorizes all your purchases, showing you how much you spend on gas, groceries, parking, rent, restaurants, DVD rentals and more, with amazing precision. An advanced alerting system highlights any unusual activity, low balances, unwanted fees and charges, and upcoming bills so you're in constant contact with your money – effortlessly. 

Mint goes way beyond just reporting. Using a patent-pending search algorithm, Mint constantly searches through thousands of offers from hundreds of providers to find the best deals on everything from bank accounts to credit cards; cable, phone and Internet plans, and more. Mint's suggestions are "unique to you" as they are based on your individual spending patterns. For example, if you have $20,000 in a bank account that's earning no interest, Mint might recommend a high interest rate savings account from ING or HSBC. Acting on that suggestion would give you an extra $900 in interest income over a year.
Key Benefits
Mint is an entirely new approach to personal financial management. You don't work for Mint, it works for you. We think you'll love Mint because it's:
Easy to use: You're up and running in under five minutes. And Mint does virtually all the rest.
Comprehensive: Mint provides detailed visibility into virtually all your financial relationships with a single, secure login.
Visual and Analytical: Mint gives you powerful insights into your finances – making it easier to make good financial decisions
Constantly working to find you savings: Mint typically finds users $1,000 in savings opportunities in their first session – minutes after registering. And Mint keeps looking for new ways for you to save every day — continuously comparing your needs to product, service and bank offerings most relevant to you.
Secure: Mint provides bank level data security and industry leading identity protection. Its security and privacy have been validated by VeriSign and TRUSTe.
Always On: You're automatically notified of upcoming bills, low balances, and any unusual activity in any of your accounts, through one (m)interface.
Anywhere/anytime access: You can get to Mint anywhere, anytime over the web
And it's Free!
Breakthrough Technology
Aaron's personal experience led him to create to two breakthrough technologies which make Mint so useful, intuitive and unique:
Patent-pending categorization technology that automatically identifies and organizes purchases from descriptions in the electronic records at banks and credit card companies.  A proprietary search algorithm which finds savings opportunities unique to each user.  Mint's technology does everything automatically in a way that other online banking applications and personal finance management software can't. It provides useful information and smart, specific recommendations for saving or making more money based on each user's individual purchase history. Today, after nearly two years of development and significant private beta testing, Mint is preparing to announce the public beta of Mint.com. The company has put together an experienced executive and engineering team, and has attracted funding from top tier venture capital firms and angel investors.
Security
Security is crucial when someone is dealing with your financial information and it is no wonder there were many debates surrounding Mint in the public space. We have dug information up ourselves and have found many interesting commentaries made by Mint's CEO, which we enclose below. Below is what Aaron Patzer, Founder & CEO at Mint.com, has to tell about security.
To all those who are concerned over Mint.com security, a few points:
1) You're anonymous on Mint.com
2) Our security is independently verified
3) Email & text-message alerts help identify fraud immediately… and being proactive is the best measure.
I'll make a bold statement: You're safer on Mint then with online banking. On Mint, you're completely anonymous. We never ask for a name, address, or SSN – just an email. We know about your finances…but not about you. We're also independently verified by VeriSign, TRUSTe, and several outside agencies.
We also have serious physical security. Our servers are in a secure, unmarked facility. To get in, you need to pass 3 biometric scanners, 4 locked doors, and several guards. We have our own cage so we're physically separated from all other companies. Cameras monitor our servers and power supplies 24/7. The servers themselves have additional locks. The hard drives are encrypted. It's like Mission Impossible (except without the electrified floors…maybe one day).
Perhaps more interestingly, 90% of all fraud actually occurs offline, not online (e.g. someone swipes your card at a restaurant or from your mail). Because Mint sends proactive alerts for low-balance or unusually high spending, you'll know right away. It's better than logging into 4-5 different banks every day, or waiting 30 days for a paper statement before finding that something went wrong.
By law you have:
– $0 liability for credit card fraud,
– $50 liability for bank fraud (if you notify your bank within two days)
Again, 90% of all fraud starts offline, for example when someone takes your credit card at a restaurant, or digs through your mail. Sadly, a large portion of fraud is actually committed by friends and family members.
Mint.com helps keep you safe by providing email and text-message alerts for:
– Low balances (e.g. someone is draining your account)
– Unusual spending (e.g. someone buys $1000 in electronics in a day)
– Low available credit
If there are any anomalies, Mint.com shows you right away. The alternative is to a) login to every single credit card, checking, and savings account every day to check for fraud, or b) wait 30 days until a paper statement arrives before noticing an issue.
By taking a proactive approach, Mint.com actually helps protect you from the vast majority of fraud – better than just about any website out there.
Concerning whether using Mint.com violates your bank terms & conditions:
Consider that Quicken and Microsoft Money ask you for the exact same credentials as Mint.com, and have been for the past 10 years. MS Money even uses Yodlee to make it's connection to banks (same as Mint.com, BofA, and Fidelity).
The problem with those tools is they cost $30-$80, sunset their products every 2-3 years to force an upgrade, require an hour to setup, and take an hour a week to maintain.
Mint is like an extension to online banking: pull all your accounts together in one place, finally see where your money goes, get alerts on anything out of whack, and find savings opportunities worth an average of $1,000/user.
Mint never gives your information to third party advertisers. We have a proprietary database of financial offers, interest rates, and communications (phone, tv, internet, wireless) providers. The matching is done in software, anonymously.
Your information never leaves Mint.com. If or when you click through on a savings opportunity, no information is passed except that the click came from Mint.com.
Mint does make a small referral fee from advertisers on some offers. That's what keeps Mint free. Whether we have a relationship with a provider in no way affects our ranking algorithm – we find users the best interest rate or lowest price regardless.
What this means in the end is Mint only makes money if we can find ways for the user to save money. And we think that's pretty revolutionary. The only ads you see are ads that make you money…think about how different that is as a business model.
What the company, by that time, seemed not to be dealing with is the offers it makes are often not competitive with or comparable to what users are getting, mint is just having no way to know that!
For example, I have a Capital One card with 1% back. You see my Capital One account with ? for a cash return, and "offer" me a 1% back card (a *savings* of $250/year!). There needs to be a way to user input the specifics of current accounts and products before you offer to "save" me all that dough!
Mint has told by that time they are tackling the issue within the next month or so, they will be able to accurately capture the rewards earned on just about every credit card. Then, it will be able to accurately reflect the fact you are earning 1% back on your Capital One card. We were unable to dig something up from the public web as to whether this issue has been fixed or not.
Some more drawbacks as we have found them around Web are as follows. You can't import data to Mint in any way other than through your financial institution, meaning that if you've got years' worth of financial data in Quicken, don't count on importing it to Mint. That said, Mint can load over a year of your most recent financial data (depending on how long your institution provides it) when you sign up.  On a similar note, Mint doesn't export data—meaning if you decided to ditch Mint for another money management solution, you're not going to get a CSV file or any other export of your data.
The most notable and practical drawback to Mint came in the form of strangely named, incomplete transaction descriptions (the imported name was strange—the actual transaction name at the originating financial institution was more descriptive). As a result, I ran into problems setting up renaming rules for transactions in Mint. For example, a transaction that read in my checking account (at the actual US Bank web site) as "Web Authorized Payment AT&T" showed up in Mint as "Web Payment" or something along those lines. I set Mint to automatically rename this transaction to AT&T, but then every Web Authorized Payment in my account was renamed AT&T, although some were gas or water and power bills. Similarly, "Purchase with PIN" shows up in the ledger as "With," which is not terribly helpful. Next to the all-in-one account integration, automation is Mint's biggest draw—which means these sort of minor issues need worked out before you can set up renaming rules with complete confidence (especially since you can't currently undo renaming rules). On the flip side, Mint claims to accurately identify and rename 90% of imported transactions without any need for user import, compared to Quicken's 40% (their numbers).
Management team
Aaron Patzer
Founder and CEO
Aaron is both the visionary and technical mind behind Mint, the first free, automatic and secure way to manage and save money online. He designed Mint to meet his own needs and those of people like him who value the immediacy of the Web,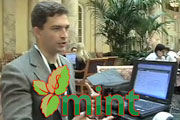 simplicity and their free time. With 10 patents filed or pending, Aaron brings strong innovation skills to Mint. Prior to founding Mint, Aaron was an architect and technical lead for the San Jose division of Nascentric. Before Nascentric, Aaron worked for IBM and founded two web development and online marketing companies: PWeb and International. Aaron holds an MSEE from Princeton University and a BS in computer science, computer engineering, and electrical engineering from Duke University.
Aaron's Financial Personality? Über-Frugal but lusting in his heart for expensive cars.
Donna Wells
Chief Marketing Officer
Donna brings over twenty years' experience in strategic management and marketing to the Mint team, with specific expertise in the financial services industry and online demand generation. She led client acquisition/retention, brand-building and product development for organizations ranging from start-ups to global brands – including Expedia, myCFO, Intuit, Charles Schwab and American Express. Prior to Mint, Donna was Senior Vice President of Marketing at Expedia, where she was responsible for strategic direction of the company's brand, advertising, direct marketing, customer and partner marketing and market research. At Intuit, as Vice President of Corporate Marketing and acting CMO, she led the company's corporate marketing functions and general marketing strategy. She also served as Vice President of Intuit's Small Business and Personal Finance division, responsible for direct marketing, channel marketing and market research for the Quicken, QuickBooks and Small Business Services businesses. Donna joined Intuit from myCFO, Inc., where she was Chief Marketing Officer. She previously held senior positions at Charles Schwab, where she led marketing for segments representing 70% of all Schwab client households, and American Express, where she launched the Gold Rewards and Platinum Corporate Cards. Donna holds a MBA from Stanford University's Graduate School of Business and a BS in Economics from the Wharton School at the University of Pennsylvania. She is a past Board member of the Financial Women's Association of San Francisco and the Marketing 50.
Donna's spending personality: Unremarkable, except in her weakness for luxury hotels.
David K Michaels
VP Engineering
David has over 10 years experience in building secure, distributed, fault-tolerant systems. David was most recently leading the development of server products for PGP, where he helped design, build and ship three major versions of the company's  flagship product: PGP Universal. Prior to PGP, he built a high-volume financial information product targeting online retail equity traders. David was on the server team at NetDynamics (acquired by Sun Microsystems), implementing core features for security, scalability, fault-tolerance, distributed load balancing, and performance. He has also worked at GeoCities, where he developed the company's first capability to insert advertising banners on its pages. He has held several positions with Lawrence Livermore National Laboratory working on distributed systems and the WWW. David holds a M.S. in Computer Science with honors from Stanford University and a B.S. in Computer and Information Science from the New Jersey Institute of Technology.
David's Financial Personality? Conservative and analytic in all spending categories Dining Out. Major Foodie.
Aaron Forth
VP Product
Aaron brings over ten years' of product development and product management experience to Mint. Prior to joining Mint, Aaron held several leadership positions at eBay and Half.com (acquired by eBay Inc.). Most recently, as Director of Advertising, Aaron was responsible for product strategy, design and product development. Aaron has a background in multivariate testing used to drive analytically-based decisions around product design, improved user experience and strategic partnerships. Prior to working in advertising, Aaron managed internet marketing and product management teams, focused on search engine marketing, search engine optimization and affiliate marketing. Aaron's career in software was established at Kana Communications, Inc., a CRM software start-up. He holds a bachelor's degree in Earth Sciences from University of California, Berkeley.
Aaron's spending personality: Frugal at heart. Focused on enjoying life in practice.
Anton Commissaris
VP Business Development
Anton is responsible for Mint's business strategy, revenue and partner development. Anton brings to Mint over 15 years of experience in the software and Internet sectors spanning legal, operations, marketing and business development roles. Prior to Mint, Anton was Vice President of Business Development at Right Hemisphere, the leader in visual product communications and collaboration. Prior to Right Hemisphere, Anton was Director of Business Development at Spotlife (Logitech) a pioneer in Web consumer video solutions. Anton began his career as an attorney working in London and Paris, and then in Palo Alto, California at Wilson Sonsini Goodrich & Rosati, the leading law firm for emerging growth high technology companies. He holds law degrees from the University of Auckland and the University of Montpellier, France.
Anton's Financial Personality? The ultimate deal-seeker and most passionate negotiator. We love having him run Biz Dev.
Mint has been named Best of Show at the 2007 Financial Innovations conference. Mint has also been chosen as the best presenting company at TechCrunch40 and has won a $50,000 cash award. In December 28, 2007 Mint.com has also won the 2008 PC World 25 Most Innovative Products Award.
Competitors and similar companies include BillMonk, Expensr, Wesabe, Zecco, Buxfer, SpendView, Geezeo, sMoneyBox, FreeAgentCentral, Covestor.com, Yodlee, wclipperz.com and passpack.com, among others. Of course, Intuit is the major player in the space.
More
http://www.mint.com
http://www.mint.com/blog
http://www.techcrunch.com/2008/03/05/mint-gets-a-mint/
https://web2innovations.com/money/2008/02/21/mintcom-the-financial-planning-startup-with-an-army-of-high-profile-investors/
http://www.mint.com/press/downloads/release_20080108.pdf
http://www.mint.com/press/downloads/release_20071228.pdf
http://www.techcrunch.com/2007/10/16/mints-47-million-a-round/
http://www.crunchbase.com/company/mint
http://www.techcrunch.com/2007/09/18/mint-wins-techcrunch40-50000-award/
http://www.techcrunch.com/2007/11/14/billeo-secures-7-million-in-financing/
http://www.techcrunch.com/2007/10/07/mint-rakes-it-in/
http://www.netbanker.com/2007/10/mint_mortgagebot_and_prosper_w.html
http://www.informationweek.com/windows/showArticle.jhtml?articleID=178600217
http://www.crunchbase.com/person/aaron-patzer
http://www.linkedin.com/in/apatzer
http://twitter.com/apatzer
http://digg.com/users/apatzer
http://consumerist.com/commenter/apatzer/
http://www.spock.com/Aaron-Patzer-NBd4i1sF
http://www.techcrunch.com/2007/09/18/techcrunch40-session-5-productivity-web-apps/
http://blog.mint.com/blog/personal-finance-interview/personal-finance-interview-with-aaron-patzer-of-mymintcom/
http://blog.mint.com/blog/personal-finance-interview/mint-team-spotlight-sid-bhatt/
http://www.finovate.com/
http://r3fresh.com/2007/10/09/how-secure-is-mintcom/
http://www.nytimes.com/2007/11/22/fashion/22CYBER.html?ex=1353819600&en=6199204353c38df5&ei=5124&partner=permalink&exprod=permalink
http://venturebeat.com/2007/09/18/mint-the-easiest-way-to-manage-your-personal-finances/
http://lifehacker.com/software/screenshot-tour/is-mint-ready-for-your-money-312083.php
http://consumerist.com/consumer/budgets/mintcom-+-a-new-free-personal-finance-management-site-301172.php
http://en.wikipedia.org/wiki/Ram_Shriram
http://www.pcworld.com/article/id,140663-c,technology/article.html