Today is a sad day for AOL, which somehow contrasts to the big day the company had in 2000 when they merged with Time Warner in what was then the biggest deal for the dot com era. All indicates that AOL is offered up for sale.
AOL, which is a symbolic company for the Internet the has tried to reinvent itself many times. The latest effort, like those before it, does not seem to be going well.
On Tuesday, Jeffrey L. Bewkes, the chief executive of Time Warner, AOL's parent company, acknowledged weakness in the business and said he was open to combining AOL with another company — "whatever configuration makes it the strongest and the most valuable."
Could this be an indirect signal to Yahoo to join forces with AOL? Yahoo anyway lost News Corp for a possible partner and after turning Microsoft down they are left now in sort of hot water to deal with their angry shareholders. It is known fact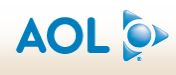 that Time Warner explored merging AOL with Microsoft's online operation two years ago and is now discussing a potential deal with Yahoo.
AOL has recently shifted the entire focus and is betting its future on a new strategy of selling advertising across the Internet and has spent more than $1 billion on related acquisitions. The company has acquired a massive number of ad-related companies like Quigo, Tacoda, Userplane, Truveo and their first one Advertising.com for $435M back in 2004.  
AOL appears to be very close to Yahoo by destiny and just like them it seems they are also going through bad times.  On Monday, the third of four top executives installed last summer to run the new advertising division, known as Platform A, left the company. The executive, Curtis G. Viebranz, was fired and replaced by the executive who had been battling his strategy through the fall, Lynda Clarizio.
Several recently departed executives contacted this week described the climate at AOL as acrimonious. They said there had been confrontational meetings of employees as well as screaming matches in offices, as senior executives worried about making their aggressive quarterly ad sales goals. Mr. Bewkes acknowledged Tuesday that revenue at AOL would be flat for at least another quarter.
New York Times says that the company is still major player on Internet with a very prestigious brand name to an enormous revenue stream of $5.2B in 2007. AOL's Web sites attract 112 million visitors per month and 9.3 million Americans still pay the company for Internet services. Yet the revenues are down 33% from 2006 and so their traffic too seems to be seriously declining over the past year as seen on Compete's traffic graph. The company's overall revenue was said has declined as it lost dial-up access subscribers while the advertising revenue totaled $2.2 billion in 2007, up 18 percent from the previous year, yet the pace of growth has slowed each quarter, too.
By contrast, if Facebook with their almost 100M uniques per month make even the half of what AOL is making off theirs the Facebook's market value would then perhaps be justified at the $15B mark, but the "big" F is doing nothing compared to AOL's revenues made from advertising alone.
It seems AOL is going to blindly follow the hot trend for today which is an ad network that sells ads on thousands of other sites. It is quite lazy and easy business, instead of building your own traffic, which is taking ages long to achieve you better attract third party sites to use their traffic to make money from. Perhaps this is the reason why we witness so many new ad networks lately.
"We were ahead of the curve in the creation of Platform A and remain in a great position to compete in this intensely competitive marketplace," said Randy Falco, the chief executive of AOL. The management changes, he said, were necessary to be able to move quickly. After spending dearly to amass assets, "the trick was to get them working together and integrated in a very meaningful way."
On Tuesday Mr. Bewkes, who spoke to analysts at a conference in Palm Beach, Fla., confirmed that AOL no longer saw a meaningful future for its dial-up Internet subscription service, which may be spun off.
The online advertising seems to be one of the most profitable niches over Internet commanding higher profit margins than any other business online. The leader on the market is Google with its AdWords/AdSense making over $10B per year by selling contextual ads on third party web publishers and there are literally thousands of smaller and more aggressive players in the space.
More about AOL
A Global Ad-Supported Web Services Company
AOL is a leading global advertising-supported Web company, with the most comprehensive display advertising network in the U.S., a substantial worldwide audience, and a suite of popular Web brands and products.
The company's strategy focuses on increasing the scale and sophistication of its advertising platform and growing the size and engagement of its global online audience through leading products and programming.
Core Statistics
109 million – Average domestic monthly unique visitors to the AOL network of Web properties during the quarter ending December 31, 2007, according to comScore Media Metrix.
49.2 billion – Domestic page views for the AOL network of Web properties during the quarter ending December 31, 2007, according to comScore Media Metrix.
150 – Average monthly page views per unique visitor to the AOL network of Web properties, during the quarter ending December 31, 2007.
 A sophisticated advertising network
AOL offers advertisers access to the broadest display advertising network in the U.S. and some of the most sophisticated tools available to target and measure online advertising campaigns through AOL's Platform-A business group. Platform-A consists of Advertising.com, which operates the largest third-party display networks; behavioral targeting leader TACODA; Third Screen Media, which operates one of the largest mobile media networks; market leading video ad serving platform Lightningcast; Quigo, which offers advertisers the ability to target ads based on the content of Web pages; and ADTECH's global ad serving platform.
In addition, Platform-A Marketing Solutions provides large brand customers with coordinated access to the full Platform-A product suite, enabling advertisers and agencies to more easily harness the full power of digital media.
Industry-leading products and programs
AOL's network of Web properties is one of the top three in the United States, attracting an average of 109 million unique visitors each month during the quarter ending December 31, 2007, according to comScore Media Metrix, and many are leaders in their categories.
MapQuest, for example, is the leading U.S. provider of online maps and directions; AIM is the No. 1 messaging service in the U.S.; and TMZ, developed in partnership with Warner Bros.' Telepictures Productions, is the No. 1 domestic entertainment news site on the Web. Other popular destinations include Black Voices, a premiere site for the African-American community, and AOL Latino, a leading bilingual portal for U.S. Hispanics.
In the past year, AOL has relaunched all its major programming channels, including News, Sports, Money & Finance, Living, and launched several new sites, including Switched.com, PopEater, Stylelist, DIYLife and Green Daily.
AOL also has been upgrading its product suite, including the new AOL.com home page, improved AOL Mail, the new AOL Desktop, Safety and Security and Parental Control tools, and the new Winamp player. In addition, AOL has launched breakthrough products such as BlueString, which lets users easily store and share their pictures and movies, and myAOL, which lets users easily customize their homepage.
AOL's Truveo video search tool, the leading video search engine, continues to expand its reach. During 2007, Truveo's index of searchable videos grew 20-fold to more than 100 million. Truveo tracks more than 500,000 new videos uploaded to the Web each day. Queries across the Truveo video search network increased 20 fold during 2007. Unique monthly visitors across the sites powered by Truveo exceeded 50 million. Truveo has also launched localized versions of its video search product in 16 countries.
Expanding worldwide
As part of its aggressive international growth plans, AOL launched portals in Austria, The Netherlands, India, Italy, Spain, Sweden, Switzerland, Poland and Belgium. In addition, AOL teamed up with HP – a leading PC maker in the U.S. – to include localized versions of the AOL.com portal and other AOL services as the default setting on HP computers shipped in the United States and more than two-dozen countries worldwide.
AOL continues to operate one of the largest Internet subscription businesses in the United States, with 10 million domestic subscribers at the end of the third quarter of 2007.
More
http://aol.com
http://corp.aol.com/about-aol/company-overview
http://www.nytimes.com/2008/03/12/technology/12aol.html
http://www.aolmedianetworks.com/
http://www.techcrunch.com/2008/03/11/official-aol-on-the-table-for-a-deal/
http://www.crunchbase.com/company/aol
http://www.techmeme.com/080312/p43#a080312p43
http://www.alleyinsider.com/2008/3/jeff_bewkes_s_private_hell_twx_
http://www.paidcontent.org/entry/419-bewkes-shake-ready-to-do-an-aol-deal-twc-spinoff-and-other-options/
http://searchengineland.com/080312-091036.php
http://portalblog.aol.com/