Developing Facebook applications and taping into their millions of registered users appears to be yet another marketing instrument employed even sometimes by brick and mortar retailers like the UK's TopShop.  
The new Topshop Fashion Fix which has recently been launched on Facebook allows users to see the newest must-have pieces for the season from their Facebook profile.

Facebook users can view items in detail and stamp a "love it or lose it" comment for their friends to see. Pieces can be shared and passed to other Facebook friends to talk about the latest styles, plan outfits or simply arrange shopping trips.
The Topshop Fashion Fix application was created and produced by a digital agency called Poke, and developed in collaboration with the Topshop internal web team.
Poke is a six year old creative agency for the digital age. Poke has built a reputation for engaging, challenging design communications work with a select group of high profile clients. Poke is the only UK-based agency to have been awarded the digital industry's equivalent of the 'Oscars' – New York's Webby Awards – three years in a row (2005-2007). Poke opened a US office in New York in April of this year.
Poke has worked with Topshop since 2003 conceiving and delivering a number of successful online projects, including the design of their e-commerce store, the Kate Moss collection and the Topshop video podcast.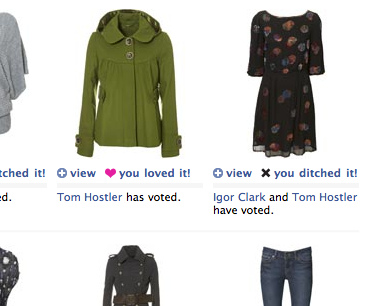 The launch of the Kate Moss fashion line for TopShop accounted for a surge in traffic to parent company Arcadia Group's website, which enjoyed a 17% boost in unique users.
As an added incentive for Facebookers eager to try out the new application, during the run-up to Christmas, Fashion Fix users can play a weekly game of "Snap" on Facebook to win anything from 10%-off at Topshop.com to a year's supply of shoes.
With thousands of groups already networking about Topshop and swapping ideas about what they're about to buy, this application ensures that they're the first to see what's new in-store. The Fashion Fixes' sharing and commenting features also allows them to have lots of fun in the process – and makes sure that their friends know exactly what they're planning to wear at the weekend.
More about Topshop.com
With daily updates and over 3000 different items to shop at any one time, Topshop.com is one of the UK's biggest online retailers with an exciting and dynamic site to reflect the brand's image as an innovative fashion authority.

Topshop.com is Topshop's second biggest store and a leader in the digital market place. Communicating to it's customers via the weekly 'Style Notes' email (a magazine-like reminder of news with 350,000 subscribers), two RSS feeds (the 'Style Blog' and 'Daily Fix'), their cute desktop 'widget' and video podcasts (including 9 London Fashion Week catwalk movies published within 24 hours of the shows), Topshop engages with their young and dynamic audience in ways that they understand.
Topshop was established in 1964 within a Sheffield department store called Peter Robinson, however, a year later, the same store allocated Topshop space in the basement of its Oxford Circus store in London. In 1974, Topshop was taken out of Peter Robinson and set up as a standalone retailer.
When Jane Shepherdson became Brand Director in 1999 her vision was to establish the brand as a fashion authority. Since then, Topshop has gone onto become one of fashion's major success stories with over 309 fashion stores nationwide, including the world's largest fashion store at Oxford Circus, which attracts over 200,000 shoppers each week!
In September 2005 Topshop showed its in-house design collection Unique (created in 2001) as part of the official London Fashion Week schedule and subsequently forged exclusive partnerships with international boutiques 'Opening Ceremony' in New York, 'Colette' in Paris and Tokyo's '10 Corso Como Comme des Garcons'. During summer 2006 'Barneys' in the US began retailing Topshop's best selling Baxter jean in its flagship stores.
Plans to expand internationally are also underway with stores in Moscow and St. Petersburg due to open in 2008.
The story was initially picked up from EPR Network.
More
http://www.topshop.com/
http://apps.facebook.com/topshopfashionfix/
http://www.topshopfashionfix.com/
http://express-press-release.com/44/Topshop%20has%20now%20launched%20on%20Facebook.php
http://www.topshop.com/webapp/wcs/stores/servlet/TopCategoriesDisplay?storeId=12556&catalogId=19551
http://express-press-release.com/44/docs/Topshop%20has%20now%20launched%20on%20Facebook.doc
http://express-press-release.com/44/pdf/Topshop%20has%20now%20launched%20on%20Facebook.pdf
http://express-press-release.com/44/print/Topshop%20has%20now%20launched%20on%20Facebook.html
http://www.topshoppodcast.com/
http://blog.express-press-release.com/2007/12/12/topshop-has-now-launched-on-facebook/
http://www.guardian.co.uk/media/2007/jun/27/digitalmedia.facebook
http://express-press-release.com/Industries/Apparel-Fashion-press-releases.php
http://www.flickr.com/photos/mattiasgunneras/2057868910/