The site best known as the first video site that started to split the ad revenue with publishers and video creators and producers on a 50/50 basis is being reported sold. The troubled video site Revver was bought by Brad Greenspan's LiveUniverse for what is rumored on several tech blogs to be under $5 million. No more public information at this hour is available but the price seems quite low taking into consideration the huge amount of money the company has taken so far. Revver is known to have raised $12.7 million from Comcast, Turner, Draper Fisher Jurvetson, Bessemer Venture Partners, Draper Richards and William Randolph Hearst III. Checking on Revver's blog gave us no further details on the deal.
Earlier this month Revver was put up for sale where the price tag was set to be $1.5 million or less in cash and debt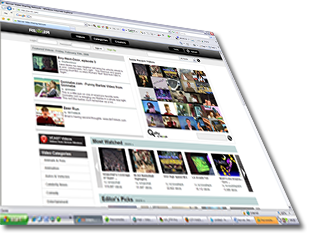 assumption. CNET was among the first media to report on the potential deal between LiveUniverse and Revver, though they did say the deal had fallen apart.
A person from inside the company has commented on the deal that way: "I wouldn't say anyone got rich, but everybody was happy."
Many independent creators still prefer the service, though web video stars Ze Frank, Ask a Ninja, Lonelygirl15, and Invisible Engine have discontinued using it as their main platform.
Perhaps everything boils down to the simple fact it is pretty hard to monetize video site. Even though the traffic is perhaps playing little to no role for Revver's business model it is interesting to note their visitors are not that much – below 1M unique visitors per month as reported on Quantcast.
The Revver team has indicated they plan to work under the new ownership, and no lay off plan has been announced for the video sharing company at present.
The buying company LiveUniverse is probably most popular with the fact it has been founded by one of the founders of MySpace – Brad Greenspan. With over 55M monthly unique visitors, LiveUniverse is one of the world's largest online entertainment networks. They operate several successful and popular websites across three core verticals: Video, Social Networking & Music. LiveVideo is one of their sites, which about a year ago instigated a scandal on YouTube when it reportedly paid top YouTube users to come to its platform. LiveUniverse founder Brad Greenspan, who was involved with MySpace early on, is perhaps best known for his lawsuits protesting the company's sale to News Corp.
Additionally in 2006, Greenspan also initiated a lawsuit and activism site against his former company, MySpace, calling attention to the fact they were censoring widget makers and software service providers using MySpace as a development platform.
More about Revver
Revver is a video-sharing platform built the way the internet really works. We support the free and unlimited sharing of media. Our unique technology tracks and monetizes videos as they spread virally across the web, so no matter where your creativity travels, you benefit.
Revver is also the viral video network that pays. We connect video makers and sharers with sponsors in a free and open marketplace that rewards them for doing what they do best.
Revver is committed to the artist. You have something to say and we built our network to empower you to say it.
How does it work?
Upload your video.
We pair your video with a targeted advertisement.
Share your video across the web. The more people see it, the more money you can make.
We split the ad revenue with you 50/50.
Sharers earn money too! Help spread Revver videos and earn 20% of the ad revenue. The remaining money is split 50/50 between the creator of the video and Revver.
We've built all sorts of cool and easy sharing tools to help you make your work go viral and earn more money. Share and shared alike. Can you feel the love?
Revver API
Attention developers! Want to build your own video-sharing site like Revver.com? You can use our API to do it. The Revver API includes all the tools you need to create your own video portal complete with user accounts, uploading, sharing tools and access to the full Revver library of videos. Revver covers the bandwidth and shares all ad revenue with you and the video makers.
More
http://revver.com/
http://liveuniverse.com/
http://mashable.com/2008/02/14/liveuniverse-buys-revver/
http://newteevee.com/2008/02/14/liveuniverse-buys-revver-for-more-than-a-song/
http://blog.revver.com/
http://mashable.com/2008/02/06/revver-for-sale/
http://www.contentinople.com/author.asp?section_id=429&doc_id=142633
http://nalts.wordpress.com/2007/02/07/livevideo-vs-youtube-2/
http://mashable.com/2006/11/02/myspace-founder-sues-news-corp-over-censorship/
http://livevideo.com/
http://www.news.com/8301-10784_3-9865731-7.html?part=rss&subj=news&tag=2547-1_3-0-20
http://en.wikipedia.org/wiki/William_Randolph_Hearst_III
http://www.dfj.com/
http://www.bvp.com/
http://www.draperrichards.com/
http://www.quantcast.com/revver.com