Sony has today announced that it has entered into an agreement to acquire Gracenote for about $260M plus other contingent consideration. Gracenote provides a range of music-related solutions including MusicID, which detects which song is currently being played by an application and loads track information for the user. MusicID leverages a database of over 6M CDs and 80M tracks and the technology has been in works since 1995 known previously with the name CDDB.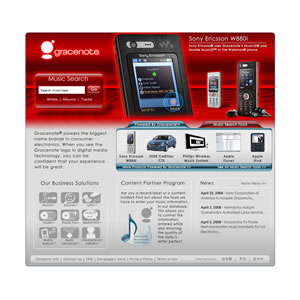 "Gracenote is a global leader in technology and services for digital media identification, enrichment, and recommendation, and these capabilities will be essential to the next wave of innovation in content, services, and consumer electronics," said Tim Schaaff, SCA Senior Vice President, Software. "Sony sees tremendous growth potential in developing Gracenote as a separately run business unit, and by broadly embracing Gracenote's platforms, Sony expects to significantly enhance and accelerate its own digital content, service, and device initiatives."
"We are very pleased to join Sony as its strategic vision is very much in line with our own," said Craig Palmer, Gracenote CEO. "Having a closer connection with the content and digital services community will accelerate adoption of Gracenote technologies, and the relationship will also give us the resources necessary to rapidly expand development of next generation products for the industry."
Gracenote's existing business will continue to operate separately. As a wholly owned Sony subsidiary, Gracenote will continue to develop new technologies in existing as well as new areas of operation. The senior management team will remain with the company. Sony and Gracenote anticipate that the transaction will close in late May, subject to certain regulatory and other approvals.
Many consumer music app services Apple iTunes, Yahoo! Music Jukebox, and Winamp use Gracenote for their music detection capabilities. Other consumer electronic brands are also associated with the company such as SonyEricsson, Philips Wireless Music Systems, Cadillac, Apple iPod, among others. 
More about Gracenote
Gracenote is a global leader in embedded technology, enriched content, and data services for digital entertainment solutions within the Internet, consumer electronics, mobile, and automotive markets. Formerly known as CDDB®, Gracenote delivers a substantially improved consumer experience in digital media devices and applications, plus media monitoring and other data services to the recording industry, making it an integral part of the digital media economy. Gracenote powers leading services including Apple iTunes, Yahoo! Music Jukebox, Winamp; home and automotive products from Alpine, Panasonic, Philips and Sony; and mobile music applications from Samsung, Sony Ericsson, KDDI (Japan), KTF (Korea), Musiwave (Europe), and others. Gracenote is headquartered in Emeryville, California.
Founders
Steve Scherf, Co-Founder & Chief Architect/Vice President of Service Development
Steve Scherf and business partner Ti Kan created the CDDB compact disc recognition service as a hobby in 1995 in order to get personal computers to display information about the CDs they were playing. To their surprise, the service became overwhelmingly popular, prompting them to found CDDB LLC in 1998. Later that year the company was acquired by Escient LLC, and the name was changed to Gracenote. After the acquisition, Scherf took on the role of Chief Architect for all Gracenote services. Scherf has since been the driving force behind nearly every fundamental Gracenote technology, cementing his position as one of the main pioneers of media recognition. Scherf personally designed and built the lion's share of the current incarnation of the Gracenote service, a modular system that is extremely flexible, scalable and massively redundant, and is capable of easily incorporating new services as the need arises. He architected, designed, and developed the technology behind other Gracenote online products, such as Link, Discover, Music Enrichment, the MusicID® search engine, and others. In addition, Scherf has assimilated a number of third-party recognition technologies into the Gracenote suite, such as Mobile MusicID, re-implementing and improving them from the ground up. His pioneering work in media recognition also forms the basis of Gracenote's embedded offerings. Prior to co-founding Gracenote, Scherf worked as Unix kernel developer for such companies as Altos Computer Systems, Acer America and Stratus Computer, delving into file systems, I/O performance, SCSI subsystems, networking and fault tolerance. Scherf graduated from the University of California, Santa Cruz in 1988 with a B.A. in Math and Biology.
Dale (Ty) Roberts, Co-Founder
Ty Roberts is widely recognized as one of the inventors of enhanced CD technology and is accredited with producing the industry's first enhanced CDs. He joined Gracenote in November of 1998 after the company acquired ION, a multimedia and music technology company that he founded in 1993. Roberts serves as Gracenote's chief technology strategist, providing technology direction and overseeing the creation of products and services that leverage the power of the Gracenote database to deliver information services. While at ION, Roberts produced the recording industry's first enhanced audio CD titles, including David Bowie's "Jump" and "Headcandy" from Brian Eno. He was the company's lead technologist and innovator in adding multimedia content to traditional audio CDs. ION was also widely recognized as a leading provider of enhanced CD production tools utilized by recording and multimedia development companies. In September 1993, Bertelsmann Music Group created the first interactive record label after acquiring a 50 percent interest in ION. Prior to founding ION, Roberts was a founder and senior manager of LightSource, a software development company that produced multimedia and graphics editing software. Previously, he was a senior engineer at Pixar, where he created several award winning, Apple-based music applications including "Studio Session" and "Jam Session." Roberts is Gracenote's representative to the Secure Digital Music Initiative (SDMI), organization that is chartered with establishing standards for di gital music and music playing devices.
Ann Greenberg, Co-Founder
A pioneer in the online world, Ms. Greenberg is an inventor on seven U.S. patents, related to the delivery of content synchronized to audio recordings. She joined Gracenote in November of 1998 after the company acquired ION, a multimedia and music technology company that she founded in 1993. Greenberg served as Sr. Vice President of Marketing, Business and Strategic Development during her tenure at Gracenote until October 2001. No longer affiliated with Gracenote, Ms. Greenberg currently works as an independent consultant in the Bay Area. While at ION, Ms. Greenberg produced the recording industry's first enhanced audio CD titles, including David Bowie's "Jump" and "Headcandy" from Brian Eno. Greenberg designed the Jump's groundbreaking interactive video, and produced the world's first musician-hosted chat with David Bowie in 1994 – a format that has become standard practice in launching albums. Greenberg transitioned ION's enhanced CD technology and business models into implementations that use the Web and are being utilized at Gracenote today. Prior to founding ION, Greenberg was the head of marketing for the Academy Award winning Edward R. Pressman Film Corporation, whose over 60 films include: Wall Street, True Stories, Talk Radio, Reversal of Fortune, Hoffa, Bad Lieutenant, The Crow and Judge Dredd. Ms. Greenberg studied Architecture and Cinema and earned a degree in Creative Arts & Cinema from California State University at San Francisco.
Scott A. Jones – Chairman of the Board and co-Founder
Scott Jones carefully sculpted the Gracenote company into existence by acquiring pivotal enabling technologies from CDDB, ION, Escient, Quintessential Player, and Cantametrix. He served as the company's Chairman/CEO from 1998 to 2001 and is now Chairman of the Board. Jones raised significant capital, recruited a talented management team, contributed technology and intellectual property, and strategically guided Gracenote to pursue market segments that are the foundation of the Company's success.
More about Sony Corporation of America
Sony Corporation of America, based in New York, NY, is a U.S. subsidiary of Sony Corporation, headquartered in Tokyo. Sony is a leading manufacturer of audio, video, communications, and information technology products for the consumer and professional markets. Its motion picture, television, computer entertainment, music and online businesses make Sony one of the most comprehensive entertainment companies in the world. Sony's principal U.S. businesses include Sony Electronics Inc., Sony Pictures Entertainment Inc., Sony Computer Entertainment America Inc., and a 50% interest in Sony BMG Music Entertainment, one of the largest recorded music companies in the world. Sony recorded consolidated annual sales of approximately $70.3 billion for the fiscal year ended March 31, 2007, and it employs 163,000 people worldwide. Sony's consolidated sales in the U.S. for the fiscal year ended March 31, 2007 were $18.9 billion. 
More
http://www.gracenote.com/
http://www.gracenote.com/company_info/press/042208/
https://doors.gracenote.com/developer/
http://www.sony.com
http://www.sony.com/SCA/index.shtml
http://www.streetinsider.com/Press%2BReleases/Sony%2BCorporation%2Bof%2BAmerica%2Bto%2BAcquire%2BGracenote/3566949.html
http://www.techcrunch.com/2008/04/22/sony-buys-gracenote-for-260m/
http://www.crunchbase.com/company/gracenote
http://www.techmeme.com/080422/p141#a080422p141
http://en.wikipedia.org/wiki/Secure_Digital_Music_Initiative