Technorati, the blog search engine, has always been quite secretive about the funding it got over the years leaving people like us, always interested in the money behind the Web 2.0, speculate about the right numbers.  
Things changed the last month when we have read over multiple trusted sources on Web that the company has raised $21M so far in three rounds of financing. Those numbers are believed to be the right ones. Our attempt to dig some more information about what are the different numbers for the 3 rounds yielded some results. Who the Technorati's investors are, anyway?
Technorati is now known to have raised $4.58M in its series A round of funding. However

the particular date and who the investor both remain unknown. In September 2004 the company has already gotten its Series B round of funding, which today is known to be $6.50M from Draper Fisher Jurvetson as the only participant known to date. 2 years later, in June 2006, the company already needed to raise more capital and has closed its Series C round of funding this time raising $10.52M from August Capital, Mobius Venture Capital and the returning investor Draper Fisher Jurvetson. Total funding for Technorati to date seems to be already $21.6M.
The company is most popular with the fact that it was smart enough to be the first one to try and tap into the newly born and rapidly growing trend by 2002 — the blogging and its grown community of bloggers. It then became the first search engine for bloggers and blogs on Web. Today the company is facing huge completion by a number of companies like Google blog search, IceRocket, Feedster, Bloglines, Yahoo! Search Blog, Ask.com's Blogs, Blogdigger and let's put it that way – pretty much every other company out there that used to be once a search engine has now added a blog search too. You can here find a basic list of blog search engines.
The rivals were some of the leading Internet companies and it was hard for Technorati not to lose market share. And in December 2006 it happened, for the first time, Google Blogsearch surpassed Technorati in total visits. It then was said that Google Blog Search had passed 0.0025% of total internet traffic, according to Hitwise, versus 0.0023% for Technorati. The reason for the surge seemed pretty straightforward: Google linked their Blog Search product to Google News in October, which had an immediate and significant impact on traffic. Google also added a Blog Search link in the "More" section on the Google main page. It was not enough to take the lead, but a recent Technorati decline in traffic put Google's Blog Search on top.
Allen Stern from CenterNetworks, by contrast, said by the time that Google blog search is not what Technorati should be compared to anymore. Google integrates blog searches into their main search and so therefore, if anything, the comparison should be between Google search vs. Technorati. The majority of people searching for terms are looking for the summation of all types of results: "standard" web sites, blog, video, image, etc.
Whatever the case is one thing is today for sure, the blog search is already an integrated part of the general search that hundreds of millions of people perform on daily basis on a number of search engines from Google to Ask.com, most of them done on Google, and Technorati cannot anymore claim exclusivity on blog searches, even though it was the first one in the field. That's why Technorati was forced to evolve too and is now searching for social media too like photos, video and music, posted on online sharing sites, and a tag cloud on the home page shows you the hot topics of the day.
In early 2007 Technorati was rumored to be trying to sell itself. By that time Technorati's CEO (and founder) Dave Sifry responded "I'll be very clear about it – Technorati isn't for sale." As the practice shows when one claims his company is not for sale it always this company is for sale, but for the right buyers and price. By that time Dave has revealed some more numbers on the site's usage. Technorati, he said, has had 9 million unique visitors over the last thirty days, up from 3.5 million two months ago. And while he did not disclose the actual page views, he said they increased 53% in March, and 141% over the last three months. Those are quite impressive numbers and are perhaps meant for the eyes/ears of some potential buyers, despite their claims of not selling themselves.
In May 2007, Technorati completely re-designed their home page to respond to their more mainstream users. They now have a single search box instead of using search types like keyword search, tag search and blog directory search. Results are returned in categories like videos, blogs and music.
In few months, in October 2007, Technorati has announced its search for a new CEO was over, with Richard Jalichandra being appointed to the role, some 6 weeks since Technorati's founding CEO David Sifry stepped down and 5 months since it was publicly confirmed that Technorati was seeking a new CEO.
Several months later, in December 2007, Technorati re-launched again as this time trying to focus, again, on core blogging audience. The recently changed home page, just three months old, is gone. In place of the streaming blog posts is a news aggregator that, like TechMeme and the New York Times' Blogrunner, uses linking behavior on news sites to determine headline news. In addition to the Front Page news aggregator, Technorati has made two other big additions to the site. The first is a resource page for bloggers called, fittingly, Blogger Central. The second is a new product called Today In Photos.
On the other hand Time magazine has recently named Technorati one of the 25 sites for 2007 they weren't able to live without.
More recently, Technorati started downsizing staff (9 people have been laid off in August 2007) as the approx. $21 million raised over three rounds started to dry up. We have also discovered some technical details about the current IT infrastructure that backs Technorati up. They have more than 20TB (Terabytes) of core data in their MySQL running on over 20 machines. With replication they add 200TB and 200 machines more. No matter how you look into this, it is for sure adding up a serious burden over the company's budget.
Well, we have seen a lot of numbers for Technorati's site usage, from Comscore's and Hitwise's to Quantcast's and Compete's but how the numbers look like today. This is what we have discovered. According to Quantcast Technorati is presently reaching over 8M unique global visitors per month and only 2.8M of which are Americans. We can take that number for real since Technorati is quantified publisher at Quantcast. We have seen in the past numbers in the 22M/mo range reported for Technorati and if it turns out to be true the present numbers represent a serious decline in Technorati's site usage.
Nonetheless, we think Technorati worth anything but $100M, at least, as of today.  We know the guys at Technorati won't like that number and just like Digg (looking for over $300M) they are also thinking their business worth much more and are probably looking for much higher valuation than $100M. Technorati was definitely and unarguable the first one to define the market but is also not anymore the leader in the space. The company has strong brand awareness but everyone knows it is relatively easy (compared to traditional businesses) to make and easy to ruin an online brand. On the other hand Technorati has no strong technology and is facing huge competition and a potential buyer would eventually consider them only because of their traffic and reach. What Technorati needs to convince their future suitors is whether they will preserve and grow their traffic or not. Buyers are interested in what the site would look like in future in terms of traffic and revenues and are not really looking in the past, aside perhaps overseeing trends.
We have no idea what the Technorati's revenues are as of today but Sifry has said in August 2007 that Technorati is now a revenue stage business – we've been hiring up sales folks, as well as building much more detailed roadmaps and product pipelines. Customer-driven needs, pipeline management, operational management, and expense control are now a much bigger part of our life as a company than it was when we were running on a couple of servers in my basement. 
Or in the case with Technorati we talk for valuation without revenue? Great examples from the past of high-profile acquisitions of companies with little to no revenues are both Hotmail (1998) and Skype, the second one managed to drive multi-billion dollar valuation at little to no revenues in its deal with eBay in 2005. Could the Technorati's case be the same? Don't forget here the YouTube's deal.
A proven monetization model over Internet is segmentation. Technorati, especially, needs to ask itself the question: What is my segmentation strategy, around which I can offer my advertisers a compelling marketing vehicle? Technorati has clearly lost its momentum and peak traffic times and is today more declining rather than expanding. Today, Yahoo is a portfolio of haphazardly organized content and services which don't clearly align with segments desired by advertisers. Neither, for that matter, is Google, although it managed to drive huge sales off its AdWords/AdSense strategy. Technorati, for example, is also having a pretty much generic traffic, which makes the effective monetization a hard task for the company.
We can draw a basic conclusion here. Before everything, Technorati has been a symbolic web site for the blogging world ever since and based on its present traffic of more than 8M unique visitors per month could be a great add on to the Web portfolio on each company from the big 6 Google, Microsoft, Yahoo!, eBay, AOL and Amazon. We would exclude Google from the list. Other potential acquirers would include media companies like New York Times, which once btw was reported to be interested in Digg, and since there are synergies between, it is not completely out of sense. Fox Interactive, IAC (potentially merging with their Bloglines), among others could also be interested in potentially having Technorati part of their web properties. We would take the chance to predict that a potential sale of Technorati this year would command a price in the $100 / $150M range. The given price tag is only valid if Technorati preserves its current traffic of 8/10M unique visitors per month.
More about Technorati
Technorati is currently tracking 112.8 million blogs and over 250 million pieces of tagged social media.
Technorati is the recognized authority on what's happening on the World Live Web, right now. The Live Web is the dynamic and always-updating portion of the Web. We search, surface, and organize blogs and the other forms of independent, user-generated content (photos, videos, voting, etc.) increasingly referred to as "citizen media."
But it all started with blogs. A blog, or weblog, is a regularly updated journal published on the web. Some blogs are intended for a small audience; others vie for readership with national newspapers. Blogs are influential, personal, or both, and they reflect as many topics and opinions as there are people writing them.
Blogs are powerful because they allow millions of people to easily publish and share their ideas, and millions more to read and respond. They engage the writer and reader in an open conversation, and are shifting the Internet paradigm as we know it.
On the World Live Web, bloggers frequently link to and comment on other blogs, creating the type of immediate connection one would have in a conversation. Technorati tracks these links, and thus the relative relevance of blogs, photos, videos etc. We rapidly index tens of thousands of updates every hour, and so we monitor these live communities and the conversations they foster.
The World Live Web is incredibly active, and according to Technorati data, there are over 175,000 new blogs (that's just blogs) every day. Bloggers update their blogs regularly to the tune of over 1.6 million posts per day, or over 18 updates a second.
Technorati. Who's saying what. Right now
Technorati Management Team
Richard Jalichandra
President & Chief Executive Officer
Richard is a veteran Internet executive whose media experience includes leadership roles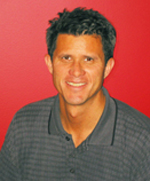 across the media spectrum: as a client, at an agency, as a publisher, and with an advertising network. Most recently, he worked as an M&A and strategy consultant for several Internet properties and investment firms, and also served as SVP of Corporate Development for Exponential Interactive, Tribal Fusion's parent company. Previously, he was SVP of Business Development for Fox Interactive Media, and was the Vice President of Business & Corporate Development at IGN Entertainment (acquired by Fox Interactive), where he led the company's M&A, business development and international activities. Before joining IGN, Richard led national accounts sales at Lycos, was Vice President of Business Development at Neopost Online, served as Senior Vice President/Managing Director of Answerthink, and founded K23 Creative Services in Singapore. His early career included management roles for Ford, IBM and Siemens, and he has a B.S. in business administration from the University of Southern California and an M.B.A. from the University of Washington.
Dorion Carroll
Vice President of Engineering
Dorion Carroll is a 20-year veteran engineer with deep experience developing product and services in areas including search, email processing, e-commerce, personalization, ad targeting, CRM, data warehousing, order management and financial services. Prior to joining Technorati, Dorion was director of engineering at Postini, Vice President of Engineering and General Manager of Neomeo (which was acquired by Postini), Technologist-in-Residence at Softbank Venture Capital, and Senior Director of Engineering at Excite@Home, among other roles. Dorion has a Bachelor of Arts from Pitzer College, with four years Mathematics / Computer Science at Harvey Mudd College, in Claremont, California.
Peter Hirshberg
Chairman of the Executive Committee & CMO, Technorati Inc.
Peter Hirshberg is an entrepreneur and marketing innovator who has led emerging media and technology companies at the center of disruptive change for more than 20 years. As Chairman & Chief Marketing Officer of Technorati, he oversees the company's sales, marketing and business development activities as well as its partnerships with the media, entertainment and marketing industries. Previously Hirshberg served as president and CEO of Gloss.com, the online prestige beauty business co-owned by Estee Lauder Companies, Chanel and Clarins; he was Chairman of Interpacket Networks, the global leader in Internet-by-satellite (sold to American Tower in 2000), and was founder and CEO of Elemental Software (sold to Macromedia in 1999). Peter was at Apple Computer for nine years where he held a number of leadership positions, including Director of Enterprise Markets. He is a Trustee of The Computer History Museum and a Henry Crown Fellow of the Aspen Institute. Peter earned his bachelor's degree at Dartmouth College and his MBA at Wharton.
Joi Ito
Vice President of International Business and Mobile Devices, Technorati Inc.
Joichi Ito is in charge of international and mobility development for Technorati. He is founder and CEO of Neoteny, a venture capital firm which is the lead investor in Six Apart, and is on the board of Creative Commons. He has created numerous Internet companies including PSINet Japan, Digital Garage, and Infoseek Japan. In 1997, Time Magazine ranked him as a member of the CyberElite. In 2000 he was ranked among the "50 Stars of Asia" by Business Week and commended by the Japanese Ministry of Posts and Telecommunications for supporting the advancement of IT. In 2001 the World Economic Forum chose him as one of the 100 "Global Leaders of Tomorrow" for 2002. He was appointed as a member of Howard Dean's Net Advisory Net during the Dean campaign.
Teresa Malo
Chief Financial Officer
Teresa is a CPA with over 17 years experience in finance and operations, and she's responsible for Technorati's financial, legal, and HR organizations. She has worked with technology startup companies such as Calico Commerce and Zambeel, as well as with established companies, including Arbor Software and Silicon Graphics. Teresa started her career as an accountant with Pannell, Kerr, Forster, a national public accounting firm. She holds Bachelor's degrees in Accounting and Computer Information systems from Arizona State University and the University of Washington.
Technorati Board of Directors
David L. Sifry
Founder & Chairman of the Board, Technorati, Inc.
David Sifry is a serial entrepreneur with over 20 years of software development and

industry experience. Before founding Technorati, Dave was cofounder and CTO of Sputnik, a Wi-Fi gateway company, and previously, he was cofounder of Linuxcare, where he served as CTO and VP of Engineering. Dave also served as a founding member of the board of Linux International and on the technical advisory board of the National Cybercrime Training Partnership for law enforcement. He has a Bachelor's degree in Computer Science from Johns Hopkins University. Dave can often be found speaking on panels and giving lectures on a variety of technology issues, ranging from wireless spectrum policy and Wi-Fi, to Weblogs and Open Source software.
Peter Hirshberg
Chairman of the Executive Committee & CMO, Technorati Inc.
Joi Ito
Vice President of International Business and Mobile Devices, Technorati, Inc.
Ryan McIntyre
Principal, Mobius Venture Capital
Ryan McIntyre joined Mobius Venture Capital in 2000 as an Associate Partner and was promoted to Principal in 2001. Prior to joining the firm, Mr. McIntyre co-founded Excite in 1993, which went public in 1996 and later became Excite@Home (Nasdaq:ATHM) following the merger of Excite and @Home in 1999. There he held the role of Principal Engineer and was a key technological contributor to the company's search engine and content management systems, and also led the design and implementation of Excite's community and commerce platforms. Mr. McIntyre holds a Bachelor of Science degree in Symbolic Systems with a concentration in Artificial Intelligence from Stanford University. While at Stanford, he published research on genetic algorithms in the The First IEEE Conference on Evolutionary Computation, and studied at Stanford's overseas campus in Berlin, Germany.
Sanford R. Robertson
Principal, Francisco Partners
Sanford R. Robertson is a principal of Francisco Partners, one of the world's largest technology buyout funds. With a focus on structured investments in technology and technology-related businesses, Francisco Partners is a pioneer in the private equity category of Technology Buyouts. Prior to founding Francisco Partners, Mr. Robertson was the founder and chairman of Robertson, Stephens & Co., a leading technology investment bank formed in 1978, and sold to BankBoston in 1998. Mr. Robertson was also the founder of Robertson, Colman, Siebel & Weisel, later renamed Montgomery Securities, another prominent technology investment bank. He has had significant financing involvement in more than 500 growth technology companies throughout his career, including 3Com Corporation (Nasdaq: COMS), America Online, Inc., Applied Materials, Inc. (Nasdaq: AMAT), Ascend Communications Inc., Dell Computer Corporation (Nasdaq: DELL), E*Trade Securities, Inc. (Nasdaq: ETFC), Siebel Systems, Inc. and Sun Microsystems, Inc. (Nasdaq: SUNW). Mr. Robertson received both a B.A. and an M.B.A. with Distinction from the University of Michigan.
Andreas Stavropoulous
Managing Director, Draper Fisher Jurvetson
Mr. Stavropoulos focuses primarily on software investments (enterprise infrastructure and consumer/Internet), wireless networking, and technology-enabled services. Prior to joining DFJ, Mr. Stavropoulos was with McKinsey & Company's San Francisco office, where he worked with senior management teams of corporate clients with an emphasis on information technology. Prior to McKinsey, he was a Senior Analyst at Cornerstone Research, a financial and economic consulting firm that helps resolve complex issues arising in high-profile business litigation. Mr. Stavropoulos holds Bachelor's and Masters degrees in computer science from Harvard University, and an MBA from Harvard Business School, where he was a Baker Scholar and graduated first in his class.
More
http://technorati.com/
http://technorati.com/weblog/
http://www.sifry.com/alerts/
http://www.techcrunch.com/2007/12/04/exclusive-technorati-relaunches-to-focus-on-core-blogging-audience/
http://www.crunchbase.com/company/technorati
http://www.niallkennedy.com/blog/2006/12/google-blog-search-technorati-market-share.html
http://www.techcrunch.com/2007/11/05/technorati-drops-content-older-than-6-months-old/
http://www.techcrunch.com/2006/12/28/google-v-technorati-and-hitwise-v-comscore/
http://www.centernetworks.com/why-comparing-technorati-to-google-blog-search-is-not-valid
http://en.wikipedia.org/wiki/Category:Blog_search_engines
http://www.sifry.com/alerts/archives/000492.html
http://www.techcrunch.com/2007/04/03/technoratis-mating-dance/
http://www.sifry.com/alerts/archives/000492.html
http://atomicbomb.typepad.com/
http://www.centernetworks.com/web-apps-customer-service-face-off#technorati
http://www.time.com/time/specials/2007/article/0,28804,1638266_1638253_1638241,00.html
http://www.techcrunch.com/2007/10/01/new-technorati-ceo-has-a-challenge-ahead/
http://www.breitbart.com/article.php?id=prnw.20071001.AQM180&show_article=1&lsn=1
http://www.techcrunch.com/2007/08/16/watching-technorati-and-podtech-fall-apart/
http://www.techcrunch.com/2007/09/30/techmeme-leaderboard-to-launch-attacking-technoratis-last-stronghold/
http://www.linkedin.com/pub/0/2/9a2 (Richard Jalichandra)
http://www.chicagotribune.com/business/chi-thu_tagsjun14,0,3843733.story?coll=chi-business-hed
http://valleywag.com/tech/rumormonger/technoratis-search-247549.php
http://markevanstech.com/2007/04/03/talking-up-technorati/
http://www.guardian.co.uk/weekend/story/0,,1937507,00.html
http://www.time.com/time/globalbusiness/article/0,9171,1565540,00.html
http://sramanamitra.com/2006/02/23/technorati-valuation-without-revenue/
http://www.iac.com/businesses.html
http://mysqluc.com/presentations/mysql06/carroll_dorion.ppt