Rumors online claim Technorati is in serious preparation to lunch soon its own advertising network aimed at bloggers. The online advertising market, as we said a few times in our blog posts so far, is perhaps the hottest thing on web over the past 2 years and 2008 appears to be giving no signals of slowdown in the space. Basically there are many ad network players in the blogging space on Web like, of course, Google, AdBrite, FM Publishing, Glam Network, ReviewMe, and not last the controversial PayPerPost (now Izea) but from sentimental point of view Technorati has the best chances to make a bloggers ad network due to its first-to-market factor (Technorati was the first company to search in and deal with blogs

anyway), devotion and dedication to the Bloggers on Web. Technorati is currently tracking 112.8 million blogs and over 250 million pieces of tagged social media so it makes sense to us if they can in one way or another turn those blogs into quiet participants into the newly planned bloggers ad network by Technorati. Many newly launched ad networks try to focus on relevancy and targeting technologies but, in our view, they are missing the core factor of being successful in running an ad network on Web – the amount of money you are going to pay your web publishers (bloggers). And the amount of money you pay is correlative to the amount of money you earn. In that parameter Google remains unbeaten at this moment with almost $4B pay out for the 2007.
 
Technorati is being said to be pitching venture capitalists on another round of financing since from what they took back in 2006 there might be little to nothing left over to keep their company and 25 employees alive. Another rumor claims the company has hired an investment bank in an attempt to shop itself around for potential buyers, simultaneous to their funding pitches.
The network is rumored to be something like a self-serve ad exchange for bloggers as well as for advertisers, perhaps something like bloggers ad exchange. Ad units will include both display and text ads, and will allow units to be charged on both a CPM and CPC basis.
Whatever the case is it is an interesting and predictable move for Technorati but the online ad market is getting more and more crowed. May be it has something to do with the most recent online ad data released by IAB putting the total number for the entire market at more than $21B for 2007.
More about Technorati
Technorati is currently tracking 112.8 million blogs and over 250 million pieces of tagged social media.
Technorati is the recognized authority on what's happening on the World Live Web, right now. The Live Web is the dynamic and always-updating portion of the Web. We search, surface, and organize blogs and the other forms of independent, user-generated content (photos, videos, voting, etc.) increasingly referred to as "citizen media."
But it all started with blogs. A blog, or weblog, is a regularly updated journal published on the web. Some blogs are intended for a small audience; others vie for readership with national newspapers. Blogs are influential, personal, or both, and they reflect as many topics and opinions as there are people writing them.
Blogs are powerful because they allow millions of people to easily publish and share their ideas, and millions more to read and respond. They engage the writer and reader in an open conversation, and are shifting the Internet paradigm as we know it.
On the World Live Web, bloggers frequently link to and comment on other blogs, creating the type of immediate connection one would have in a conversation. Technorati tracks these links, and thus the relative relevance of blogs, photos, videos etc. We rapidly index tens of thousands of updates every hour, and so we monitor these live communities and the conversations they foster.
The World Live Web is incredibly active, and according to Technorati data, there are over 175,000 new blogs (that's just blogs) every day. Bloggers update their blogs regularly to the tune of over 1.6 million posts per day, or over 18 updates a second.
Technorati. Who's saying what. Right now
Technorati Management Team
Richard Jalichandra
President & Chief Executive Officer
Richard is a veteran Internet executive whose media experience includes leadership roles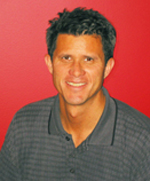 across the media spectrum: as a client, at an agency, as a publisher, and with an advertising network. Most recently, he worked as an M&A and strategy consultant for several Internet properties and investment firms, and also served as SVP of Corporate Development for Exponential Interactive, Tribal Fusion's parent company. Previously, he was SVP of Business Development for Fox Interactive Media, and was the Vice President of Business & Corporate Development at IGN Entertainment (acquired by Fox Interactive), where he led the company's M&A, business development and international activities. Before joining IGN, Richard led national accounts sales at Lycos, was Vice President of Business Development at Neopost Online, served as Senior Vice President/Managing Director of Answerthink, and founded K23 Creative Services in Singapore. His early career included management roles for Ford, IBM and Siemens, and he has a B.S. in business administration from the University of Southern California and an M.B.A. from the University of Washington.
Dorion Carroll
Vice President of Engineering
Dorion Carroll is a 20-year veteran engineer with deep experience developing product and services in areas including search, email processing, e-commerce, personalization, ad targeting, CRM, data warehousing, order management and financial services. Prior to joining Technorati, Dorion was director of engineering at Postini, Vice President of Engineering and General Manager of Neomeo (which was acquired by Postini), Technologist-in-Residence at Softbank Venture Capital, and Senior Director of Engineering at Excite@Home, among other roles. Dorion has a Bachelor of Arts from Pitzer College, with four years Mathematics / Computer Science at Harvey Mudd College, in Claremont, California.
Peter Hirshberg
Chairman of the Executive Committee & CMO, Technorati Inc.
Peter Hirshberg is an entrepreneur and marketing innovator who has led emerging media and technology companies at the center of disruptive change for more than 20 years. As Chairman & Chief Marketing Officer of Technorati, he oversees the company's sales, marketing and business development activities as well as its partnerships with the media, entertainment and marketing industries. Previously Hirshberg served as president and CEO of Gloss.com, the online prestige beauty business co-owned by Estee Lauder Companies, Chanel and Clarins; he was Chairman of Interpacket Networks, the global leader in Internet-by-satellite (sold to American Tower in 2000), and was founder and CEO of Elemental Software (sold to Macromedia in 1999). Peter was at Apple Computer for nine years where he held a number of leadership positions, including Director of Enterprise Markets. He is a Trustee of The Computer History Museum and a Henry Crown Fellow of the Aspen Institute. Peter earned his bachelor's degree at Dartmouth College and his MBA at Wharton.
Joi Ito
Vice President of International Business and Mobile Devices, Technorati Inc.
Joichi Ito is in charge of international and mobility development for Technorati. He is founder and CEO of Neoteny, a venture capital firm which is the lead investor in Six Apart, and is on the board of Creative Commons. He has created numerous Internet companies including PSINet Japan, Digital Garage, and Infoseek Japan. In 1997, Time Magazine ranked him as a member of the CyberElite. In 2000 he was ranked among the "50 Stars of Asia" by Business Week and commended by the Japanese Ministry of Posts and Telecommunications for supporting the advancement of IT. In 2001 the World Economic Forum chose him as one of the 100 "Global Leaders of Tomorrow" for 2002. He was appointed as a member of Howard Dean's Net Advisory Net during the Dean campaign.
Teresa Malo
Chief Financial Officer
Teresa is a CPA with over 17 years experience in finance and operations, and she's responsible for Technorati's financial, legal, and HR organizations. She has worked with technology startup companies such as Calico Commerce and Zambeel, as well as with established companies, including Arbor Software and Silicon Graphics. Teresa started her career as an accountant with Pannell, Kerr, Forster, a national public accounting firm. She holds Bachelor's degrees in Accounting and Computer Information systems from Arizona State University and the University of Washington.
Technorati Board of Directors
David L. Sifry
Founder & Chairman of the Board, Technorati, Inc.
David Sifry is a serial entrepreneur with over 20 years of software development and

industry experience. Before founding Technorati, Dave was cofounder and CTO of Sputnik, a Wi-Fi gateway company, and previously, he was cofounder of Linuxcare, where he served as CTO and VP of Engineering. Dave also served as a founding member of the board of Linux International and on the technical advisory board of the National Cybercrime Training Partnership for law enforcement. He has a Bachelor's degree in Computer Science from Johns Hopkins University. Dave can often be found speaking on panels and giving lectures on a variety of technology issues, ranging from wireless spectrum policy and Wi-Fi, to Weblogs and Open Source software.
Peter Hirshberg
Chairman of the Executive Committee & CMO, Technorati Inc.
Joi Ito
Vice President of International Business and Mobile Devices, Technorati, Inc.
Ryan McIntyre
Principal, Mobius Venture Capital
Ryan McIntyre joined Mobius Venture Capital in 2000 as an Associate Partner and was promoted to Principal in 2001. Prior to joining the firm, Mr. McIntyre co-founded Excite in 1993, which went public in 1996 and later became Excite@Home (Nasdaq:ATHM) following the merger of Excite and @Home in 1999. There he held the role of Principal Engineer and was a key technological contributor to the company's search engine and content management systems, and also led the design and implementation of Excite's community and commerce platforms. Mr. McIntyre holds a Bachelor of Science degree in Symbolic Systems with a concentration in Artificial Intelligence from Stanford University. While at Stanford, he published research on genetic algorithms in the The First IEEE Conference on Evolutionary Computation, and studied at Stanford's overseas campus in Berlin, Germany.
Sanford R. Robertson
Principal, Francisco Partners
Sanford R. Robertson is a principal of Francisco Partners, one of the world's largest technology buyout funds. With a focus on structured investments in technology and technology-related businesses, Francisco Partners is a pioneer in the private equity category of Technology Buyouts. Prior to founding Francisco Partners, Mr. Robertson was the founder and chairman of Robertson, Stephens & Co., a leading technology investment bank formed in 1978, and sold to BankBoston in 1998. Mr. Robertson was also the founder of Robertson, Colman, Siebel & Weisel, later renamed Montgomery Securities, another prominent technology investment bank. He has had significant financing involvement in more than 500 growth technology companies throughout his career, including 3Com Corporation (Nasdaq: COMS), America Online, Inc., Applied Materials, Inc. (Nasdaq: AMAT), Ascend Communications Inc., Dell Computer Corporation (Nasdaq: DELL), E*Trade Securities, Inc. (Nasdaq: ETFC), Siebel Systems, Inc. and Sun Microsystems, Inc. (Nasdaq: SUNW). Mr. Robertson received both a B.A. and an M.B.A. with Distinction from the University of Michigan.
Andreas Stavropoulous
Managing Director, Draper Fisher Jurvetson
Mr. Stavropoulos focuses primarily on software investments (enterprise infrastructure and consumer/Internet), wireless networking, and technology-enabled services. Prior to joining DFJ, Mr. Stavropoulos was with McKinsey & Company's San Francisco office, where he worked with senior management teams of corporate clients with an emphasis on information technology. Prior to McKinsey, he was a Senior Analyst at Cornerstone Research, a financial and economic consulting firm that helps resolve complex issues arising in high-profile business litigation. Mr. Stavropoulos holds Bachelor's and Masters degrees in computer science from Harvard University, and an MBA from Harvard Business School, where he was a Baker Scholar and graduated first in his class.
More
http://technorati.com/
http://technorati.com/weblog/
https://web2innovations.com/money/2008/01/13/technorati%e2%80%99s-total-funding-revealed-216-to-date-in-3-rounds/
http://www.techcrunch.com/2008/02/29/technorati-to-launch-blogger-advertising-network/
http://www.sifry.com/alerts/
http://www.techcrunch.com/2007/12/04/exclusive-technorati-relaunches-to-focus-on-core-blogging-audience/
http://www.crunchbase.com/company/technorati
http://www.niallkennedy.com/blog/2006/12/google-blog-search-technorati-market-share.html
http://www.techcrunch.com/2007/11/05/technorati-drops-content-older-than-6-months-old/
http://www.techcrunch.com/2006/12/28/google-v-technorati-and-hitwise-v-comscore/
http://www.centernetworks.com/why-comparing-technorati-to-google-blog-search-is-not-valid
http://en.wikipedia.org/wiki/Category:Blog_search_engines
http://www.sifry.com/alerts/archives/000492.html
http://www.techcrunch.com/2007/04/03/technoratis-mating-dance/
http://www.sifry.com/alerts/archives/000492.html
http://atomicbomb.typepad.com/
http://www.centernetworks.com/web-apps-customer-service-face-off#technorati
http://www.time.com/time/specials/2007/article/0,28804,1638266_1638253_1638241,00.html
http://www.techcrunch.com/2007/10/01/new-technorati-ceo-has-a-challenge-ahead/
http://www.breitbart.com/article.php?id=prnw.20071001.AQM180&show_article=1&lsn=1
http://www.techcrunch.com/2007/08/16/watching-technorati-and-podtech-fall-apart/
http://www.techcrunch.com/2007/09/30/techmeme-leaderboard-to-launch-attacking-technoratis-last-stronghold/
http://www.linkedin.com/pub/0/2/9a2 (Richard Jalichandra)
http://www.chicagotribune.com/business/chi-thu_tagsjun14,0,3843733.story?coll=chi-business-hed
http://valleywag.com/tech/rumormonger/technoratis-search-247549.php
http://markevanstech.com/2007/04/03/talking-up-technorati/
http://www.guardian.co.uk/weekend/story/0,,1937507,00.html
http://www.time.com/time/globalbusiness/article/0,9171,1565540,00.html
http://sramanamitra.com/2006/02/23/technorati-valuation-without-revenue/
http://www.iac.com/businesses.html
http://mysqluc.com/presentations/mysql06/carroll_dorion.ppt