Yesterday we were tipped off that both LeapFrog Ventures and BV Capital have invested in San Francisco start-up called Peanut Labs. The funding is in the $3.2M range and is the company's Series A round.
Peanut Labs helps social networks monetize, not through the traditional ad-based models, but via market researches and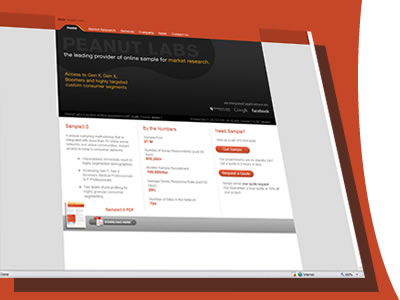 online surveys. The company also says that publishers — more than 70 found on social networks, applications and online communities like Facebook, MySpace, and members of Google's OpenSocial — receive on average $20,000 per publisher a month.
CEO and Founder Murtaza Hussain isn't new to the business. Peanut Labs developed their technology based on their own efforts to monetize Xuqa, the now-profitable social network in Turkey. By expanding this business model across several social networks, Peanut Labs proves that social networks and Facebook apps can create profitable revenue streams.
Peanut Labs is said to be profitable but no public information as to the revenues and profits is available, aside claiming profitability and seven figure revenues. The same is for the next year – Peanut Labs expects eight figure revenues in 2008. It can be anything between $1M and $9M and it could also mean anything between $10M and $99M respectively!?
The $3.2 million cash infusion will be used for continued product development towards Peanut Labs' patent pending market research sampling technology, which is highly effective at reaching the sought after 13-25 year-old demographic known as Gen-Y.  The funding will also be used to actively service Peanut Labs' burgeoning list of market research clients and enhance the survey-taking experience, a crucial part of Peanut Labs' Sample3.0 technology.
"With surveys from the gaming, consumer products, entertainment, automotive and cellular industries, the demand for our uninhibited access to this taste-making demographic is exploding.  This round of funding will allow us to expand service to our active list of premier market research clients to give them the highest quality sample," said Murtaza Hussain, chief executive officer and co-founder of Peanut Labs.  "We feel our business model proves that social networks have alternative ways to maintain profitability that yield revenue increases up to five times higher than with ineffective, ad-based models."
Found across more than seventy social networks, Peanut Labs helps web publishers create revenue streams through market research surveys.  Each time a member of the social network completes a survey, the publisher earns a sum of money.
"Partnering with Peanut Labs has proven to be a most profitable way to monetize our Facebook applications," said Josh Liptzin, CEO of Phase 2, Inc., a Peanut Labs publisher.  "There has been much talk surrounding the effectiveness of advertising as a means of revenue, but there is no question that Peanut Labs' market research surveys are an excellent source of income and appealing to our users to enhance their overall experience."
More about Peanut Labs
Peanut Labs is a rapidly growing provider of market research services backed by the investors of Skype, Yahoo eGroups and Del.icio.us. We provide access to hard-to-reach demographics for market researchers – and are the leading provider of Gen Y sample for market researchers today.
 
We have developed a research technology integrated across 70+ social networks and an online community that has demographically profiled, aggregated, and engages with millions of members each day. Our technology provides access to a recruitment audience of more than 27 million users.
 
Peanut Labs has partnered with many of the most popular MySpace, FaceBook and Google Open Social applications.
The company claims their network is able to reach more than 10 million users. Their platform enables publishers to better monetize their communities by allowing their users to participate in market research studies. On the other side their platform enables market researchers to gather high-quality data from Gen Y users by reaching them where they spend most of their time – on the Net. Because of their recruiting methods, their panel is free of professional survey takers. Peanut Labs enables access to hard-to-reach groups for the market research community.
Peanut Labs claims to have more than 70 sites participating in their network with total audience of 27M where the daily reach is said to be 4M. The site also claims to have 58 new sites applying to join the network monthly with only 10% of them being accepted.
The company also claims to be able to increase your revenues 3x – 5x more than what your are earning from advertising, which means 100,000 – $1 million in net profit for your organization in one year.
To be eligible, your site needs to have an Alexa ranking of 10,000 or better. At least 25% of your users must be from the US. You must have some way to communicate with individual, registered users (such as on-site messages or emails) on your site. And you need to have some type of incentive system (point, virtual items, community rankings, premium content, locked features etc).
 
Alexa ranking is seriously discredited so we do not understand why Peanut Labs is relying on Alexa to determine the real number of visitors a web site has.
The People
Murtaza Hussain, Chief Executive Officer Murtaza Hussain is the co-founder and CEO of Peanut Labs, provider of

advanced market research services and developer of Sample3.0. In his role, Murtaza leads the company's overall strategy and product direction. Murtaza has been instrumental in forming industry changing partnerships that bridge social media and online communities with the business application needs of the market research community.
 
In recent years, Murtaza has been heavily involved in the technologies supporting social media, and is has developed expertise in the practice of building online communities. Murtaza participates regularly as a speaker at industry events, including the Facebook Developer's Conference, Widget Summit 2007, SNAP Summit, and Community Next.
 
He was most recently co-founder of XuQa.com, a leading online casual gaming community, which was built to 2M+ users and profitability. In 2001, Murtaza founded Gaming Ventura, an international entrepreneurship holding group which he has successfully been leading in his capacity as President for the previous 6 years.
 
Murtaza is a natural inventor and web developer, leading his team to three consecutive first-place finishes in the Intel International Schools Educational Olympiad from 1999-2001. He was the captain of Team Pakistan in the International Enterprise Olympics, where his team finished third globally. For two seasons, Murtaza also hosted a national youth TV show in Pakistan that boasted a viewership of more than 10 million.
 
He was pursuing a Bachelors of Arts in Anthropology at Williams College, MA prior to leaving academia to start the company.
Other members of the management include Ali Moiz, Prosper Nwankpa, Sean Case, M. Noman Ali and Lisa Duryea.  Board of Directors include Murtaza Hussain, Prosper Nwankpa, Thomas Gieselmann, Pete Sinclair and Simon Chadwick.
Investors
BV Capital
Silicon Valley and European based BV Capital invests in new opportunities and innovations in the internet space. BV

Capital's portfolio includes companies that are significantly changing the landscape of business and communication today including Angie's List, Cranite, and shopping.com (eBay).
LeapFrog Ventures


Enablers of great ideas, LeapFrog Ventures has invested in companies that are well positioned for high growth. Known for their commitment to excellence, LeapFrog has had a selective portfolio companies including Octel, Symantec, Intrisa, Striva Software and Netli.
The company has also been named one of 50 "Companies to Watch in 2008" by the Dow Jones VentureOne Summit advisory board.
Similar companies include AdFish, PollDaddy.com, Constantcontact.com/survey, surveyclub.com and BoxTticker.com, among others. 
More
http://www.peanutlabs.com
http://www.peanutlabs.com/peanutlabs/files/documents/PeanutLabs_Sample3.pdf
http://ventureonesummit.dowjones.com/
http://en.oreilly.com/gspwest2008/public/schedule/speaker/2026
http://www.pehub.com/article/articledetail.php?articlepostid=10405
http://sanfrancisco.bizjournals.com/sanfrancisco/gen/company.html?gcode=74717C66139341F49A7F47D27A548B82
http://sanfrancisco.bizjournals.com/sanfrancisco/stories/2008/02/18/daily6.html
http://www.leapfrogventures.com
http://www.bvcapital.com/