Since the time StumbleUpon was bought by eBay for $75M in cash there was little to no news on the company until today. Apparently in a quest for media attention StumbleUpon (or eBay) has contacted TechCrunch with some new numbers to show off with. We are not sure what StumbleUpon is up to and why they need media coverage, but there must be something. It could be either some new plans or products in the pipelines for which they are seeking coverage or it could also be the fact that the site has just started to recover from a deep dive in the traffic late last year for which the company now wants to let the world know.
Obviously ignoring their drop in the traffic, according some traffic measurement companies, (including comScore), they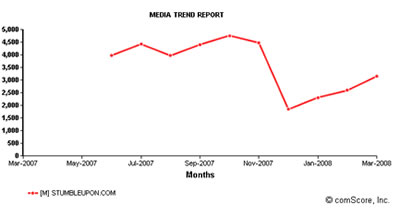 seem to drag the attention of influential technology bloggers to the number of their registered users and the number of their stumbles.
After del.icio.us StumbleUpon seems to be the second popular web site from the web 2.0 generation that tries to undermine the factor unique visitors. Interestingly only companies that see decline in their traffic (the same is the case with del.icio.us) try to do that while other sites that keep on growing seem to love the unique visitor measurement standard.
They boast about already having close to 5 million registered users, but they do not clarify what is the number of the active users among them. During the first quarter of 2008 their users, they claim, have already stumbled more than one billion times and the site is on its way to reach its five billionth stumble in total somewhere during the next months. However, the truth about their unique visitors does not look that good.
At the time eBay acquired the company for $75M in cash the site had reportedly less than 2M uniques per month, which puts the value of each of their users at close to $38 or something. comScore's number for the May 2007 was close to 4M uniques, while Compete reports for less than 1M for the same period. We don't believe either of those numbers to be very accurate and since the company has no word on their actual traffic we are taking the average number of what is publicly available as information. Few months after the acquisition StumbleUpon's traffic has significantly dropped down to just 1.8 million in December 2007, which in any way represents a serious and worrying decline for the eBay's web property, which might explain their PR activity today. Since then the site's traffic is slowly recovering and is now close to 3.2 million per month, which might still be below the traffic at the time the acquisition took place if we take the comScore's numbers for real.
In matter of honesty one must pay attention to the fact that some users at StumbleUpon are using their site through browser add-ons and are not often visiting the site, just like what del.icio.us's founder Joshua Schachter has explained a few weeks ago in a answer to a question why their site is declining in traffic.
Whatever the case with StumbleUpon might today be it still remains one of the few great examples for hefty exits that many of the newer web 2.0 sites try to repeat with little to no luck so far. Having raised only $1.5M in angel money StumbleUpon has managed to sell itself to eBay for $75M all in cash.
More
http://stumbleupon.com
http://www.quantcast.com/stumbleupon.com
http://siteanalytics.compete.com/stumbleupon.com/?metric=uv
http://www.techcrunch.com/2008/04/23/five-million-users-and-nearly-five-billion-stumbles-later/
http://www.crunchbase.com/company/stumbleupon
http://2008.thenextweb.org/agenda/
http://www.techcrunch.com/2006/11/14/stumbleupon-may-be-for-sale-50m/
http://www.techcrunch.com/2008/04/10/delicious-not-shrinking-but-another-problem-looms/ 
https://web2innovations.com/money/2007/12/31/some-of-the-web%e2%80%99s-biggest-acquisition-deals-during-2007/