Pageflakes, an Ajax home page that once was a real competition to Netvibes, is being rumored to have been acquired by Live Universe for an undisclosed amount. Both companies refrain themselves from publicly announcing the deal nor made any comments on the technology blogs that mentioned about it, which tells us the deal is most likely in the very low-range not worth mentioning. What makes us think so? Pageflakes has surely lost the battle with Netvibes and is having just a fraction of the traffic Netvibes reaches. The rumor has it the company was seriously running out of money while maintaining a burn rate of over $300,000. It also became publicly known fact that the company failed to raise additional money and they were sort of forced to undergo the fire sale road, which is never a good one and leads to little to no premium on the price. 
Based on both Quantcast and Compete the Pageflakes' traffic is relatively low (below 100K) when compared to some of the company's competitors, which is by far not enough to go for your Series B round of funding.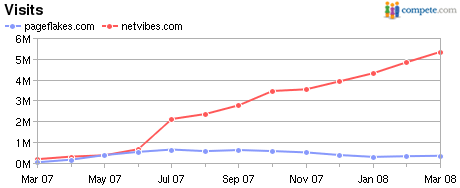 Of course, Pageflakes CEO Dan Cohen, formerly of Yahoo, denied that the company was running out of cash by replying to rumors that way: "All startups are up for sale! We frequently receive inbound M&A inquiries". 
According to our own research across the web it seems the price is perhaps above $500K and may be not much over $1M. A couple of facts lead us to the thinking that the deal is not high-profile one 1) The Colorado-based NewsGator was also said to have been bidding for Pageflakes, but the rumored price was in the $500K range; 2) Brad Greenspan's vehicle is known to be buying web companies on the cheap and 3) both companies did not announce the deal, yet.
The buyer Live Universe, which was founded by MySpace founder Brad Greenspan, has made a number of acquisitions to spur growth. Most recently, they acquired video site Revver (also relatively cheap, price perhaps was in the $1M range), in February 2008.
More about Pageflakes
The company was founded in Germany and is headquartered in San Francisco. The company was co-founded in October 2005 by Christoph Janz, Omar AL Zabir, Ole Braundenburg and Shahedul Huq Khandkar. Benchmark Capital Europe (now Balderton Capital) invested $1.3 million in Pageflakes in May 2006, and followed up with a $2.8 million bridge taking the company's total funding to the $4.1M mark.
Pageflakes is the easiest way to read, see, discover and share your favorite things on the web. Start by easily creating a

web start page that keeps you up to date on the many blogs and news sources that you read daily. Add photos, videos, a calendar, email, a to-do list and more to make your page even more personal. You can even make special pages that you can share with friends, family, or post on the web for everyone.
Pageflakes has thousands of Flakes (widgets or modules) including Facebook, a universal News Search, YouTube, Twitter, message board, blog, and hundreds of RSS feeds to choose from. Design and create a page that you can have for yourself or share with anyone you choose.
Pageflakes was founded in Germany in 2006 and headquartered in San Francisco, California. Pageflakes draws on the rich experience of its executive team, comprised of seasoned professionals who have helped shape the Web today. Backed by Balderton Capital, Pageflakes is led by Dan Cohen, an innovator who fashioned the way that both Google and Yahoo sought to personalize the Web.
From what we read below the company's CEO is obviously a very experienced guy in the personalized content space so we have no idea what's gone wrong, where and when.
Dan Cohen oversees all aspects of Pageflakes' rapidly growing worldwide business and has an integral role in driving the

company's product vision. Dan is a seasoned entrepreneur and startup CEO, and is an expert in personalized homepages. Prior to Pageflakes he was the head of My Yahoo!, Yahoo's personalized homepage, and before that led product management for personalized products at Google, including the Google Personalized Homepage. Previously, Dan was the founder and CEO of two technology companies, Personity and USConnect, and led their acquisitions by Openwave and IKON, respectively. He also held key senior management positions at IKON Technology Services, including Vice President of Strategic Partnerships and Director of Applications Development. Dan holds a dual Bachelor of Science degree in Electrical Engineering and Computer Engineering from Carnegie Mellon, and an MBA from the Wharton School of the University of Pennsylvania.
Dan is staying on his CEO position and is said will be reporting to Greenspan, and the company will remain at their current offices in Germany and San Francisco.
Competitors include Netvibes, My AOL, Microsoft, My Yahoo! and of course iGoogle.
More
http://pageflakes.com/
http://www.pageflakes.com/insider/
http://www.liveuniverse.com/
http://www.balderton.com/
http://www.pageflakes.com/company/exec_team
http://www.crunchbase.com/person/dan-cohen
http://www.crunchbase.com/financial-organization/balderton-capital
http://www.techcrunch.com/2008/04/13/pageflakes-acquired-by-live-universe/
http://www.crunchbase.com/company/pageflakes
http://gigaom.com/2008/04/13/pageflakes-out-of-cash/
http://www.pcmag.com/article2/0,1759,2265800,00.asp
http://webworkerdaily.com/2007/01/02/top-ajax-start-pages-reviewed/
http://www.benchmark.com/news/sv/2007/06_07_2007a.php
http://gigaom.com/2007/01/25/ex-yahoo-exec-now-pageflakes-ceo/
http://www.quantcast.com/pageflakes.com
http://siteanalytics.compete.com/pageflakes.com/?metric=uv
https://web2innovations.com/money/2008/02/15/revver-the-video-revenue-sharing-site-finally-sells-out-but-the-price-is-not-hefty/
http://mashable.com/2008/02/14/liveuniverse-buys-revver/