While AOL is trying to shop itself around they seem are not stopping the shopping spree themselves and keep on buying second tier web companies. After snatching Bebo last month, they have bought yesterday the related content engine Sphere, which is mainly used across blogs on Web.  So it seems to be official already: AOL has acquired sphere.com. Despite financial terms of the deal were not disclosed the price was rumored to be in the $25M range that comes on top of Sphere's $3.5M total funding to date. That is supposed to be a nice exit for Sphere's existing investors. There are bunch of angels and a couple of institutional investors in Sphere's two rounds of funding. The first one was in the $500K range and the participating private investors then were Radar Partners, True Ventures, Winton Partners, David Mahoney, Scott Kurnit, Vince Vannelli, William Randolph Hearst III, Kevin Compton and Doug Mackenzie while their institutional round was closed by Hearst Corporation and Trident Capital and was in the $3M range. Well, other sources claim the company has taken over $4M in funding so we are not really sure which number is the correct one.
Sphere is basically providing contextually relevant content tools that make connections between text, video, photos and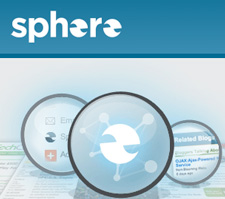 ads and according to the company is currently integrated into over 70,000 leading sites and is live on over 2 Billion monthly article pages across the web. If true that is pretty impressive number and should have been able to command a price way higher than the $25M rumored to have been paid for the company.
According to their blog "we are very excited about becoming part of AOL and wanted to share with you what it will mean for Sphere and our publisher partners, including "mainstream" media, micro-publishers and blog sites."
Sphere has always been a publisher/ blogger -centric company, even in our early days as a fledgling blog search engine. We founded Sphere with a mission to make contextually relevant connections between all forms of content (mainstream media articles, archived articles, videos, blogs, photos, ads) that enable the reader to go deep on topics of interest. We also, by virtue of our starting point, set out to be a vehicle to enable the individual voice to join the conversation as well as expose their voice to a broader audience of readers. The benefit of joining the 'sphere is straightforward: publishers/ bloggers who successfully promote distribution of their content and that of others will be in a position to derive more value (aka….make more money, gain more influence, etc.) from media distribution."
We humbly thank everyone involved: our awesome team; advisors (Josh Macht; Toni Schneider; Matt Mullenweg; Mike Monteiro; Ron McCoy; Mary Hodder; and Scott Kurnit); investors, many of which wear halo's (True Ventures; Trident Capital; Radar Partners; Hearst Interactive; Blacksmith; Phil Black; Will Hearst; David Mahoney; Mike Winton; Scott Kurnit; Vince Vannelli; Adaptive Path); our board (Venetia Kontogouris; Phil Black; Darcy Bentley; Scott Kurnit); publisher/ blog partners; the gang at Oddpost who showed us the way to build frugally/ intelligently; OM Malik, Mike Arrington, Kara Swisher, Dan Farber, Matt Marshall and the many other bloggers who've partnered, written, and given us advice; our attorney (Stefan Clulow); Howard Zeprun and Ira Parker who insured the dialog kept moving forward; Jen Consalvo who understood our potential and introduced to a number of AOL groups, Lewis Dvorkin and Bill Wilson who paid us the nicest compliment of all in offering to acquire our company and then doing so, family and friends. We're thrilled to be part of this new genesis!
Sphere was founded by Tony Conrad, Martin Remy, Steve Nieker and Toni Schneider in 2005 and is based in San Francisco. Sphere uses its contextual-search platform technology to make connections between content from blogs, video, media, photos and advertisements. These contextual results are then displayed in a pop-over window or an integrated widget that lets publishers enhance articles by incorporating related articles and blog posts from archived content and across the Web.
Prior to the acquisition, AOL partnered with Sphere to offer its widget technology on AOL News and the myAOL service, Mgnet. Sphere's third-party network includes more than 70,000 content publishers and blogs and is live on an average of more than 2 billion article pages across the web every month.
"Our focus at AOL is providing consumers relevant content wherever they are on the Web, and Sphere's capabilities fit in perfectly with this effort. Not only will it let us enhance content on our own sites, it will let us distribute our content across Sphere's growing third-party publisher network," said Ron Grant, President and COO of AOL. "In addition, this acquisition provides AOL with access to advertising inventory across Sphere's network, while growing its reach to content publishers via the widget."
Sphere will be integrated in Bill Wilson's organization, the EVP of Programming at AOL. His division controls AOL's content properties (Entertainment, Finance, Weblogs, etc.).
Competition include Proximic, Lijit, Adaptiveblue, LinkedWords, somehow NosyJoe, Jiglu, among others. Other, although remote, players in this space include Attendi, Diigo, Twine and Freebase.
More about AOL
A Global Ad-Supported Web Services Company
AOL is a leading global advertising-supported Web company, with the most comprehensive display advertising network in the U.S., a substantial worldwide audience, and a suite of popular Web brands and products.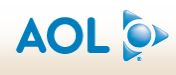 The company's strategy focuses on increasing the scale and sophistication of its advertising platform and growing the size and engagement of its global online audience through leading products and programming.
Core Statistics
109 million – Average domestic monthly unique visitors to the AOL network of Web properties during the quarter ending December 31, 2007, according to comScore Media Metrix.
49.2 billion – Domestic page views for the AOL network of Web properties during the quarter ending December 31, 2007, according to comScore Media Metrix.
150 – Average monthly page views per unique visitor to the AOL network of Web properties, during the quarter ending December 31, 2007.
 A sophisticated advertising network
AOL offers advertisers access to the broadest display advertising network in the U.S. and some of the most sophisticated tools available to target and measure online advertising campaigns through AOL's Platform-A business group. Platform-A consists of Advertising.com, which operates the largest third-party display networks; behavioral targeting leader TACODA; Third Screen Media, which operates one of the largest mobile media networks; market leading video ad serving platform Lightningcast; Quigo, which offers advertisers the ability to target ads based on the content of Web pages; and ADTECH's global ad serving platform.
In addition, Platform-A Marketing Solutions provides large brand customers with coordinated access to the full Platform-A product suite, enabling advertisers and agencies to more easily harness the full power of digital media.
Industry-leading products and programs
AOL's network of Web properties is one of the top three in the United States, attracting an average of 109 million unique visitors each month during the quarter ending December 31, 2007, according to comScore Media Metrix, and many are leaders in their categories.
MapQuest, for example, is the leading U.S. provider of online maps and directions; AIM is the No. 1 messaging service in the U.S.; and TMZ, developed in partnership with Warner Bros.' Telepictures Productions, is the No. 1 domestic entertainment news site on the Web. Other popular destinations include Black Voices, a premiere site for the African-American community, and AOL Latino, a leading bilingual portal for U.S. Hispanics.
In the past year, AOL has relaunched all its major programming channels, including News, Sports, Money & Finance, Living, and launched several new sites, including Switched.com, PopEater, Stylelist, DIYLife and Green Daily.
AOL also has been upgrading its product suite, including the new AOL.com home page, improved AOL Mail, the new AOL Desktop, Safety and Security and Parental Control tools, and the new Winamp player. In addition, AOL has launched breakthrough products such as BlueString, which lets users easily store and share their pictures and movies, and myAOL, which lets users easily customize their homepage.
AOL's Truveo video search tool, the leading video search engine, continues to expand its reach. During 2007, Truveo's index of searchable videos grew 20-fold to more than 100 million. Truveo tracks more than 500,000 new videos uploaded to the Web each day. Queries across the Truveo video search network increased 20 fold during 2007. Unique monthly visitors across the sites powered by Truveo exceeded 50 million. Truveo has also launched localized versions of its video search product in 16 countries.
Expanding worldwide
As part of its aggressive international growth plans, AOL launched portals in Austria, The Netherlands, India, Italy, Spain, Sweden, Switzerland, Poland and Belgium. In addition, AOL teamed up with HP – a leading PC maker in the U.S. – to include localized versions of the AOL.com portal and other AOL services as the default setting on HP computers shipped in the United States and more than two-dozen countries worldwide.
AOL continues to operate one of the largest Internet subscription businesses in the United States, with 10 million domestic subscribers at the end of the third quarter of 2007.
More
http://www.sphere.com
http://www.sphere.com/blog/
http://aol.com/
http://corp.aol.com/press_releases/2008/04/aol-acquires-sphere
http://www.techcrunch.com/2008/04/14/aol-buys-sphere-content-engine/
http://gigaom.com/2008/04/14/aol-buys-sphere/
http://www.crunchbase.com/person/tony-conrad
http://www.crunchbase.com/company/sphere
http://www.sphere.com/blog/2008/04/15/aol-buys-sphere/
https://web2innovations.com/money/2008/03/14/22m-uniques-mo-site-bebo-goes-to-aol-for-850m-in-all-cash-deal/
https://web2innovations.com/money/2008/03/12/aol-is-offered-up-for-sale/
http://www.crunchbase.com/person/tony-conrad
http://www.techcrunch.com/2006/05/22/timecom-adds-sphere-it-links/
http://www.tridentcap.com/
http://kara.allthingsd.com/category/radar-partners/