Freebase, created by Metaweb Technologies, is an open database of the world's information. It's built by the community and for the community – free for anyone to query, contribute to, build applications on top of, or integrate into their websites.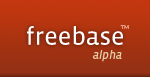 Already, Freebase covers millions of topics in hundreds of categories. Drawing from large open data sets like Wikipedia, MusicBrainz, and the SEC archives, it contains structured information on many popular topics, including movies, music, people and locations – all reconciled and freely available via an open API. This information is supplemented by the efforts of a passionate global community of users who are working together to add structured information on everything from philosophy to European railway stations to the chemical properties of common food ingredients.
By structuring the world's data in this manner, the Freebase community is creating a global resource that will one day allow people and machines everywhere to access information far more easily and quickly than they can today.
Freebase  aims to "open up the silos of data and the connections between them", according to founder Danny Hillis at the Web 2.0 Summit. Freebase is a database that has all kinds of data in it and an API. Because it's an open database, anyone can enter new data in Freebase. An example page in the Freebase db looks pretty similar to a Wikipedia page. When you enter new data, the app can make suggestions about content. The topics in Freebase are organized by type, and you can connect pages with links, semantic tagging. So in summary, Freebase is all about shared data and what you can do with it.
The Company behind
Metaweb Technologies, Inc. is a company based in San Francisco that is developing Metaweb, a semantic data storage infrastructure for the web, and its first application built on that platform named Freebase, described as an "open, shared database of the world's knowledge". The company was founded by Danny Hillis and others as a spinoff of Applied Minds in July, 2005, and operated in stealth mode until 2007.
Reach
According to Quantcast, which we believe is very accurate, Freebase is basically not popular site, despite the press attention it gets, and is reaching less than 5000 unique visitors per month. Compete is reporting for slightly more than 8000 uniques per month.
The People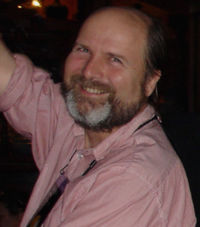 William Daniel "Danny" Hillis (born September 25, 1956, in Baltimore, Maryland) is an American inventor, entrepreneur, and author. He co-founded Thinking Machines Corporation, a company that developed the Connection Machine, a parallel supercomputer designed by Hillis at MIT. He is also co-founder of the Long Now Foundation, Applied Minds, Metaweb Technologies, and author of The Pattern on the Stone: The Simple Ideas That Make Computers Work.
Investors
In March 2006, Freebase received $15 million in funding from investors including Benchmark Capital, Millennium Technology Ventures and Omidyar Network.
Freebase is in alpha.
Freebase.com is the first Semantic App being featured by Web2Innovations in its series of planned publications where we will try to discover, highlight and feature the next generation of web-based semantic applications, engines, platforms, mash-ups, machines, products, services, mixtures, parsers, and approaches and far beyond.
The purpose of these publications is to discover and showcase today's Semantic Web Apps and projects. We're not going to rank them, because there is no way to rank these apps at this time – many are still in alpha and private beta.
[ http://freebase.com ]
[ http://roblog.freebase.com ]
[ http://www.crunchbase.com/company/freebase ]
[ http://www.readwriteweb.com/archives/10_semantic_apps_to_watch.php ]
[ http://en.wikipedia.org/wiki/Danny_Hillis ]
[ http://www.metaweb.com ]
[ http://en.wikipedia.org/wiki/Metaweb_Technologies ]