The funding was led by Opus Capital and also includes investments from individual investors including Jivox founder Diaz Nesamoney. The funds will be used to continue development of the Jivox online video advertising platform, as well as to expand the company's sales and marketing efforts. No other names of private investors are publicly disclosed.
Jivox is a web-based video advertising service enabling businesses to better communicate their products and services to a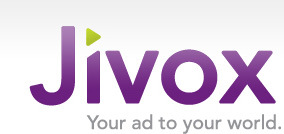 micro-targeted audience in a more customized, relevant way than most traditional mass advertising methods, and internet banners and search engines. Jivox is headquartered in San Mateo, California with offices in Bangalore and Delhi in India.
Jivox in a way looks similar to SpotRunner with their pre-made ads for the TV and cable networks, but is being said to be way cheaper than them.
There's absolutely no cost associated with creating your ads with Jivox AdSlate. Once you create the ad you like to air, then you set your daily, weekly or monthly ad budget. There are no minimums on the budget you set. Just purchase the amount of highly targeted ad inventory as your budget allows rather than the large block purchases required for most video advertising today. You can change your budget at any time.
Jivox AdSlate will optimize your advertising spend by negotiating the lowest cost possible to air your ads with Jivox Video Network Partner sites and maximize your exposure. Jivox will automatically match your ads with the audience that is most likely to respond favorably to your campaign. The cost of airing your ads is typically between $10-$40 range for each 1000 views (CPM).
"To date, video advertising has only been accessible to the large brand advertisers due to the high costs of production and placement on TV. The explosive growth in online video content is creating an opportunity for mid-sized and local businesses to harness the power of the internet to reach consumers. Jivox is enabling mass adoption of an advertising medium that is much more engaging and effective than search and display advertising due to its visual impact," said Diaz Nesamoney, founder and CEO of Jivox. "We're very pleased that Opus Capital and our other investors also see the enormous potential of opening up this market to smaller advertisers."
"By making online video advertising a possibility for more advertisers, Jivox will accelerate broader adoption of the medium," said Gill Cogan, general partner, Opus Capital. "As an early investor in Informatica and Celequest, we have had a strong long-term relationship with Diaz, and I've seen first-hand how he has been able to turn an idea into a product, and then evolve the product to stay one step ahead of the changing needs of the market. We are looking forward to supporting Diaz and the Jivox team as they build Jivox into a successful business."
The market
Video advertising is promising to be huge opportunity online and the sector is extremely competitive with new players entering every couple of weeks. Venture capitals also do think the online video advertising holds the chances to be the next big thing on Internet to bring billions of revenues in and are pouring big money into start-ups with the hope they come up to the groundbreaking technology that might shake the sector and make them the huge ROI.   
No matter what standard for video ads the sector might adopt – pre-roll ads, mid-roll ads, post-roll ads, watermark ads, viral ads or overlay ads, the undisputed leader remains Google's YouTube with its huge number of eyeballs. That's why the smaller players are focusing not on the reach but on different approaches and technologies to more effectively serve, track and measure these video ads. The video ads are in their infancy on Web and there is plenty of room for innovation and growth and all those small start-up companies hold their good chances for success.
Some companies, as we know them, include BlackArrow, BrightRoll, XillianTV, Podaddies, VMIX and MeeVee. BrightRoll video ad network itself has raises $5 Million while VMIX, yet another video network company has also raised a whopping amount of money $16.5M to expand its business. Other video advertising players include Revver, VideoEgg's TheEggNetwork, ScanScout, Adap.tv, AdBrite's InVideo platform, BroadRamp and Blinkx.
eMarketer predicts online video advertising to nearly double in 2008 to $1.3 billion, but no one's really nailed a scalable ad platform for video. However, Google's been quietly testing their own system and there are a bunch of other startups tackling it as well.
More about Jivox
Jivox is an exciting new online video advertising service that gives businesses that want to advertise on the Internet a better, personalized way to communicate their products and services to a micro-targeted audience. If your Internet advertising is not as effective as it used to be, or you are looking for a new way to get your message to your customers via rich visuals and video, Jivox can help.
Jivox helps you create, target and deliver professional video advertising on the Internet – going way beyond the search engine or banner ads – without spending a lot of time and money on producing your ad. Our proprietary technology helps you pinpoint your ads to the exact geographic, behavioral or demographic audiences you need to reach on the web. Here's how: 
1. Create your own video ad
The Jivox AdSlate self-service video ad maker enables you to use our vast library of stock images, video clips and music to create your own ad or you can take your existing materials (such as a digital picture of your storefront, product shots, head shots, logos, etc.) and insert important information like your contact information, website, special discounts and promotions. See sample ads created with Jivox AdSlate Minutes later, you can be delivering your new ad on our extensive video network. See how it works.
Or, if you have an existing commercial you are using on Cable T.V., you can easily upload and use that to advertise on the Jivox Video Network. Or, let us build your ad for you.
2. Identify your target audience
Jivox delivers tailored, branded advertising to viewers based on their interests, enabling you to maximize your direct response opportunities. The Jivox Video Network delivers your video advertisement to your audience using geographic, demographic, behavioral and contextual intelligence.
Jivox has developed sophisticated algorithms that determine the best web sites and video content in which to serve your ad.
3. Define your budget and timing for your advertising campaign
Even if you have a limited budget, you can start your video ad campaign now with the Jivox Video Network. You can identify specific times of day, days of the week and other important choices or even run Time-of-Day/Day-of-Week ads on an introductory budget. Unlike most other forms of TV and web advertising, with Jivox, you only pay for ads that were actually viewed on a web site. More on Pricing.
The exclusive Jivox Ad Campaign Reports gives you advanced intelligence to optimize your advertising. You can then review the results to make intelligent decisions about how to improve or expand your media choices.
Jivox was founded in 2007 by Diaz Nesamoney, the visionary entrepreneur behind
Informatica (Nasdaq: INFA) and Celequest (acquired in 2007 by Cognos). Jivox aims to
bring the power of online video advertising to the mass market.
Management team
Diaz Nesamoney, Founder & CEO
Diaz Nesamoney founder of Jivox has had two prior successful ventures.  Before founding Jivox, he founded Celequest, raised over $20M in venture capital, and served as its CEO until early 2007, when the company was acquired by Cognos Corporation.  Celequest introduced the market's first BI appliance, a disruptive innovation that led to its acquisition by Cognos. He was previously co-founder, President and Chief Operating Officer at Informatica (NASDAQ:INFA), which he took from a startup to a publicly traded company in 1999 with a market capitalization of over a billion dollars.  Informatica pioneered data integration software as a category and is now the market leader with over $400M in revenue. Diaz is a trustee of the American India Foundation, a leading international development organization charged with the mission of accelerating social and economic change in India. Diaz holds a Masters degree in Computer Science from the Birla Institute of Technology and Science in India.
Naren Nachiappan, Managing Director, Jivox India
Naren Nachiappan comes to Jivox from Wind River (NASDAQ:WIND), where as Vice President and General Manager, he was a part of the executive team responsible for reigniting growth and adding over $100 million to the top line in three years. Naren was directly responsible for taking the Device Management business from a concept to a multimillion-dollar revenue rate in under 9 quarters. At Wind River, Naren established the company's first product development team in Bangalore, India, with a zero percent attrition rate through his three-year tenure. Earlier in his career, as CEO of Proceler and as Senior VP at VenturCom (acquired by Citrix), he was responsible for pioneering several industry innovations such as "the first support for automated application acceleration using hybrid SoCs" which resulted in Proceler's nomination for the 2001 MPR Analysts choice award, and the first flight-essential certified UNIX for avionics applications on the Boeing 777. Naren graduated cum laude from Harvard University and holds an MBA from the UC Berkeley Haas School of Business.
Parth Chandra, Chief Architect
Parth has over 14 years of experience in the software industry in the field of Data Integration and Business Intelligence. Parth has worked most recently at Insights On-Demand, where he was the Chief Architect. Before Insights, he worked at Informatica (NASDAQ:INFA) as a Sr. Software Architect where he was part of the founding team that was responsible for software design and development of their market leading Data Integration products. Prior to Informatica he held software engineering positions at Citicorp Software and Neuron Data where he designed and implemented large scale financial transaction systems and cross platform development environments. Parth holds a degree in Mechanical Engineering from IIT Kanpur and an MBA degree from the Indian Institute of Management (IIM) Bangalore.
More about Opus Capital
Opus Capital Group is an alternative assets firm with more than $1 billion in committed capital under management. Since 1971, Opus Capital's predecessor funds have invested in more than 350 companies spanning multiple industries.
More
 
http://www.jivox.com/
http://www.jivox.com/Jivox_funding_release_final.pdf
http://www.opuscapital.com/
http://mashable.com/2008/03/10/jivox/
http://www.thealarmclock.com/mt/archives/2007/05/jivox_stealth_m.html
http://www.paidcontent.org/entry/419-self-service-video-ad-provider-jivox-closes-27-million-seed-round/
http://venturebeat.com/2008/03/09/jivox-offers-simple-online-video-ads-for-small-businesses-raises-round/
http://www.redherring.com/Home/23889
https://web2innovations.com/money/2008/03/09/video-advertising-networks-are-hot-brightroll-gets-its-second-round-claims-it-already-served-over-1-billion-video-ads/