To make a long story short a Citigroup Investment Research analyst believes that rather than let the deal fall apart, Microsoft will increase its buyout offer for Yahoo. Citigroup has raised its Yahoo price target to $34 per share based on their belief that Microsoft will revise its takeover offer. The guy is named Mark Mahaney and he said "We believe that a Yahoo sale to Microsoft — at a price higher than the initial $31 bid is the most likely outcome".
On those rumors and others Yahoo shares closed at $28.73 Tuesday, which is up 4.4%.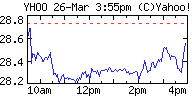 Mahaney also said Microsoft is yet to make significant inroads in the area of online advertising, especially against market leader Google, despite efforts to do so for the past three to four years. The only way Microsoft could compete with Google would be to acquire Yahoo, the analyst said.
It was also said Yahoo keeps on aggressively pursuing other alternatives to Microsoft's unsolicited takeover bid, although there are no any other competing bidders for the company at this time. Rumored possibility is Time Warner, but analysts are saying it is more likely to force Microsoft increase its bid rather than ending up in a deal with Yahoo.
Really more
http://www.techcrunch.com/2008/03/25/citigroup-raises-yahoo-target-to-34-based-on-revised-microsoft-bid/
http://www.infoworld.com/article/08/03/25/Citigroup-says-Microsoft-likely-to-raise-bid-for-Yahoo_1.html
http://finance.yahoo.com/q?s=MSFT
http://finance.yahoo.com/q?s=yhoo
http://uk.reuters.com/article/technology-media-telco-SP/idUKN1819990520080219
http://news.zdnet.com/2100-9588_22-6231021.html
http://mashable.com/2008/02/18/bill-gates-were-not-raising-the-yahoo-bid/
https://web2innovations.com/money/2008/02/01/yes-we-were-right-yahoo-was-seriously-undervalued-microsoft-offers-446b-for-the-company-a-62-premium-over-their-value-from-yesterday/
https://web2innovations.com/money/2008/02/02/is-google-going-to-be-the-winner-from-the-microsoft-yahoo-deal/
https://web2innovations.com/money/2008/02/04/google%e2%80%99s-chief-legal-officer-vs-microsoft%e2%80%99s-general-counsel/
https://web2innovations.com/money/2008/02/08/one-after-another-the-potential-competitive-bidders-for-yahoo-drop-off-is-yahoo-going-to-surrender-to-microsoft/
https://web2innovations.com/money/2008/02/09/end-of-speculations-yahoo-rejected-microsoft%e2%80%99s-offer/
https://web2innovations.com/money/2008/02/11/yahoo%e2%80%99s-official-response-to-microsoft%e2%80%99s-offer-no/
https://web2innovations.com/money/2008/02/12/and-here-is-what-microsoft-has-to-tell-yahoo/
http://biz.yahoo.com/prnews/080211/aqm241.html
http://finance.yahoo.com/q?d=t&s=msft
http://money.cnn.com/2008/02/09/magazines/fortune/yahoo_rejects_bid_report.fortune/?postversion=2008020914
http://www.ft.com/cms/s/0/fffc1006-d5e8-11dc-bbb2-0000779fd2ac.html?nclick_check=1
http://blogs.barrons.com/techtraderdaily/2008/02/05/yahoo-the-five-scenario-analysis/
http://www.techcrunch.com/2008/02/08/yahoo-board-to-determine-fate-of-company-today/
http://www.techmeme.com/080201/p78#a080201p78
http://www.mercurynews.com/ci_8149194
http://www.businessweek.com/technology/content/feb2008/tc2008021_885192.htm?chan=rss_topStories_ssi_5
http://www.washingtonpost.com/wp-dyn/content/article/2008/02/02/AR2008020200568.html
http://www.sfgate.com/cgi-bin/article.cgi?f=/c/a/2008/02/02/MN8OUQGNB.DTL&type=tech
http://kara.allthingsd.com/20080201/microsoft-to-yahoo-two-days-to-respond-or-else/
http://www.alleyinsider.com/2008/02/hold-everything-we-may-get-another-yhoo-bidder.html
http://www.techcrunch.com/2008/02/01/what-would-a-combined-microsoft-yahoo-look-like/
http://www.techcrunch.com/2008/02/01/ballmers-internal-e-mail-to-the-troops-explaining-the-yahoo-acquisition/
http://www.techcrunch.com/2008/02/02/news-corp-scrambles-to-bid-for-yahoo/
http://www.alleyinsider.com/2008/02/microsoft-yahoo-combined-financials.html
http://www.informationweek.com/news/showArticle.jhtml?articleID=206107168
http://mashable.com/2008/02/10/yahoo-aol-merger/
http://www.techcrunch.com/2008/02/10/wait-yahoo-and-aol-i-was-looking-forward-to-something-moreintelligent/
http://www.techcrunch.com/2008/02/09/microsofts-80-billion-and-growing-yahoo-headache/
https://web2innovations.com/money/2008/02/09/end-of-speculations-yahoo-rejected-microsoft%e2%80%99s-offer