CNN reported (story has expired) in 2006 on a tiny deal where Google has acquired a small wiki based start-up company called JotSpot. Google says they are expanding their efforts at providing software that helps users create and post their own materials on the Internet. JotSpot is (was) a California startup that develops online collaboration tools known as wikis. Wikipedia is the most prominent example of what wiki software does.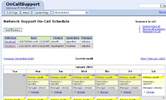 JotSpot was a software start-up that offered enterprise social software – a structured wiki. The product was targeted mainly to small- and medium-sized businesses. The company was founded by Joe Kraus and Graham Spencer, co-founders of Excite. JotSpot is now owned by Google. 
The compamy closed Series A round of funding in the $5M range. Participants were Redpoint Ventures, Mayfield Funds, some private investors and the founders Joe Kraus and Graham Spencer.  
The announcement came Tuesday Nov 03, 2006 through separate postings at Google's and JotSpot Inc.'s Web journals. Pricing details were not disclosed.
JotSpot Chief Executive Joe Kraus said JotSpot would be able to tap into the Internet search leader's large user base and robust data centers capable of handling any growth. "Our vision has always been to take wikis out of the land of the nerds and bring it to the largest possible audience," Kraus said in an interview.
Earlier in the year, Google said it bought Upstartle, the maker of the online word-processing program Writely. Google has since packaged Writely with an online spreadsheet it developed in-house.
The free tools could help groups simultaneously work on documents over the Web and provide alternatives to Microsoft Corp.'s dominant business-software applications, which largely run on computer desktops rather than the Internet.
Kraus said Google's acquisition of JotSpot "validates the notion that people want to do more online than just read. The Web is moving from a monologue to a dialogue."
JotSpot since then has stopped billing for paid accounts. By that time JotSpot was said to have more than 30,000 paid accounts.
JotSpot had 27 employees later moved about six miles from Palo Alto, California, to Google's Mountain View headquarters.
An year later JotSpot seems to have been integrated within what's called now Google Docs which is free web-based word processor and spreadsheet, which allow you share and collaborate online. In an another news Google announced that Jotspot would be integrated into Google Apps and part of the suite of online office applications Google is developing or acquiring.
Please note this posting is reporting a deal for JotSpot that took place in 2006. Web 2.0 Money is a new initiative of Web 2.0 Innovations to discover, report and analyze the money behind the Technology and Internet Industries. We start from some of the earliest funding/acquisition deals we know about.
[ via CNN ]
[ via Zee News ]
[ via The Geek Librarian ]
[ via Demo ]