Having to blog for such ridiculous situation in the light of Christmas is not an easy task to do, but I have to.
One thing seems clear to me today iPower, Inc, is rapidly heading towards the "deadpool" and is on its way to totally disintegrate itself as a hosting company.
We were part of a highly promising start-up company that had the bad luck to be hosted on a dedicated server with the

iPower company. Last week the server went down and all of our attempts to have a knowledgeable customer rep on the phone, email or chat to get our problem resolved or at least being told what the problem is have completely failed. The project was very important site (everyone's site is important) and we were in initial talks with potential investors when the disaster struck us and our nightmares begun.
Simply put, this company has the worst customer service department and approach towards its clients we have ever experienced in our business practice and we can claim we have a vast business experience, more than 20 years in the IT sector and more than 10 years over Internet.
Their live chat support is outsourced with liveperson and the representatives there are absolutely unaware of what we were talking about, copying and pasting pre-made questions and answers and when you ask them concrete questions there are replying with no concrete details and you end up spending an hour or two without any luck to get your issue resolved.
Calling on their customer service telephone is yet another tragedy – normally you end up waiting for at least 50 minutes on the phone until somebody answers on the line. Things are here even worse. First off they ask for your domain name and you are feeling hopeful something will help you out now. After you tell them your domain name and after waiting for 5 minutes more, they are coming back telling you that your domain name is not registered with their system but with GoDaddy (in our case it is true) and they cannot do anything more to help. One second before you freak out, you just calm down and try to explain them that you are on dedicated server there and the domain name is not of particular interest to you. The guy then asks you for your user name and password for their platform; surprise you do not have such ones. You then try to explain that you never had user name or password because you had never used their platform and you had never been given with such a chance to do so. Once you insist further that you are talking about dedicated server and you can provide them with the IP address the customer rep is then saying just OK, give it to me. Fine, we think this time we are on the right direction but not really as it turns out. After yet another 5 minutes waiting on the line the customer rep is returning with surprising news, we did not find your server. While the rep is trying to get rid of us, we are desperately trying to ask what the problem is anyway and how that is possible our server is not found. We are then asked for the last 4 digits of the primary account holder's credit card and once provided with the rep went off line again for yet another 5 minutes. Upon his return he further asked for our full names and other personal details and when we have in return asked for his surname the customer rep refused to give it to us. He simply asked why and when we have politely explained that we might want to speak with his supervisor he just said he is busy. Anyway we gave up on further chasing the poor guy and start begging him to do something and help us out, we have recommended he reboots our server. His respond to our request something to be done was yet another shocking statement from iPower: it is not his job and he is not rebooting servers. Realizing that we go no where with this guy on the phone we have simply given up and hanged up.
A few days later and after having tried pretty much everything to contact them again and have our issue resolved we are again landing on a customer rep on the phone. After all standard and time wasting questions the tech rep is stating our server is working and everything seems normally according him. Great you may think but you are wrong our server is still down and after telling this guy that we were not able to ping the server he just replied that our office must be behind firewall and that's our problem, we cannot access our server otherwise it is working fine. While putting efforts to calm down and not go against this guy over the phone we tried to calmly explain him that a web based ping server is reporting that the packages are lost at 100% being tried from 10 different locations from all over the world and our office firewall is our last problem in this moment. The guy then just replied OK, I will open a new ticket for you and when being asked how long it would take for our server to get back to normal he simply put it As Soon As Possible and said he cannot help us anymore.
One day later our server is still down and unreachable. At the end of the day we are seeing a new email from iPower staying that our server has been worked out and should be up and running within 45 minutes. What a happiness for us, we were thinking, almost ready to leave for Christmas with everything settled well down. Well, wishful thinking, 5 hours later our server hence our site is still down.
We have also realized yet another fact that you always speak with different names at their customer service department

and when the next time you call them up and want to speak with the same person for the sake of better understanding and skip all the identification questions and the usual crap, the guy you presently speak with is telling you that the person from your previous phone call is not remembering you.
7 days later our server is still down, unreachable, the site is inaccessible and our business is totally harmed, just before the end of the year. Well we admit that technology issues, problems and difficulties are happening all the way, including to RackSpace most recently (great customer support btw). What made us pissed off is the lack of normal customer support to explain what the problem after all is and the way their customer reps were treating their customers being sarcastic, ironic and very impolite in particular moments.
Their support section is filled with erroneous instructions. There are normally 100+ people in line at chat support and at least 1 hour wait by phone. Customer support is virtually non-existent after they make a mess out of your website.
No emails were ever replied and returned to us.
Having a quick research conducted over Internet we find out the shocking reality, we are not alone. It turns out a countless people are furious over iPower and lots of businesses are affected. A number of law suits are promised to be put up against the Arizona company and even a class action lawsuit against IPowerWeb is in preparation.
In another site iPowerWeb and iPower currently has 214 user reviews: 30 positive and 184 negative. So far 14% of the reviews submitted have said they would recommend iPowerWeb and iPower. The reviews go as far as 5 years back in the time as the most recent years and most there are no recommendations at all. It indicates the company is worsening as it grows older.
Yet another group of unhappy customers are doing campaign calling for a boycott by potential new customers of IPowerWeb has been initiated and as well as an organized effort to commence an class action lawsuit against IPowerWeb for business interruptions and monetary losses incurred as a result of IPower's mandated "transition" to new servers and "hosting platform".
The ultimate goal is to initiate a class action lawsuit against iPower to recover losses caused by their mandated "transition" and to force them to offer options including remaining on the "old platform" if customer so wishes; and to initiate a boycott against iPower to discourage new customers from contracting with them as a web host.
There have been horrendous and ongoing problems with iPower and their "changeover" to a new "platform".
"There are no options", the customer is told. You either allow them to transfer your website and business for you or you pay someone to do it if you can't do it yourself and brace yourself for multiple and ongoing headaches.
There are nightmare stories of people who have lost their businesses and their income because of iPower, because their website no longer functions and customer support at iPower is virtually non-existent and non-responsive after they "move" your website and business to their new "platform".
Ultimatum is to initiate class action lawsuit against IPower to recover losses and force changes in customer support/options.
Law firms who are interested in representing IPower/Endurance International customers in a class action lawsuit for business losses and disruption of business are asked to contact news@northcountrygazette.org
Just like it is not enough for the iPower to have the worst customer service on Web but it seems they are involved into hosting a countless number of sites that direct visitors to nasty drive-by installations.
The company's CEO said in an email the problem has been fixed, but as of blog post time we were still able to identify iPower-hosted sites that were redirecting to malicious servers.
In May, iPower came to the attention of researchers at StopBadware.org, who found more than 10,000 compromised websites were being hosted by the Phoenix-based company.
Later the same week, iPower CEO Thomas Gorny said less than 1 percent of the sites his company hosts were compromised. With company claims of at least 700,000 customers, that would translate to 7,000.
I remember a friend of mine had a bad experience with his email account of a web site he had hosted with iPower and his server's IP address was listed on spamhaus.org due to bad neighborhood and because of the practice iPower relies on for ongoing emails. Spamhaus tracks the Internet's Spammers, Spam Gangs and Spam Services, provides dependable realtime anti-spam protection for Internet networks, and works with Law Enforcement to identify and pursue spammers worldwide. On his attempts to resolve the issue with iPower and expose the spammers no body from the Arizona company was responsive and helpful. They later moved out from iPower.
About iPower Inc.
iPower, Inc., founded in October 2001, provides web hosting and web services for small- and medium-sized businesses worldwide looking to build, manage, promote and profit from an online presence. The company, which offers domain registration, web site hosting, e-commerce tools, merchant services, application hosting, online marketing, site optimization services, and web site design, is also famous for the speed and effectiveness of its customer support.
The company's address:
iPower, Inc.
919 East Jefferson
Phoenix, Arizona
United States
Phone: +1.3103141610
Sales Number:  888-511-4678 
Support Number:  888-511-4678 
www.ipower.com
Founder and CEO of the company is Thomas Gorny (in the middle on the picture) and the company is based in Arizona, US. Thomas Gorny spent the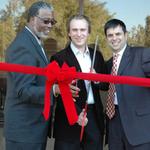 first 14 years of his life in Poland. A move to Germany found him attending a prestigious business college and running his own PC hardware business. Then, two months before graduation, he dropped out and sold his business for very little money to seize an opportunity to immigrate to America. The risk paid off not once, but twice.
Gorny joined one of the very first web hosting companies in 1996 and earned 20 percent ownership. The company was sold in 1998, and when Gorny left in 1999, he was in the money. "I never thought I'd go back to web hosting," he says. So he jumped into marketing and real estate, but when the bubble burst in 2001, his stocks dropped and his real estate projects suffered. "I just got involved with the wrong people in business," says Gorny, who lost everything.
"Being on an investor visa, I couldn't even go to work for somebody because I didn't have a work permit," Gorny says. After re-examining the hosting market, he realized there was room for a company offering web hosting and site building for nontechnical users. Armed with his American Express card, Gorny willed iPower into existence in late 2001. "I said to myself, 'If we can acquire 10 customers a day, I'm going to be in heaven.'" The company garnered 60,000 customers in its first year. Now with more than 500,000, iPower recently moved its headquarters from Santa Monica, California, to Phoenix.
Maggie Kinsley is the company's Director of Human Resources for iPower.
Just our 2 cents: Thomas Gorny must put every effort to improve his company's customer service if he wants to stay in the business simply ASAP. Unless this happens, Gorny might be the first to witness how, from business having more than 500,000 clients today, iPower melts down to 10 clients as quick as it has grown, so does his American dream.
For anyone who wants to see iPower's record with the BBB, go to the Phoenix BBB site below and search for "IPower".
Phoenix Better Business Bureau
4428 N. 12th Street
Phoenix, AZ 85014-4585
Phone: (602)264-1721
Fax: (602)263-0997
Email: info@phoenix.bbb.org
Web: http://www.phoenix.bbb.org
After all there is only one simple conclusion left. We are strongly recommending anybody out there stop using or never start using iPower for mission-critical projects if you do care of your own business. Another piece of advice from us would be for you to choose Web Host That Values Their Customers, Not iPower. Good hosting companies, based on our personal experience, are both RackSpace and Dreamhost.
Our simple appeal is avoid relying on and using iPower in Arizona, US.
P.S.
In the day of this post our server was still down.
More
http://www.ipower.com/ipower/index.bml
http://www.northcountrygazette.org/news/2007/12/16/boycott_ipower/
http://www.thepoint.com/campaigns/just-say-no-to-i-power-web
http://www.webhostingunleashed.com/ipowerweb-and-ipower?gclid=COuG1eXBuZACFQNhMAodfSphHA
https://www.thepoint.com/targets/ipowerweb-inc
http://www.theregister.co.uk/2007/12/14/latest_ipower_breach/
http://tacit.livejournal.com/
http://blogs.stopbadware.org/articles/2007/05/04/stopbadware-identifies-hosting-providers-of-larged-numbers-of-sites-in-badware-website-clearinghouse
http://www.stopbadware.org/home
http://www.spamhaus.org/
http://www.northcountrygazette.org/news/2007/12/06/stay_away_ipower/  http://www.northcountrygazette.org/news/2007/12/09/ipower_customers/   http://www.northcountrygazette.org/news/2007/12/14/transition_disaster/
http://www.northcountrygazette.org/news/2007/12/17/ipower_fraud/
http://www.yelp.com/biz/ipowerweb-inc-phoenix
http://hostjury.com/blog/page-14
http://hostjury.com/blog/view/27/ipowerweb-ipower-clients-enduring-massive-problems
http://www.vistainter.com/reviews/I/ipower.com/
http://gallery.ipower.com/main.php?g2_view=core.ShowItem&g2_itemId=10
http://www.entrepreneur.com/magazine/entrepreneur/2006/october/167764-4.html
http://forums.devarticles.com/web-hosting-45/ipower-has-no-power-10573.html
http://www.my3cents.com/showReview.cgi?id=30830
http://www.complaintsboard.com/complaints/ipower-c38553.html
http://www.americanbadbusinesslist.com/ipowerweb-complaints.htm