Snocap was known to be searching for a new home for quite some time and it seems they have shopped themselves successfully as Imeem has bought them last month. Snocap is digital music wholesaler and Imeem is music streaming site so the synergy seems quite logical here. Terms were not disclosed publicly.
Snocap was founded in 2002 by Napster creator Shawn Fanning and Jordan Mendelson.  Ron Conway is perhaps their angel investor. The company is known to have taken $10M

million from Conway, Morgenthaler Ventures and WaldenVC. Just like Imeem's deal with Universal Snocap has also signed a distribution deal with MySpace. In fact Imeem and Snocap have also partnered in the past where Imeem used Snocap's digital fingerprinting technology to track how many times any particular song is streamed on its site so that it can allocate a portion of its advertising dollars to the major music labels.
It seems Imeme was in desperate need from the Snocap's technology while Snocap needed a new home, which surely helped the deal happen.
 
Snocap has gone through significant layoffs and was rapidly heading towards major failure. The company's key person Shawn Fanning was also planning to leave the company and deal with his new creature Rupture.
More about Imeem
Imeem is an online community where artists, fans & friends can promote their content, share their tastes, and discover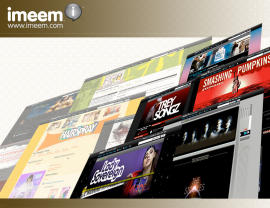 new blogs, photos, music and video. Here are some of the things you can do on imeem:
Discover
-Enjoy the latest videos, music, photos, or blogs posted on imeem.
-Stay up-to-date with your personal network of fans and friends with "What's New" notifications.
-Get in-depth stats for all your content and track their popularity.
Interact
-Tag, comment, rate, and share any of your friends' cool (or embarrassing) content.
-Create or join groups for your favorite band, event, topic, and more!
-Start discussions with other imeem users and make new friends.
 
Share
-Embed your media on other pages (such as your blog, Bebo, etc.).
-Recommend stuff to your friends or add it to your "Favorites" list.
-Easily add media to your Del.icio.us, WordPress, Blogger, or Typepad.
Imeem is hoping to make money from advertisers, a portion of which will be shared with its music partners. It has signed up Puma, Nike and Microsoft among others, though it does not disclose revenues.
This is Imeem's second acquisition after they acquired Anywhere.FM in January. Imeem has raised two rounds of capital, although the size of the second round was not disclosed.
Imeem is based in San Francisco and takes its name from "meme" – a term coined to describe the ideas that communities, adopt, and express. Dalton Caldwell is the CEO of the company and the co-founded together with Jan Jannink. The company used to be in Palo Alto and is known to have launched in 2004. Known investors in the company are Morgenthaler (Series A founding) and Sequoia Capital, the venture capital fund that supported Google and YouTube.
It is interesting to know what Imeem's total funding is considering the fact Snocap has raised $10M. Imeem's first round was only for $750K. Imeem does not disclose revenues.
Some competitors and similar companies include Skreemr, Seeqpod, Deezer, Pandora, Lala, MOG, we7 and Wixi.
More
http://snocap.com/
http://Imeem.com
http://www.crunchbase.com/company/imeem
http://www.techcrunch.com/2008/02/13/imeem-acquires-snocap/
https://web2innovations.com/money/2007/12/10/exclusive-imeem-inks-a-deal-with-the-worlds-largest-record-company/
http://www.techcrunch.com/2006/09/02/myspace-gets-into-music-biz/
http://www.techcrunch.com/2007/06/20/imeem-now-officially-legitimate/