Getty Images Inc. the world's leading creator and distributor of visual content and other digital media announced today that it has entered into a definitive merger agreement to be acquired by affiliates of the private equity firm Hellman & Friedman LLC in a transaction valued at approximately $2.4 billion, including the assumption of existing debt.
Under the terms of the agreement, Getty Images stockholders will receive $34.00 in cash for each outstanding share of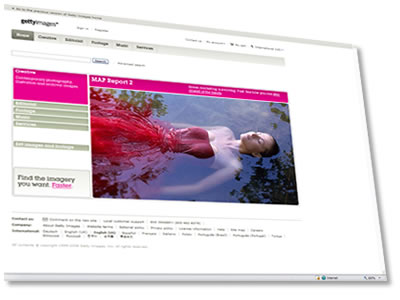 common stock they own. This price represents a premium of approximately 55 percent over the closing price on January 18, 2008, the last trading day before the Company announced that it was exploring strategic alternatives. Based on Getty's 61 million fully diluted shares, the cash offer is worth almost $2.1 billion. The buyer is also assuming about $300 million in debt, pushing the total value of the transaction to $2.4 billion. The company's shares have immediately jumped $7.22, or 29.5 percent, to $31.67 Monday. The company had more than $850M revenues for 2007.
Ten-year-old Getty, whose nearest competitor is privately held Corbis Corp., put itself up for sale in January after taking a beating on Wall Street for two years. After reaching a high above $94 per share in November 2005, Getty's shares tumbled 77 percent to $21.80 in Jan. 18 of this year, as higher costs ate away at profits. Four days later, the Seattle-based company said it would consider strategic alternatives to boost shareholder value.
The Board of Directors of Getty Images has approved the merger agreement and resolved to recommend that Getty Images' stockholders approve the transaction. Completion of the transaction is subject to shareholder approval and other customary closing conditions. The transaction is not subject to a financing condition and is expected to close in the second quarter of 2008.
"Our Board of Directors has thoroughly evaluated strategic alternatives for Getty Images and has determined that this outcome is in the best interests of our stockholders as it provides them with superior and certain value. Furthermore, Hellman & Friedman brings specific industry expertise and support for the vision of the Company's management team that will benefit our employees, customers and partners," said Jonathan Klein, co-founder and chief executive officer of Getty Images. "Just over a decade ago we started Getty Images with little more than a vision and have achieved industry leadership due to the extraordinary talent, effort and commitment of our employees and partners. We are enthusiastic about entering the next phase of Getty Images' evolution by partnering with Hellman & Friedman as we continue to provide innovative offerings to businesses and consumers in a very dynamic digital media environment."
Andy Ballard, managing director of Hellman & Friedman, said, "Getty Images is the leader and pioneer in the visual content and digital media business. We believe in the vision and execution capabilities of Jonathan Klein and his team, and share their commitment to the Company's stakeholders and customers. We look forward to working with all of Getty Images' employees to realize the full potential of its traditional businesses while furthering the evolution of Getty Images into a global digital media company."
Financing commitments have been provided by Barclays Capital, GE Commercial Finance and RBS Greenwich Capital. In addition, Getty Investments and certain related parties, including the co-founder and chairman, Mark Getty, who collectively hold approximately 15 percent of the Company's shares, have agreed to vote in favor of the transaction and rollover their shares into the acquiring entity.
Goldman, Sachs & Co. was the financial advisor to Getty Images. Barclays Capital and RBS Greenwich Capital are acting as financial advisors to Hellman & Friedman. Weil Gotshal & Manges LLP and Simpson Thacher & Bartlett LLP are serving as legal advisors to Getty Images and Hellman & Friedman, respectively.
Troy Mastin, an analyst at William Blair & Co., said Getty's core business of selling more-expensive photographs to newspapers and magazines had declined as those media struggled with the rise of Internet content. Sales to direct mail and brochure customers also cooled.
At the same time, though, Getty's newer businesses grew faster. The company bought iStockPhoto.com, which sold images for as little as $1 for unlimited use, in 2006. Mastin said customers who once bought the low end of Getty's core stock photos moved over to buy the even cheaper royalty-free photos.
The company has also bought Pump Audio last summer, and bought Scoopt about a year ago. They have strengthened their positions in  both the music and citizen journalism business with both acquisitions, as well as being a solid friend to the independent and freelance journalist with their wire service.
While Getty didn't give a specific reason for its January decision to seek a buyer, Mastin said it was likely because Getty felt Wall Street was paying more attention to the stagnating core business than to its emerging segments.
It has probably also something to do with the rapidly emerging web 2.0 companies within the space.
More about Getty Images
Getty Images creates and distributes the world's best and broadest imagery collections, making them available in the most accessible and usable way — 24 hours a day, every day. From contemporary creative imagery to news, sports, entertainment and archival imagery, our products are found each day in the full range of traditional and digital media worldwide.
Mark Getty and Jonathan Klein founded Getty Images in 1995 with the goal of turning a disjointed and fragmented stock photography market into a thriving, modernized industry able to meet the changing needs of visual communicators. We were the first company to license imagery via the web, moving the entire industry online.
Today, gettyimages.com serves an average of 3.2 billion thumbnails, 7.3 million visits and 4 million unique users in addition to an average of 175 million page views each month. Nearly 100 percent of the company's visual content is delivered digitally.
The company frequently receives industry recognition for both its photography and its business accomplishments. In 2005, American Photo Magazine acknowledged the company's commitment to the photography industry, naming Getty Images' co-founders Jonathan Klein and Mark Getty as number one of "The 100 Most Important People in Photography."
We believe our success comes from our focus on the areas that matter most to our customers:
Simplicity. We built a one-of-a-kind platform to help customers find and manage the right images, and in a few short years it has become the industry standard. We provide the most accessible and reliable way to search, download, license and manage the broadest and deepest selection of relevant still images and film clips.
Expedience. To serve the demands of a fully digital publishing industry, we provide instantaneous feed of news, sport and entertainment images as well as painstaking archival research. We also offer a full-service photo assignment service that can be tailored to your exact photographic needs.
Relevance. We are the first imagery company to employ creative researchers to analyze demographics, sales data and behavioral trends to anticipate the visual content needs of the world's communicators.
Experience. Our photographers are subject-matter specialists with years of experience, not generalists — a distinction that helps ensure that our images capture defining moments and deep insights.
About Hellman & Friedman
Hellman & Friedman LLC is a leading private equity investment firm with offices in San Francisco, New York and London. The Firm focuses on investing in superior business franchises and serving as a value-added partner to management in select industries including media and marketing services, financial services, professional services, information services, healthcare and energy. Since its founding in 1984, Hellman & Friedman has raised and, through its affiliated funds, managed over $16 billion of committed capital and is currently investing its sixth partnership, Hellman & Friedman Capital Partners VI L.P., with over $8 billion of committed capital. Representative investments in media and marketing services include: DoubleClick Inc., Catalina Marketing Corporation, Young & Rubicam Inc., Digitas Inc., The Nielsen Company, and Axel Springer AG.
The private equity group has invested in other rapidly changing digital businesses, including online advertising company Digitas, acquired by Publicis Groupe, and DoubleClick, whose buyout by Google Inc. is pending regulatory approval in Europe.
Hellman & Friedman LLC has also some recent acquisitions of non-tech companies like Saipem SA, which is oil and gas related organization, and a number of smaller private equity firms.
More
http://www.gettyimages.com/
www.hf.com
http://corporate.gettyimages.com/source/about/
http://corporate.gettyimages.com/source/investors/index.aspx?pageID=financialReleases&shPage=releaseDetail.cfm&ReleaseID=295764
http://finance.google.com/finance?q=GYI+&hl=en
http://en.wikipedia.org/wiki/Mark_Getty
http://en.wikipedia.org/wiki/Jonathan_Klein_%28Getty_Images%29
http://www.guardian.co.uk/media/2008/feb/25/mediabusiness.digitalmedia?gusrc=rss&feed=media
http://mashable.com/2008/02/27/getty-images-buyout/
http://www.boston.com/business/articles/2008/02/26/getty_images_accepts_buyout/
http://www.macworld.com/article/132247/2008/02/getty.html
http://www.cnn.com/2008/BUSINESS/02/25/getty.images.ap/index.html
http://seattletimes.nwsource.com/html/businesstechnology/2004199788_apgettyimagessale25.html
http://www.msnbc.msn.com/id/23333922/
http://biz.yahoo.com/ap/080225/getty_images_sale.html
http://seattlepi.nwsource.com/business/352615_getty26.html
http://mashable.com/2007/03/12/scoopt-acquired-by-getty-images/
http://www.pehub.com/article/articledetail.php?articlepostid=10502
http://mashable.com/2007/06/20/getty-images-acquires-pump-audio/
http://www.newratings.com/en/main/company_headline.m?section=company&option=headline&id=1703741