Yodle has raised a whopping amount of money in its second round – $12 million for its web-based local advertising business. The company manages online advertising campaigns for small businesses on all of the big search engines and drives traffic to pages designed specifically to attract new leads. Yodle also employs customer management tools for tracking both incoming calls and emails that your small business is generating from its web presence.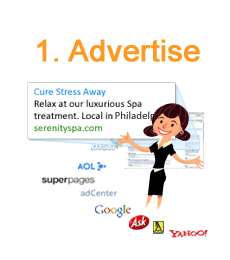 Yodle helps your company generate new business by connecting you with customers

searching online for the services you offer. First, Yodle advertises your business online to customers in your local area. Second, Yodle directs these customers to your website so they can learn about your business and view your offers. Third, interested customers call into your business to set an appointment.
According to the company, Yodle grew 400% in the third quarter. The company also estimates that every dollar spent with them generates an average of $8 in additional profit for small businesses. Yodle's new round of funding was led by Draper Fisher Jurvetson, with Bessemer Venture Partners also participating in the round. Yodle got founded under the name Natpal in 2005.
A couple of months ago a major competitor called Reach Local raised a massive amount of money – $55 million at a pre-money valuation in the $300 million range.
ReachLocal provides online advertising services for small businesses. The company's investors include Rho Ventures, with

Galleon Crossover Fund also participating, and VantagePoint Venture Partners as return investors. This recent round of funding comes after the $12.7 million the local ad company has raised since its inception in 2004. This gives ReachLocal an estimated valuation at $305 million, which is $55 million more than its previous valuation.
On the ReachLocal's video, it seems that their real value proposition is that they've integrated online and offline touch points (points of contact), and can track and report on this for small & medium businesses, which in most cases do not have high hurdles of integration.
The location based advertising market seems to be hot these days after Nokia snatched Navteq for $8B and is seen to be using some of the technologies in an effort to tap into the huge market of mobile value-added services, both location based mobile services and location targeted mobile ads.
Other similar companies include SquidBids and upspring.
Leaders in the location based online advertising and leads are Yellowpages and SuperPages (owned by Idearc Media). Superpages.com is the expert in local search receiving over 17 million monthly unique visitors and completing over 200 million searches per month. Idearc Media has also recently acquired LocalSearch.com.  
[ via Mashable ]
[ via Mashable ]
[ via MarketingPiligrim ]
[ via Private Equity Hub ]