When last week we wrote about Yahoo's shares going up on rumors that Microsoft is going to increase their bid for the Internet giant it seems those rumors were not very accurate. This week Microsoft gave Yahoo a very strong signal it won't happen.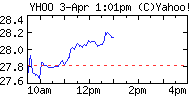 Sources "close to the company" tell the Wall Street Journal that Microsoft is standing firm on its initial offer of $31 a share (which has now declined in value, in step with Microsoft's stock price, from $44.6B to about $42B).
"There's no reason to bid against ourselves," one of these people said.
Microsoft's strategists believe that time is on their side, the people close to the company say. The strategists argue that Yahoo's recent roadshow failed to dazzle investors and nothing in its presentations will justify a higher price, the people say. In addition, the strategists argue that the worsening economic downturn and stock-market weakness make the original bid look even more generous.
The WSJ is also saying that Microsoft won't reveal its alternate slate of directors until it has to—and that won't be until ten days after Yahoo announces the date of its 2008 shareholders meeting, which it has yet to do.
Despite the fact those rumors were the reason behind Yahoo's recent increase in their share price with 4.4% to $28.73 the company's stock price did not fall much on today's trade and remained close to $28 compared to the moment the rumors were broadcasted publicly.
Really more from MS/Yahoo's saga
http://online.wsj.com/article/SB120701820580579519.html?mod=googlenews_wsj
https://web2innovations.com/money/2008/03/26/yahoo-shares-up-44-on-rumors-microsoft-will-increase-the-bid-to-34/
http://www.techcrunch.com/2008/03/25/citigroup-raises-yahoo-target-to-34-based-on-revised-microsoft-bid/
http://www.infoworld.com/article/08/03/25/Citigroup-says-Microsoft-likely-to-raise-bid-for-Yahoo_1.html
http://finance.yahoo.com/q?s=MSFT
http://finance.yahoo.com/q?s=yhoo
http://uk.reuters.com/article/technology-media-telco-SP/idUKN1819990520080219
http://news.zdnet.com/2100-9588_22-6231021.html
http://mashable.com/2008/02/18/bill-gates-were-not-raising-the-yahoo-bid/
https://web2innovations.com/money/2008/02/01/yes-we-were-right-yahoo-was-seriously-undervalued-microsoft-offers-446b-for-the-company-a-62-premium-over-their-value-from-yesterday/
https://web2innovations.com/money/2008/02/02/is-google-going-to-be-the-winner-from-the-microsoft-yahoo-deal/
https://web2innovations.com/money/2008/02/04/google%e2%80%99s-chief-legal-officer-vs-microsoft%e2%80%99s-general-counsel/
https://web2innovations.com/money/2008/02/08/one-after-another-the-potential-competitive-bidders-for-yahoo-drop-off-is-yahoo-going-to-surrender-to-microsoft/
https://web2innovations.com/money/2008/02/09/end-of-speculations-yahoo-rejected-microsoft%e2%80%99s-offer/
https://web2innovations.com/money/2008/02/11/yahoo%e2%80%99s-official-response-to-microsoft%e2%80%99s-offer-no/
https://web2innovations.com/money/2008/02/12/and-here-is-what-microsoft-has-to-tell-yahoo/
http://biz.yahoo.com/prnews/080211/aqm241.html
http://finance.yahoo.com/q?d=t&s=msft
http://money.cnn.com/2008/02/09/magazines/fortune/yahoo_rejects_bid_report.fortune/?postversion=2008020914
http://www.ft.com/cms/s/0/fffc1006-d5e8-11dc-bbb2-0000779fd2ac.html?nclick_check=1
http://blogs.barrons.com/techtraderdaily/2008/02/05/yahoo-the-five-scenario-analysis/
http://www.techcrunch.com/2008/02/08/yahoo-board-to-determine-fate-of-company-today/
http://www.techmeme.com/080201/p78#a080201p78
http://www.mercurynews.com/ci_8149194
http://www.businessweek.com/technology/content/feb2008/tc2008021_885192.htm?chan=rss_topStories_ssi_5
http://www.washingtonpost.com/wp-dyn/content/article/2008/02/02/AR2008020200568.html
http://www.sfgate.com/cgi-bin/article.cgi?f=/c/a/2008/02/02/MN8OUQGNB.DTL&type=tech
http://kara.allthingsd.com/20080201/microsoft-to-yahoo-two-days-to-respond-or-else/
http://www.alleyinsider.com/2008/02/hold-everything-we-may-get-another-yhoo-bidder.html
http://www.techcrunch.com/2008/02/01/what-would-a-combined-microsoft-yahoo-look-like/
http://www.techcrunch.com/2008/02/01/ballmers-internal-e-mail-to-the-troops-explaining-the-yahoo-acquisition/
http://www.techcrunch.com/2008/02/02/news-corp-scrambles-to-bid-for-yahoo/
http://www.alleyinsider.com/2008/02/microsoft-yahoo-combined-financials.html
http://www.informationweek.com/news/showArticle.jhtml?articleID=206107168
http://mashable.com/2008/02/10/yahoo-aol-merger/
http://www.techcrunch.com/2008/02/10/wait-yahoo-and-aol-i-was-looking-forward-to-something-moreintelligent/
http://www.techcrunch.com/2008/02/09/microsofts-80-billion-and-growing-yahoo-headache/
https://web2innovations.com/money/2008/02/09/end-of-speculations-yahoo-rejected-microsoft%e2%80%99s-offer