Over the past a couple of days all the major media outlets are full with news, analyses, reports, commentaries and researches on the potential deal between Microsoft and Yahoo! trying to figure out the benefits or the potential pitfalls the deal would eventually face.
We've read a lot and we'd like here to summarize the pluses and minuses of this potential deal.
Potential pitfalls, disadvantages and overall minuses
Different cultures of the two companies – there will be the challenge of integrating two very different companies, with clashing cultures and business philosophies. At Microsoft, the operating system has always been priority number one, while Yahoo's vision is all things Internet.
Even combined the new entity is going to have less than the half of the searches Google enjoys.
Google Sites: 37.1 billion (5 billion at YouTube)
Yahoo Sites: 8.5 billion
Baidu.com: 3.3 billion
Microsoft Sites: 2.2 billion
So the deal would do little to nothing to address the fundamental problem faced by both companies: finding a way to effectively compete with Google and its growing dominance of the Web.
The combined number of employees would be in the 90,000 range and potential layoffs can be overseen.
The reach of Microsoft and Yahoo! combined is going to be bigger than Google's but unless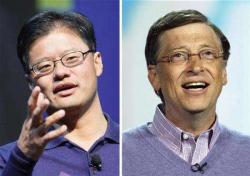 the new entity figures out how to more effectively monetize its traffic they are not going to make any impact on Google's advertising business. Google's AdSense is still paying most to web publishers compared to other advertising networks, which tells us that Google earns more off its traffic and reach than any other ad network out there.  
Despite Microsoft's intention to offer significant retention packages to Yahoo's engineers, key leaders and employees across all disciplines we think Yahoo's most talented employees will take the money from their suddenly valuable stock options and run. It is clear they aren't going to get rich working for Microsoft, whose stock has gone up an average of 6.6 percent a year over the last five years.
If this deal happen Yahoo's shareholders can been seen in a better position compared to Microsoft's. They would finally get a reasonably happy ending to their long nightmare of waiting for Yahoo management to come up with a viable strategy to repel the Google assault. Other than announcing a thousand job cuts this week, Yahoo co-founder and Chief Executive Jerry Yang has given no sign that he has any better ideas for turning around the struggling company than Terry Semel, who resigned in disgrace in June 2007.
There are many questions to be addressed; some of them are included below.
Live search or Yahoo search?
Live mail or Yahoo mail?
Live messenger or Yahoo messenger?
Live spaces, Yahoo 360 or Facebook (Microsoft owns less than 2% in Facebook)?
MSN Dating (Match) or Yahoo personal?
Microsoft's AdCenter or Yahoo's Panama advertising platform?
.Net or java?
Live ID or Open ID?
None of the above seems to be having any synergies. Most of them are already well established brands while others are taking quite different approaches by using and relying on different technological standards. There is clearly huge dilemma if Microsoft keeps the different brands alive, it will surely confuse customers and reduce synergies. If it kills one or another, it will throw away a lot of expensively built real Web properties.
Microsoft and Yahoo would eventually waste a couple of years jumping through antitrust hoops and figuring out how to integrate their companies. During all that time Google will continue to adding more business and consumer Web services and leverage its dominance of search advertising into yet more advertising niches.
Google is already aggressively entering into the mobile space, striking deals around the globe to get prominent positioning with certain carriers and promoting an open handset design. The company is even bidding billions of dollars to buy a chunk of U.S. wireless spectrum that it could use to launch its own mobile voice and data service.
Potential synergies, advantages and overall pluses
Under no doubt the biggest advantage oversee by the Microsoft's people is the Internet traffic/reach the combined entity is going to have – it is clearly going to be much larger than Google's. This is what Steve Ballmer called the eyeballs and is going to be used to strengthen their advertising strategy. According to HitWise the combined traffic reach of Yahoo! and MSN web properties is going to be 15.6% of the entire Internet traffic in the U.S., compared to only 7.7% for Google's web properties yet Google still has double the market share in search of both Yahoo and Microsoft combined.
Microsoft says it can shave at least $1 billion from operating expenses in a merged company.
The combined revenues of the two companies would be about $65B while the net profit is expected to be in the $17.5B range compared to only $4.2B for Google.
The companied company would achieve around 32% market share from the US search market.
Another advantage is that Yahoo still sports the best consumer Web portal, My Yahoo, with tens of millions of loyal users while Microsoft's Windows operating system runs nine out of 10 desktop computers on the planet and a considerable portion of the Internet is powered by servers of the company.
In theory, Microsoft might integrate the best services from each company, from Yahoo's Flickr photo sharing to Microsoft's Office applications, to provide an appealing PC-and-Internet platform for customers. The technical challenges would be enormous, but the payoff could be huge.
Today Microsoft has over $300B market capitalization while Yahoo!'s has climbed close to $30B so the combined entity would potentially have a market capitalization twice bigger than Google's, which is a little more than $175B today.
Potential competitive bidders showing up on the horizon
Aside everything else being mentioned above the acquisition deal is not for sure yet. Multiple sources are reporting counter offers are in preparation by competitive bidders trying to snatch Yahoo! before Microsoft does it. One thing is for sure we can easily exclude Google from the list of potential bidders for Yahoo!. On the conference call explaining the deal, Microsoft general counsel Brad Smith pointed out that, while other companies may make competing bids for Yahoo, one company that clearly can't is Google. Citing a 75 percent market share in the paid-search advertising market worldwide, Ballmer asserts, "Google is prevented by antitrust laws from buying Yahoo."
One of the rumor is that a big private equity firm from New York is going to enter the bidding war for Yahoo!.
Another potential bidder being rumored on a few blogs is the New York-based Quadrangle Partners. Yahoo's former president, Dan Rosensweig recently joined the firm to open the Silicon Valley office and Quadrangle also has deep media expertise. Yahoo! is after all more like a major media company with Internet nuance rather than pure technology company like, for example, Google.
Other sources are reporting that News Corp is also frantically trying to put together a competing bid, with the help of private equity firms. This makes sense, given News Corp's previous interest in trading MySpace for a big Yahoo equity stake. News Corp can't afford to do the whole deal, but it could certainly provide some funding in exchange for some equity.
So to conclude, the minuses, obstacles and the disadvantages seem to be more than what the pluses are expected to be. So if ever a deal goes through it is not very clear what the benefits for both Microsoft and Yahoo! would be and if ever there is going to be a winner from this deal Google, ironically, might be the one at the end of the day.
You can read more over here…
More
http://www.techmeme.com/080201/p78#a080201p78
http://www.mercurynews.com/ci_8149194
http://www.businessweek.com/technology/content/feb2008/tc2008021_885192.htm?chan=rss_topStories_ssi_5
http://www.washingtonpost.com/wp-dyn/content/article/2008/02/02/AR2008020200568.html
http://www.sfgate.com/cgi-bin/article.cgi?f=/c/a/2008/02/02/MN8OUQGNB.DTL&type=tech
http://kara.allthingsd.com/20080201/microsoft-to-yahoo-two-days-to-respond-or-else/
http://www.alleyinsider.com/2008/02/hold-everything-we-may-get-another-yhoo-bidder.html
http://www.techcrunch.com/2008/02/01/what-would-a-combined-microsoft-yahoo-look-like/
http://www.techcrunch.com/2008/02/01/ballmers-internal-e-mail-to-the-troops-explaining-the-yahoo-acquisition/
http://www.techcrunch.com/2008/02/02/news-corp-scrambles-to-bid-for-yahoo/
http://www.alleyinsider.com/2008/02/microsoft-yahoo-combined-financials.html