After we reported the strong NO of Yahoo! to Microsoft over the weekend (Saturday) here is the official response of the Yahoo!'s board of directors.
Yahoo! Board of Directors Says Microsoft's Proposal Substantially Undervalues Yahoo!
SUNNYVALE, Calif., Feb 11, 2008 — Yahoo! Inc. (Nasdaq:YHOO), a leading global Internet company, today said the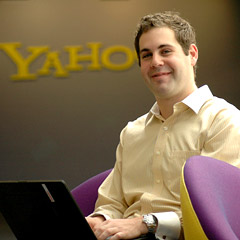 Yahoo! Board of Directors has carefully reviewed Microsoft's unsolicited proposal with Yahoo!'s management team and financial and legal advisors and has unanimously concluded that the proposal is not in the best interests of Yahoo! and our stockholders.
After careful evaluation, the Board believes that Microsoft's proposal substantially undervalues Yahoo! including our global brand, large worldwide audience, significant recent investments in advertising platforms and future growth prospects, free cash flow and earnings potential, as well as our substantial unconsolidated investments. The Board of Directors is continually evaluating all of its strategic options in the context of the rapidly evolving industry environment and we remain committed to pursuing initiatives that maximize value for all stockholders.
Goldman, Sachs & Co., Lehman Brothers and Moelis & Company are acting as financial advisors to Yahoo!. Skadden, Arps, Slate, Meagher & Flom LLP is acting as legal advisor to Yahoo!, and Munger Tolles & Olson LLP is acting as counsel to the outside directors of Yahoo!.
About Yahoo! Inc.
Yahoo! Inc. is a leading global Internet brand and one of the most trafficked Internet destinations worldwide. Yahoo! is focused on powering its communities of users, advertisers, publishers, and developers by creating indispensable experiences built on trust. Yahoo! is headquartered in Sunnyvale, California. For more information, visit pressroom.yahoo.com.
Yahoo! and the Yahoo! logos are trademarks and/or registered trademarks of Yahoo! Inc. All other names are trademarks and/or registered trademarks of their respective owners.
Meanwhile speculations and rumors about potential major merger between Yahoo! and AOL emerged today. This appears to us to be more as incentive for Microsoft to increase its offer for Yahoo! rather than anything real behind. We see little to no synergies between Yahoo! and AOL, aside a few such as instant messaging or the combined eyeballs and the potential deal does not address the major problem of Yahoo!, which is Google.
More
http://money.cnn.com/2008/02/09/magazines/fortune/yahoo_rejects_bid_report.fortune/?postversion=2008020914
http://www.ft.com/cms/s/0/fffc1006-d5e8-11dc-bbb2-0000779fd2ac.html?nclick_check=1
http://blogs.barrons.com/techtraderdaily/2008/02/05/yahoo-the-five-scenario-analysis/
http://www.techcrunch.com/2008/02/08/yahoo-board-to-determine-fate-of-company-today/
https://web2innovations.com/money/2008/02/02/is-google-going-to-be-the-winner-from-the-microsoft-yahoo-deal/
https://web2innovations.com/money/2008/02/04/google%e2%80%99s-chief-legal-officer-vs-microsoft%e2%80%99s-general-counsel/
https://web2innovations.com/money/2008/02/01/yes-we-were-right-yahoo-was-seriously-undervalued-microsoft-offers-446b-for-the-company-a-62-premium-over-their-value-from-yesterday/
http://www.techmeme.com/080201/p78#a080201p78
http://www.mercurynews.com/ci_8149194
http://www.businessweek.com/technology/content/feb2008/tc2008021_885192.htm?chan=rss_topStories_ssi_5
http://www.washingtonpost.com/wp-dyn/content/article/2008/02/02/AR2008020200568.html
http://www.sfgate.com/cgi-bin/article.cgi?f=/c/a/2008/02/02/MN8OUQGNB.DTL&type=tech
http://kara.allthingsd.com/20080201/microsoft-to-yahoo-two-days-to-respond-or-else/
http://www.alleyinsider.com/2008/02/hold-everything-we-may-get-another-yhoo-bidder.html
http://www.techcrunch.com/2008/02/01/what-would-a-combined-microsoft-yahoo-look-like/
http://www.techcrunch.com/2008/02/01/ballmers-internal-e-mail-to-the-troops-explaining-the-yahoo-acquisition/
http://www.techcrunch.com/2008/02/02/news-corp-scrambles-to-bid-for-yahoo/
http://www.alleyinsider.com/2008/02/microsoft-yahoo-combined-financials.html
https://web2innovations.com/money/2008/02/08/one-after-another-the-potential-competitive-bidders-for-yahoo-drop-off-is-yahoo-going-to-surrender-to-microsoft/
http://www.informationweek.com/news/showArticle.jhtml?articleID=206107168
http://mashable.com/2008/02/10/yahoo-aol-merger/
http://www.techcrunch.com/2008/02/10/wait-yahoo-and-aol-i-was-looking-forward-to-something-moreintelligent/
http://www.techcrunch.com/2008/02/09/microsofts-80-billion-and-growing-yahoo-headache/
https://web2innovations.com/money/2008/02/09/end-of-speculations-yahoo-rejected-microsoft%e2%80%99s-offer