An interesting virtual war is taking place on Web right now caused by the Microsoft's bid for Yahoo!. It appears Google cannot (or they don't want to) enter the bidding war for Yahoo! due to many reasons; one of them seems to be the antitrust law complications that might arise from potential market dominance in the search market. Another reason could be that Google does not need Yahoo but does not want to let Microsoft own it. Yet it did not stop David Drummond,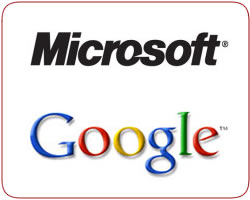 Senior Vice President, Corporate Development and Chief Legal Officer to attack Microsoft about openness and the competition on Internet. David pointed out that the combined entity is going to have a dominant role on the IM and the email markets in US. By contrast, Microsoft has replied that deal between Microsoft and Yahoo is going to create competition since Google is the dominant player on both the search and web advertising markets. From the two statements below it becomes clear enough that it is all about Microsoft vs. Google and Yahoo is just a company to be used by Microsoft in their on going battle with Google for the leading position on Internet. Both companies seem right and not really the same time. Google barking at Microsoft about openness and compositeness is quite strange taking into consideration their unprecedented dominancy on the search and advertising market online. The same time Microsoft talking about openness, innovation, and the protection of privacy on the Internet sounds quite the same to me – unserious. Read below and decide for yourself who is right and who is wrong. 
Below is what Google said on their official blog.
The openness of the Internet is what made Google — and Yahoo! — possible. A good idea that users find useful spreads quickly. Businesses can be created around the idea. Users benefit from constant innovation. It's what makes the Internet such an exciting place.
So Microsoft's hostile bid for Yahoo! raises troubling questions. This is about more than simply a financial transaction, one company taking over another. It's about preserving the underlying principles of the Internet: openness and innovation.
Could Microsoft now attempt to exert the same sort of inappropriate and illegal influence over the Internet that it did with the PC? While the Internet rewards competitive innovation, Microsoft has frequently sought to establish proprietary monopolies — and then leverage its dominance into new, adjacent markets.
Could the acquisition of Yahoo! allow Microsoft — despite its legacy of serious legal and regulatory offenses — to extend unfair practices from browsers and operating systems to the Internet? In addition, Microsoft plus Yahoo! equals an overwhelming share of instant messaging and web email accounts. And between them, the two companies operate the two most heavily trafficked portals on the Internet. Could a combination of the two take advantage of a PC software monopoly to unfairly limit the ability of consumers to freely access competitors' email, IM, and web-based services? Policymakers around the world need to ask these questions — and consumers deserve satisfying answers.
This hostile bid was announced on Friday, so there is plenty of time for these questions to be thoroughly addressed. We take Internet openness, choice and innovation seriously. They are the core of our culture. We believe that the interests of Internet users come first — and should come first — as the merits of this proposed acquisition are examined and alternatives explored.
Statement from Brad Smith, General Counsel, Microsoft
The combination of Microsoft and Yahoo! will create a more competitive marketplace by establishing a compelling number two competitor for Internet search and online advertising. The alternative scenarios only lead to less competition on the Internet.
Today, Google is the dominant search engine and advertising company on the Web. Google has amassed about 75 percent of paid search revenues worldwide and its share continues to grow. According to published reports, Google currently has more than 65 percent search query share in the U.S. and more than 85 percent in Europe. Microsoft and Yahoo! on the other hand have roughly 30 percent combined in the U.S. and approximately 10 percent combined in Europe.
Microsoft is committed to openness, innovation, and the protection of privacy on the Internet. We believe that the combination of Microsoft and Yahoo! will advance these goals.
This communication does not constitute an offer to sell or the solicitation of an offer to buy any securities or a solicitation of any vote or approval. In connection with the proposed transaction, Microsoft Corp. plans to file with the SEC a registration statement on Form S-4 containing a proxy statement/prospectus and other documents regarding the proposed transaction. The definitive proxy statement/prospectus will be mailed to shareholders of Yahoo! Inc. INVESTORS AND SECURITY HOLDERS OF YAHOO! INC. ARE URGED TO READ THE PROXY STATEMENT/PROSPECTUS AND OTHER DOCUMENTS FILED WITH THE SEC CAREFULLY IN THEIR ENTIRETY WHEN THEY BECOME AVAILABLE BECAUSE THEY WILL CONTAIN IMPORTANT INFORMATION ABOUT THE PROPOSED TRANSACTION.
Investors and security holders will be able to obtain free copies of the registration statement and the proxy statement/prospectus (when available) and other documents filed with the SEC by Microsoft Corp. through the Web site maintained by the SEC at sec.gov. Free copies of the registration statement and the proxy statement/prospectus (when available) and other documents filed with the SEC can also be obtained by directing a request to Investor Relations Department, Microsoft Corp., One Microsoft Way, Redmond, Wash. 98052-6399.
Microsoft Corp. and its directors and executive officers and other persons may be deemed to be participants in the solicitation of proxies in respect of the proposed transaction. Information regarding Microsoft Corp.'s directors and executive officers is available in its Annual Report on Form 10-K for the year ended June 30, 2007, which was filed with the SEC on Aug. 8, 2007, and its proxy statement for its 2007 annual meeting of shareholders, which was filed with the SEC on Sept. 29, 2007. Other information regarding the participants in the proxy solicitation and a description of their direct and indirect interests, by security holdings or otherwise, will be contained in the proxy statement/prospectus and other relevant materials to be filed with the SEC when they become available.
Who is David C. Drummond?
David C. Drummond is Senior Vice President, Corporate Development and Chief Legal Officer
David Drummond joined Google in 2002, initially as vice president of corporate development. Today as senior vice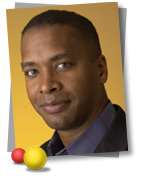 president and chief legal officer, he leads Google's global teams for legal, government relations, corporate development (M&A and investment projects) and new business development (strategic partnerships and licensing opportunities).
David was first introduced to Google in 1998 as a partner in the corporate transactions group at Wilson Sonsini Goodrich and Rosati, one of the nation's leading law firms representing technology businesses. He served as Google's first outside counsel and worked with Larry Page and Sergey Brin to incorporate the company and secure its initial rounds of financing. During his tenure at Wilson Sonsini, David worked with a wide variety of technology companies to help them manage complex transactions such as mergers, acquisitions and initial public offerings.
David earned his bachelor's degree in history from Santa Clara University and his JD from Stanford Law School.
Who is Brad Smith?
Brad Smith is Microsoft's Senior Vice President, General Counsel and Corporate Secretary. He leads the company's Department of Legal and Corporate Affairs, which is responsible for all legal work and for government, industry and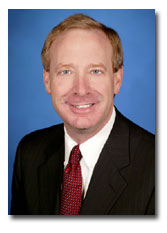 community affairs activities.
Smith has played a leading role at Microsoft on intellectual property, competition law, and other Internet legal and public policy issues. He is also the company's chief compliance officer. Since becoming general counsel in 2002, he has overseen numerous negotiations with governments and other companies, including Microsoft's 2002 antitrust settlement with state attorneys general, its 2002 data privacy negotiations with the Federal Trade Commission and European Commission, and agreements to address antitrust or IP issues with Time Warner, Sun Microsystems, RealNetworks, IBM and Novell.
Smith is responsible for Microsoft's intellectual property work, including all of its IP portfolio, licensing and public policy activities. He has helped spearhead the growth in the company's patent portfolio and the launch of global campaigns to bring enforcement actions against those engaged in software piracy and counterfeiting and against viruses, spyware and other threats to Internet safety. He is also responsible for the expansion of Microsoft's citizenship and philanthropic activities, work to revise its contracts to make them more customer-friendly, and the strengthening of legal compliance programs, issuing Standards of Business Conduct for all Microsoft employees and creating an Office of Legal Compliance.
Smith previously worked for five years as Deputy General Counsel for Worldwide Sales, and before that, he spent three years managing the company's European Law and Corporate Affairs group, based in Paris. Before joining Microsoft, he was a partner at Covington & Burling, having worked in the firm's Washington, D.C. and London offices and represented a number of companies in the computing industry.
Smith graduated summa cum laude from Princeton University, where he received the Class of 1901 Medal, the Dewitt Clinton Poole Memorial Prize, and the Harold Willis Dodds Achievement Award, the highest award given to a graduating senior at commencement. He was a Harlan Fiske Stone Scholar at the Columbia University School of Law, where he received the David M. Berger Memorial Award. He also studied international law and economics at the Graduate Institute of International Studies in Geneva, Switzerland.
He has written numerous articles regarding international intellectual property and electronic commerce issues, and has served as a lecturer at the Hague Academy of International Law.
More
http://googleblog.blogspot.com/2008/02/yahoo-and-future-of-internet.html
http://www.microsoft.com/presspass/press/2008/feb08/02-03Statement.mspx?rss_fdn=Press%20Releases
http://www.google.com/corporate/execs.html
http://www.microsoft.com/presspass/exec/bradsmith/default.mspx
http://www.techcrunch.com/2008/02/03/google-cries-wolf-on-microsoft-yahoo-deal-irony-comes-up-blank-in-google-search/
http://www.techcrunch.com/2008/02/03/can-google-still-claim-to-be-david-to-microsofts-goliath-no/