An acquisition that was announced in late February has today been confirmed. Imeem confirms the acquisition of Snocap. As we have then written Snocap has been in a long quest for a buyer (at least since Sept last year) and has gone through some massive layoffs, so it was clear the company had little to no options left but to sell off. Rumors have it that no other competitive buyers have ever shown up on the horizon and Imeem was the most logical buyer for Snocap.  Just like in

February official terms were not disclosed, but some insiders have speculated the price tag has been less than $5M. What we do not understand is how a company with over $10M in venture capital money and quite solid technology has ended up selling itself under fire. Imeem is known to have been licensing the company's digital fingerprinting technology to track how many times any particular song is streamed on its site so that it can allocate a portion of its advertising dollars to the major music labels.
Other rumors have it the total investment in Snocap is way over $10M with CSV II that is known to have made its first investment, leading a $15 million Series C round in Snocap, which happened in early 2006. Other technology bloggers have meanwhile speculated it has been a payday for Fanning (also the founder of Napster), but it is hard for us to believe in this knowing it's pretty rare to see VC terms these days without some liquidation preferences that protect them against fire sales like this.
Imeem is being said it depends on Snocap's digital fingerprinting technology for its entire business model, which has surely forced Imeem to buy the company. The Snocap technology matches the music to its database of 7 million songs, which then allows Imeem to allocate a portion of its advertising revenues to the music companies who own the copyrights to the songs.
After all being said for the two companies it still remains quite unclear for us why Snocap needed to sell. Pressured from investors or what? The lesson learned here for Imeem is that startups should not rely on other startups for the key technology that their business is built upon.
Snocap was founded in 2002 by Napster creator Shawn Fanning and Jordan Mendelson.  Ron Conway is perhaps their angel investor. The company is known to have taken $10M million from Conway, Morgenthaler Ventures and WaldenVC. Just like Imeem's deal with Universal Snocap has also signed a distribution deal with MySpace. In fact Imeem and Snocap have also partnered in the past where Imeem used Snocap's digital fingerprinting technology to track how many times any particular song is streamed on its site so that it can allocate a portion of its advertising dollars to the major music labels.
More about Imeem
Imeem is an online community where artists, fans & friends can promote their content, share their tastes, and discover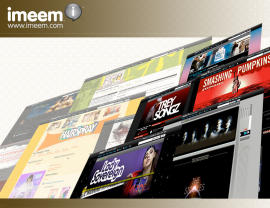 new blogs, photos, music and video. Here are some of the things you can do on imeem:
Discover
-Enjoy the latest videos, music, photos, or blogs posted on imeem.
-Stay up-to-date with your personal network of fans and friends with "What's New" notifications.
-Get in-depth stats for all your content and track their popularity.
Interact
-Tag, comment, rate, and share any of your friends' cool (or embarrassing) content.
-Create or join groups for your favorite band, event, topic, and more!
-Start discussions with other imeem users and make new friends.
 
Share
-Embed your media on other pages (such as your blog, Bebo, etc.).
-Recommend stuff to your friends or add it to your "Favorites" list.
-Easily add media to your Del.icio.us, WordPress, Blogger, or Typepad.
Imeem is hoping to make money from advertisers, a portion of which will be shared with its music partners. It has signed up Puma, Nike and Microsoft among others, though it does not disclose revenues.
This is Imeem's second acquisition after they acquired Anywhere.FM in January. Imeem has raised two rounds of capital, although the size of the second round was not disclosed.
Imeem is based in San Francisco and takes its name from "meme" – a term coined to describe the ideas that communities, adopt, and express. Dalton Caldwell is the CEO of the company and the co-founded together with Jan Jannink. The company used to be in Palo Alto and is known to have launched in 2004. Known investors in the company are Morgenthaler (Series A founding) and Sequoia Capital, the venture capital fund that supported Google and YouTube.
It is interesting to know what Imeem's total funding is considering the fact Snocap has raised $10M. Imeem's first round was only for $750K. Imeem does not disclose revenues.
Some competitors and similar companies include Skreemr, Seeqpod, Deezer, Pandora, Lala, MOG, we7 and Wixi.
More
https://web2innovations.com/money/2008/03/01/snocap-has-been-acquired-by-imeem/
http://www.stanwichadvisors.com/docs/CSV%20Press%20Release.pdf
http://www.techcrunch.com/2008/02/17/who-bought-rupture/
http://www.techcrunch.com/2008/04/07/imeem-confirms-snocap-acquisition/
http://snocap.com/
http://Imeem.com
http://www.crunchbase.com/company/imeem
http://www.techcrunch.com/2008/02/13/imeem-acquires-snocap/
https://web2innovations.com/money/2007/12/10/exclusive-imeem-inks-a-deal-with-the-worlds-largest-record-company/
http://www.techcrunch.com/2006/09/02/myspace-gets-into-music-biz/
http://www.techcrunch.com/2007/06/20/imeem-now-officially-legitimate/